Sports Recap: October 5-October 19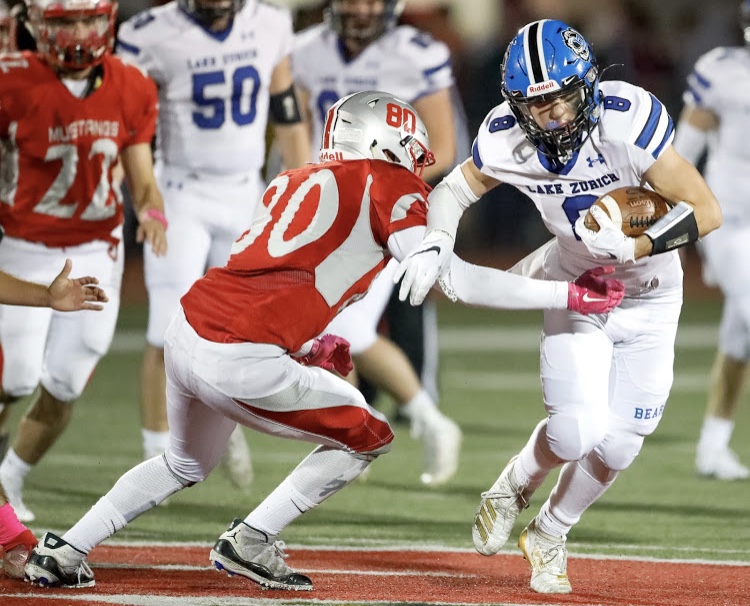 Football
The football team is currently overall 5-3.
On Friday, October 11 the team played against Warren Township who is currently undefeated in Conference. First-quarter ended with a tied score of 3-3, with passes from Jack Moses, senior to James Piggott, senior, and a 40-yard field goal. Second-quarter had the blue devils victorious ending with a score of 7-3. Third-quarter had Warren with a score of 24-3. Fourth-quarter started, with a 17-yard run from quarterback Jack Moses, and a 15-yard pass to Sam Holtz, junior. In the end, Warren remained undefeated ending with the score 24-3. Having a "tie-dye day" the Bears faced Mundelein on October 18. In the first two minutes of the game, Jack Moses, senior quarterback scored a touchdown, making the score 7-0. With six minutes left in the first quarter, Thomas Vages, senior, also scored a touchdown. During second-quarter, Hunter Welcing, senior, and Vages both score a touchdown, making the score 27-0 by the end of second-quarter. Third-quarter ended with a touchdown by Collin Callahan, junior. The team won with a score of 34-7
The Bears will look forward to "pink out" against Waukegan on October 25.
Boys Soccer
Boys soccer is coming to a close of their season, currently 2-4 in conference.
On October 8th, the team had a home game against Waukegan, winning with a score of 2-0, goals from Aiman Naqvi, junior, and Andrew Juarez, senior. On October 12, the team had their senior night and a home game against Palatine, ending with a tied score of 2-2, with goals from Naqvi and Eric Rejent, senior. On October 15, the Bears faced Carmel Highschool. The overall score was 5-2 in favor of the Bears.
Looking forward the team will play in the IHSA Regional on October 2.
Boys Cross Country
It was a successful two weeks for Boys cross country.
The team placed first at the Lake Forest meet on October 7 with a score of 32. Jack Gilboy, junior, Jacob Myers, junior, Danny Burns, sophomore, Patrick Hart, senior, and Corey Brend, senior, all placed in the top 10. On October 12 the team completed in the Wheeling Invite, taking the varsity trophy, with Gilboy finishing third, and Myers finishing eighth. On October 19, the team participated in the NSC Conference. The boys took home the Championship title, placing first in the NSC Conference with a total of 53 points. Eight boys placed in the top twenty-two, including Gilboy in sixth place, Adam Cupples, senior, in fifteenth place, and Kevin Loftus, sophomore, in twenty-second place.
The team will look forward to IHSA Regionals on October 26.
Girls Cross Country
Coming close to the end of their season, girls cross country competed in three meets this past two weeks, including their NSC Conference.
On October 7, the team had a meet at Lake Forest High School, coming in second with 32 points right behind Libertyville with 31 points. On October 12, the team participated in the Wheeling Invitational. Varsity placed fifth, with a third-place finish from Brooke Johnston, freshman, and Hannah Laubach, freshman, in thirteenth place. On October 19, the Bears competed in the NSC Conference. Varsity girls ended with a third-place finish with 87 points. Johnston became the NSC Girls Varsity Champion, finishing first with a time of 17:34. Top twenty-two also included Laubach, Ruby Lueras, junior, and Kristin Loftus, sophomore.
As Conference Champion, Johnston believes she has shown a lot of growth this season. "I didn't really know what to expect as a freshman at the start of the season, but I think that my hard work and practicing every day and giving it my all, I think that I've improved a lot on my times, my place, and my confidence," Johnston said.
The team will look forward to IHSA Regionals next week on October 26.
Boys Golf
The boys varsity golf team's season has come to a close.
The boys played at Regionals at Shepard's Crook Golf Course in Zion where the top 10 finishers advance to Sectionals. Noah van Herik, sophomore, shot an 85 and Jonah Schwarz, junior, shot an 87. Jacob Michalak, sophomore, shot an 88 which tied him for the 10th spot. However, Michalak lost the playoff and did not advance with the others.
On Columbus Day,  the team participated in Sectional's, held at Kishwaukee Country Club in DeKalb. Schwarz shot an 87 again on a cold and windy day. Van Herik birdied the 18th hole to shoot a 78 and earn a spot in a 5-way playoff for one spot to advance to state. The playoff started and one player was eliminated, then the play was stopped due to darkness. The next day the playoff continued, and van Herik parred the first hole. Two players in the group birdied the hole and van Herik was eliminated.
Overall the team had a great season, with many players gaining a lot of experience.
Girls Golf
Girls golf has been competing like never before.
On October 10, the team competed in the IHSA Regional at Atwood Homestead Course. The Bears overall finished second, with Bryana Hogan, junior, with a score of 85, Kiana Pouyat, sophomore, close behind with 87, Abby Watt, sophomore, with 91, and Debby Chung, senior, with 96. For the first time ever, the girls went to sectionals as a team. On October 12, the bears competed in the IHSA Sectional. The team placed sixth at sectionals, with Hogan placing fourth in individuals, going to state. On October 18, Hogan competed at state at Hickory Point Golf Club.
Girls Tennis
The tennis team ended their regular season in fifth place.
On October 8, the Tennis team competed at Hersey High School overall ending with a score of 2-5. On October 10 and 12 the Bears participated in the NSC Conference, ending in fifth place. On October 18, the team continued to the IHSA Sectionals. Sonya Bryukhova, junior, won the first match, along with Tiffany Rogus, freshman, and Victoria Tchalakov, junior.
The team will continue their season next year in 2020.
Girls Volleyball
Girls Volleyball is enduring a difficult season with a Conference score of 2-4.
On October 7, the team competed in a home game against Warren Township. The team lost ending with a close score of 2-1. On October 9, the bears faced Palatine at home, also taking home a loss of 2-0. On Wednesday, Oct 16, 2019 the Bears faced Mundelein winning with a score of 2-0. Just two days later, the team faced Hersey High School on Friday, Oct 18 losing with a score of 2-0. Finally, the team faced Evanston High School winning with a score of 2-0.
The team will continue their season against Wheaton North on October 21, and against Waukegan on October 23.