Weekly Roundup: February 11-17
Gymnastics, wrestling, and hockey headline the highlights in #lznation athletics for the week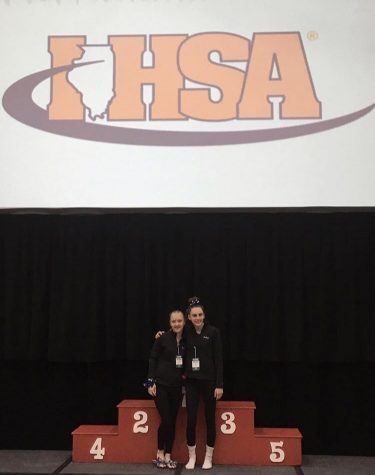 Gymnastics
In only their second year of existence, the gymnastics team won their regionals, competed at sectionals, and sent two girls to state at Palatine High School this past weekend.
Carly Trebac, senior, and Joanna Topa, junior, both qualified for the state finals as individual competitors and competed in beam, vault, and floor. In the end, Trebac advanced to the finals on floor, eventually placing 11th with a score of 9.150, and Topa placed 11th on beam.
"[This season was great] because the team worked so hard and stayed confident," Topa said. "Everyone encouraged each other and we all worked together to achieve our goals.
The team will look to next season and hopefully will build upon this one being more experienced in the IHSA postseason tournaments.
"[Next year] the team will be more confident than we are now with everyone continuing to encourage each other," Topa said. "It will make everyone feel much more confident."
Wrestling
And then there was one. Ian McGee, senior, qualified for the state championships by placing in the top four at sectionals, and at the University of Illinois this past weekend.
McGee faced a tough draw in the 113 weight class, going 0-2 by facing the eventual third and fifth place finishers.
As the wrestling season comes to an end overall, the team will start to look to next season and attempt to improve upon this one.
Girls Basketball
The girls' basketball team entered IHSA Postseason play riding high off of a 10 game stretch where they won eight games.
The team's first test was against Buffalo Grove on Tuesday, February 12, in the regional quarterfinals. Unfortunately, the team's season came to an abrupt end, falling to Buffalo Grove 46-39.
However, two girls advanced to sectionals for the three-point showdown next week. Margueret Spear, junior, and Alayna Soukup, freshman, both drained enough buckets to advance in the competition next week.
Boys Basketball
The boy's basketball team had another rough schedule for the week, which included losses to Warren and Mundelein.
The team fell to Warren on Tuesday night, February 12, and then to Mundelein on Friday, February 16. This next week includes wrapping up the regular season with a game against Waukegan.
The IHSA also announced the seedings for the postseason, with the Bears grabbing the 18 seed out of 23 in the sectional. The team was given a matchup against Palatine at Barrington for the opening round of Regionals on Monday, February 25.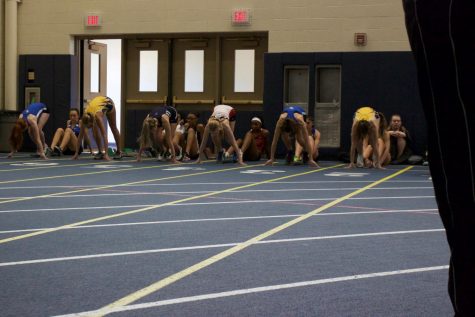 Girls Track and Field
This week the team traveled to Maine South to compete in the Maine South Tri-meet.
The team finished second out of the three teams competing.
Meet highlights include an 11'1" pole vault victory for Kelsey Rothas, junior, a triple jump victory for Kasey Ledinsky, sophomore, a long jump victory for Nikki Skoby, senior, a victory in the 440 meter run for Emily Burns, senior, a victory in the 880 meter run for Hayley Burk, sophomore, and a victory in the 4×400 meter relay for Burns, Burk, Kristen Loftus, freshman, and Jillian Baffa, senior.
This week includes preparing for the Wheeling Invitational next Saturday at Wheeling High School.
Boys Track and Field
The boy's track team also competed at Maine South this past week in a triad with Maine South on their egg-shaped track.
Highlights include sub 2:30 minute 800-meter races by Joey Boreczky, freshman, and Kevin Loftus, freshman. Bode Engelmann, sophomore, had a sub 3:00 minute 800 race as well.
The only event on the schedule for the boys' team is a triangular at Burlington Central High School on Tuesday.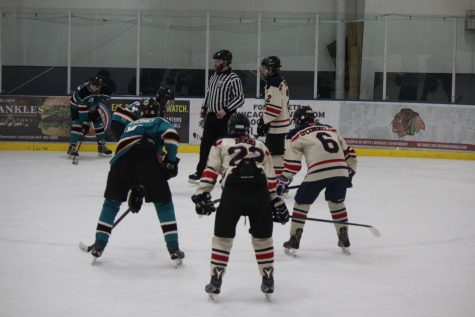 Hockey
The LZMW hockey team had an exciting weekend, having a large comeback coming up just short, but then winning a quarterfinal game in style.
LZMW came up just short against Fox Valley Black on Friday, February 16, where three late goals in the third period weren't quite enough in a 4-3 loss. The team then bounced back in a huge 6-1 victory over D211 in the quarterfinals.
The next step is to wait for the final of the other quarterfinal between Warren and Evanston to see who they will be facing in the semifinal at West Meadows Ice Arena on Thursday, February 21, at 7:00.
Swimming
The swim team competed at IHSA Sectionals this past weekend at Barrington High School.
Although the team didn't qualify for the State Finals next weekend, one swimmer will compete as an individual. Travis Hull, junior, qualified for the 100-yard breaststroke with a third-place finish at sectionals and a time of 59.34 seconds.
Hull will travel to New Trier High School next weekend to compete at the state championships.
Need to catch up on more #lznation athletics? No problem! Just click here
View Comments (1)
About the Contributor
Alex Ketcham, Sports Editor
As a senior, this is Alex's third year on staff and fourth year in the journalism program. He is very excited to work as the Sports Editor again. When...