Boys' bowling qualifies for State Tournament
Hang on for a minute...we're trying to find some more stories you might like.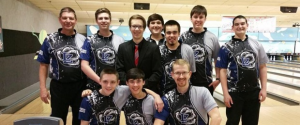 The boys' bowling team will be competing at State this weekend in O'Fallon, Illinois.
Eight of the eighteen boys on the team will be playing Friday and Saturday for the state title, and have been practicing since Monday to prepare.
"Our team placed fifth at sectionals, and the top six teams get to go to state. Last night, I went and talked to an old coach and we're leaving for O'Fallon [this morning]," Ben Madura, senior, said.
Madura is the only member on the team with State tournament experience and was a member of the 2012 team that placed tenth.
"I'm looking forward to being able to play against people around the state that I've only seen play once or twice, and it'll be nice to see them again and have a higher level of competition," Madura said. "I'm also looking forward to bowl one last time in high school."
The team will be travelling to O'Fallon Thursday morning, and will then begin competing on Friday to try to qualify to play on Saturday.
"There are twenty-four teams broken up in to brackets of six, and on Friday you bowl a total of six games. If you finish in the top half, you qualify for the second day, and the score adds over to Saturday's competition," Madura said.
The team's goal is to place higher than tenth, and Madura says he hopes that the team is able to return to State next year as well.