Student Artists Participate in Chicago Art Show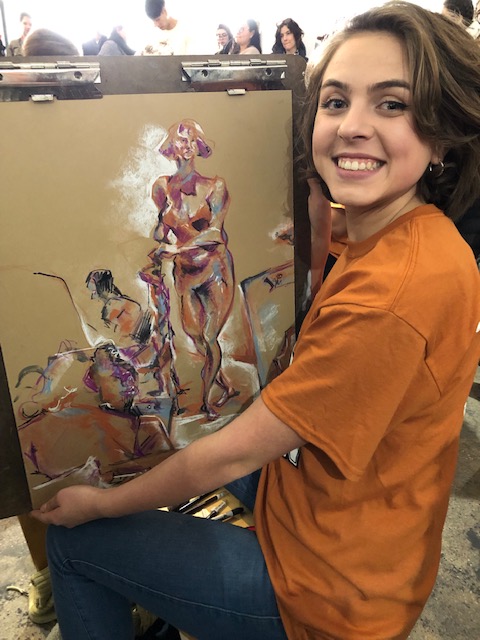 LZHS student artists, their families, teachers, and the public gathered to be a part of an art exhibition in downtown Chicago over the weekend.
Hosted by the Illinois High School Art Exhibition (IHSAE), the event gave students an opportunity to show their skills in an art throwdown, showcasing selected artwork and provided an opportunity for seniors to receive scholarships.
"It was this high stressed, quick event that was 90 minutes long," McKenna Kalesz, sophomore artist, said. "They had someone pose and 24 different students drew the model. At the end, everyone voted and I won that competition, which was fun."
The art throwdown was one of the opportunities for students to showcase their artistic talents. Students from each of the attending high schools competed against one another and were judged by their ability to draw a live model in a short amount of time.
In addition, there were several pieces selected by the art teachers, from categories including "painting, pottery, drawing, photography, time arts, and mixed media," Lexy Selof, junior artist, said. The pieces were selected to be displayed, at the exhibition.
"A panel of judges went around and if you won you got a gold star put next to your photo," Selof, said. "At the end, there was a ceremony [for the artists] that got a gold star, put at the top of their piece."
The art exhibition also presented a selection of students with college scholarships. The students had the opportunity to submit their artwork that would be reviewed by many colleges.
"Every high school senior in Illinois has the opportunity to submit a portfolio to our organization," Matt Winkelman, art teacher, said. "We have about 40+ college partners who have access to the portfolios and can view them. They can then offer scholarships to students."
Eight LZHS students submitted portfolios and received scholarships by one of the colleges that were involved in the event.
About the Contributor
Alexandra Rauchfuss, Staff Writer





As a sophomore, this is Alexandra's second year in the journalism program and her first on staff. In addition to journalism, Alexandra is a...