Tackling the trend
Exploring the rise of fantasy football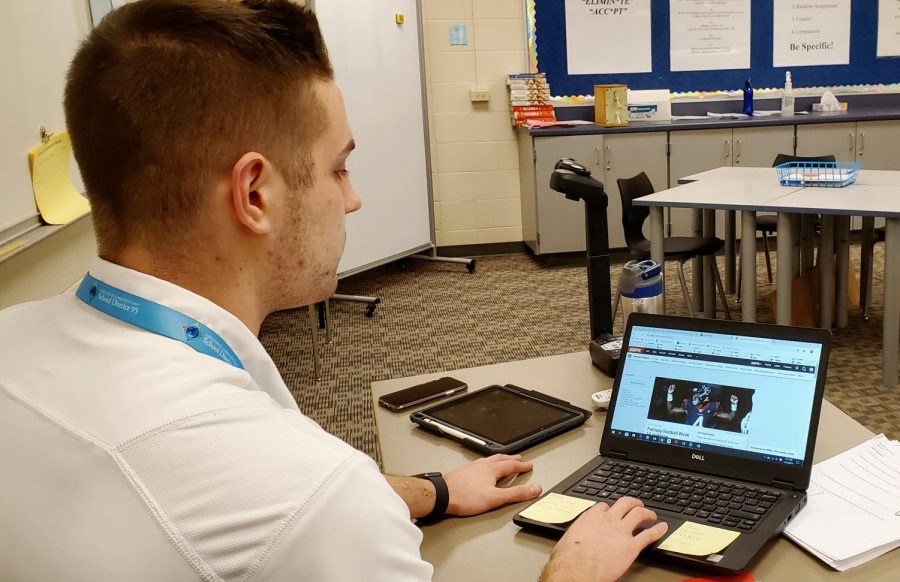 The players are drafted, they run, they tackle, and they score! But don't get this virtual approach to football mixed with the real game.
As teenagers, "we really enjoy that kind of rush when we win," Justin Kutsor, junior, said, so a game involving competition like fantasy football, where players have the ability to create a fantasy football team and score points, is bound to pique interests.
"I feel like as younger kids, we're a little more competitive," Kutsor said. "[Fantasy football] has that competitive nature to it, which is tantalizing. Football in itself is very popular, so people want to do more with it. Most people see it as a fun and pretty easy way to have a competition or a shared interest among your friends."
Kutsor was introduced to fantasy football by his father and brother when he was in fifth grade and says "it's a pretty enjoyable experience for the most part" because he is in a league with his family members or friends.
"It's always fun," Kutsor said, "[because] I just enjoy football on its own, [which] adds in a bit of a personal sense to [the fantasy football game] and makes it a little more enjoyable to actually watch the games. I also always find it fun because you're just taking a chance [to win] and if your team ends up doing good, it is fun."
Aside from the competitive aspect, fantasy football also "brings us all together" and "it's so easy to get together with friends and draft teams," says Sam Holtz, junior quarterback.
"I like the bragging rights, like if you win a game one week, I just like being able to brag to my friends and rub it in their faces," Holtz says, "[but] I don't like that it takes away from a lot of the times when I should be doing some other stuff that is more important, [like] homework or spending time with my family. It takes away from that on Sundays."
Although playing fantasy football is enjoyable, Holtz says he would rather be playing real football on the field.
"I'd rather be the one that's on the field, but I enjoy watching it, too," Holtz said. "I prefer real football because it involves me actually playing, and I'd rather be out there running instead of just sitting on the couch watching it; I'd rather be more active."
Like Holtz, fantasy football also takes up the Sundays of Timothy Beranek, math teacher, who has "more to watch on Sundays" and watches the football games with his friends.
"It's fun [and] it's a great time," Beranek said. "I think it's good to do with your friends because it's like you're betting against each other and you're [putting] your team versus their team. You get to show [the] competitive side of each other and battle it out. I think it's just fun to give you something else to do where you're communicating, hanging out with, and spending time with other people."
About the Contributor
Sasha Kek, Secretary
Going into her junior year, this is the second year Sasha will be working on the publication. Aside from helping Bear Facts run smoothly, you can find...