LZ Bears are moving on
During the past few years, there are few jobs that have been more important or have faced more challenges than teaching. Shifts to and from remote learning, new bell schedules, and changing curriculum have only made the task of educating the next generation a bigger challenge than it was in the past. All of these factors combined lead into something pleasant for many teachers: retirement. 
According to the United States Congressional Research Service, in the past 10 years, the number of retirees in the United States has increased by six percent, with the rate of retirement increasing quickly in the past three years, perhaps due to the COVID-19 pandemic and pressures associated with it.
This year, LZ will be saying goodbye to three retiring staff members, Julie Gyarmaty, Annette Shaffer, and Suzanne Pinckney. Gyarmaty and Shaffer have each spent more than two decades working for District 95, and have educated hundreds of students. Pinckney helps keep LZ running smoothly by managing the attendance of thousands of high school students. 
The combined 60 years of service of these three LZ Bears are invaluable to the school and those in it, and the retirees are greatly appreciated by the LZHS student body.
Making science rock
Julie Gyarmaty, science teacher, has worked at LZHS for 20 years. Just before she started working full time at Lake Zurich, Gyarmaty worked as substitute teacher for the high school for four years.
However, teaching is not the only field that Gyarmaty has spent time in. Before going into education, she worked as an engineer for several companies in the mining industry, a career that relates directly to the curriculum of one of her classes, AP Environmental Science, a class that focuses on the function of the environment and issues impacting the natural world. According to Merriam Webster, mining engineers help locate deposits and survey mining locations.
"I was a mining engineer. I worked for [the] US Steel Company and the Mesabi Iron Range in northern Minnesota," Gyarmaty said. "I [also] worked for a consulting company in Park Ridge, where I did a lot of field work on Department of Energy projects and coal mines."
However, Gyarmaty stepped away from her successful career as a mining engineer after some time for family reasons.
"When I started having kids, I stayed home with my kids for quite a number of years. I started subbing when they got a little bit older, and then teaching [full time] at Lake Zurich," Gyarmaty said.
While working at Lake Zurich, Gyarmaty said that she has taught a range of science courses, including Experimental Methods (a class no longer offered by the school), Earth Science (which covers topics like geology, plate tectonics, astronomy, and atmospheric pressure), Physical Science (a class focused on laboratory skills that includes topics covered in Earth Science and Chemistry), Physics (a class that follows the basic physics as well as graphing and modeling), and AP Environmental Science. She also sponsors the REACT club, an environmentally focused group at the high school that does volunteer work and hosts events for students at LZ.     
Due to the fact that she has taught at the school for 20 years, Gyarmaty says that the length of her time working at Lake Zurich High School has allowed her to see some of her students go on to study and work in fields or careers that relate to classes she has taught.
"A lot of [my] students have gone on and kept in touch. It's always exciting for me to hear that they have gone on in fields that have to do with environmental science or physics or earth science," Gyarmaty said. "It's very fulfilling when you find that students enjoyed what you were sharing with them and went on to pursue a [science] career."
When she retires, Gyarmaty said she will remember "all the great people that [she's] worked with and the great students that [she has] gotten to know."
Making a list and checking it twice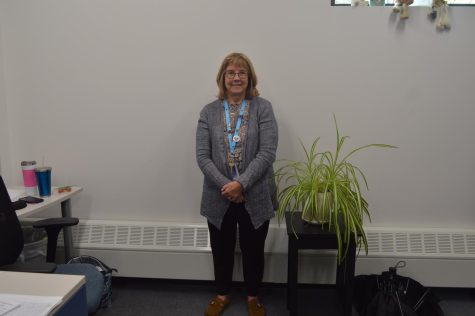 Suzanne Pinckney, attendance secretary, has worked at Lake Zurich for 14 years. While many people may think that attendance at LZHS is mainly handheld by computers, Pinckney is one of the people who works with the system.
"I am an attendance secretary so we listen to all the voicemails, enter attendance, do substitute attendance to handle all the teacher emails all day long," Pinckney said. "We write passes for students leaving early and we [also] check students in and out [of the high school]."
Before she worked at Lake Zurich, Pinckney was a marketing assistant for the Fresh Wave company, which makes air fresheners.
"I did a lot of internet research and entered orders [for the company]," Pinckney said.
As she reflects on her time at Lake Zurich, Pinckney says that she will remember fondly "all [of] the people she has worked with."
Pinckney says she will miss "the school and the energy that the students provide."
Now, Pinckney is anticipating her future.
"I'm looking forward to traveling more," Pinckney said. "And visiting [my] grandchildren."
Speaking your language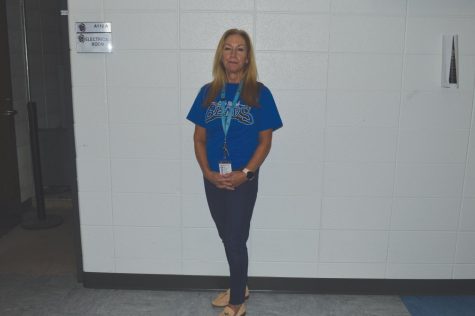 Annette Shaffer, paraprofessional, has worked at Lake Zurich for 10 years, and with District 95 for 26. As a paraprofessional, her job involves a wide range of duties, including helping students in their classes and working with students during a resource period.
Before coming to work for District 95, Shaffer went to Dominion University in Norfolk, Virginia, and then worked in San Diego.
"I lived in San Diego and I worked for the Welfare Aid program. [So I worked with] food stamps and social services and [other] things like that. I helped people in a very different way [than I do now]," Shaffer said.
After her work in San Diego, Shaffer found work at LZ as a part of the ELL program.
"I work with students in the ELL program. Sometimes I [go] into classes to help them out," Shaffer said. "We have a resource class. I help newcomer students navigate the building. I help kids get lockers, I help kids figure out the attendance system. Whatever it is they need, I am a jack of all trades."
While working at the school, Shaffer says she has enjoyed working with the students in the English Language Learners (ELL) program, and seeing them grow over time.
"I had a student that I was with for four years. She came here from Romania, and she didn't speak any English. And I was with her for all four years, and she grew exponentially and I was at her graduation and it was a really moving moment for me," Shaffer said. 
Shaffer has kept in touch with that former student, and she says she has heard from other students after their graduations from as well.
"There's other students that after they've graduated have reached out to me and said, 'hey, can I send you an email?' [I think] that's really cool," Shaffer said.
Going into retirement, Shaffer says she will "travel a lot." Additionally, she is looking forward to becoming a grandmother in October. However, Shaffer says she will miss helping and working with all of her students in the English Language Learners program.
"My most favorite thing is helping kids. When a student comes to me and is like, 'I don't understand this', and I can teach them and help them, it's the best feeling in the world," Shaffer said. "I'm really going to miss that."