New restaurant, new hangout spot?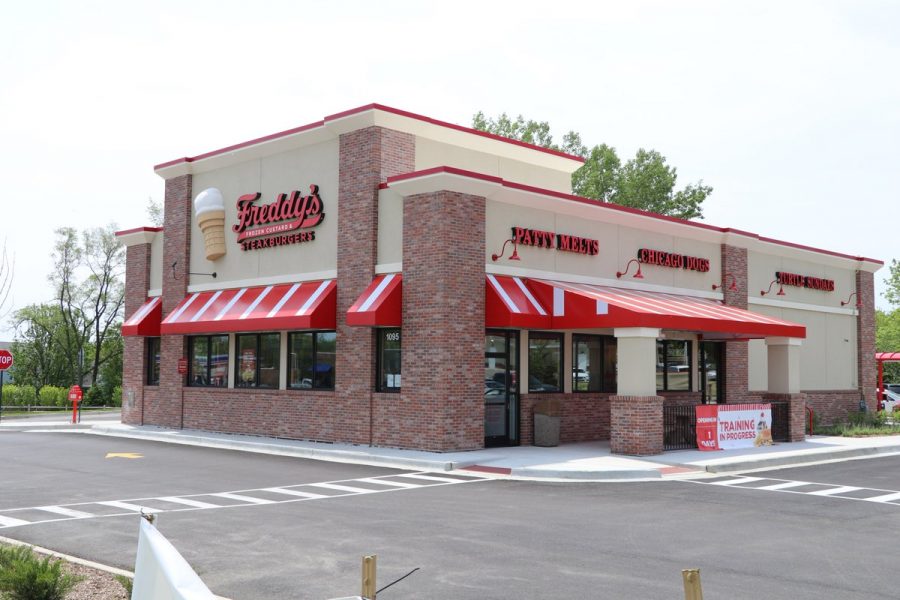 Freddy's opened in Lake Zurich on South Rand road this spring, so Bear Facts decided to see if it was worthy to be named the new "hangout spot" for students.
Like the outside, Freddy's interior had a very comfortable and welcoming environment. The entire ambiance reminded me of a hangout place from the 90s, where teens could order a milkshake and grab some fries. It felt almost like an upgraded version of Culvers.
With some chill music playing in the background and the place buzzing with people, Freddy's was proving to be a nice family diner and a great hangout spot for kids of all ages. 
I ordered a crispy chicken sandwich with a side of some shoestring fries. The wait time was considerably short given the large number of people in the restaurant. Like my waiter, the rest of the staff was very polite and attentive. They greeted me with a smile. However, the part I was most looking forward to was yet to come: biting into the sandwich. 
Taste-wise, the sandwich was like any other crispy chicken sandwich, but it was flavorful. To my surprise, the chicken was paired with pickles. The fries were light, golden, and fresh. Like myself, Lee Breslouer, writer for thrillest.com, had a similar experience eating at Freddy's. 
"My taste buds were flooded with the flavors of a juicy burger. I was shoveling shoestring fries dipped in addictive fry sauce, a combo of ketchup, mayo, and secret spices, into my mouth at an alarming rate," Brelouer said.
 Overall, the meal was delicious for costing less than $10. The prices were reasonable for the different options, making Freddy's an affordable place for people of all ages. 
All in all, I would give Freddy's a ⅘ because of their fast, quality, service, and cozy atmosphere. It proved to be a great restaurant to go to with your family or to hang out with your friends. However, the food itself could have been more extravagant. 
About the Writer
Sreelikhi Vangavolu, Spotlight Editor
As a senior, this is Sreelikhi's third year on staff and second year as the Spotlight Editor. She is a member of the Varsity Tennis team, a member of the...