Saving money in the suburbs
Restaurants in LZ that'll save you money
Whether you're going out for lunch with friends or having dinner with your family, Lake Zurich has plenty of restaurants to choose from. So how do you choose just one? In order to help, I ate at three different restaurants and rated them using a five-star rating. This rating is based on numerous factors, but can overall be narrowed down to how the atmosphere of the restaurant and the quality of food in the restaurant relates to the price one would typically spend there.
BOBBERS
My first impression of Bobbers was immediately positive since the waitresses were incredibly nice and welcoming. As we first stepped into the restaurant, my family and I immediately felt comfortable and excited to dine. We were seated at a table near a window, which gave my family and I a beautiful view of the Lake. At the time we visited, the restaurant was not too busy, so we received very fast service, which was a positive as well.
After ordering our appetizers, the meal that looked most appealing to me was the "Margherita Flatbread Pizza". This dish included a very light, toasted flatbread base topped with fresh tasting mozzarella and tomatoes, with earthy basil sprinkled on top. All in all, the pizza was airy yet very filling. The different flavors of the pizza complemented each other and made a dish that I would definitely order again.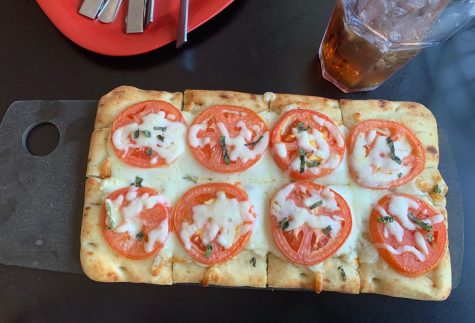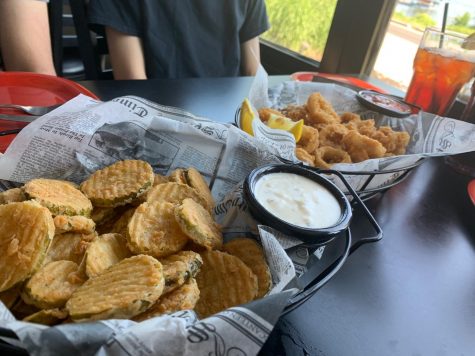 For my family of four, the total came out to $80.84. Considering the lovely view of the lake we received while dining and how enjoyable the food was, I feel like this price is very reasonable. However, there are cheaper options within Lake Zurich.
All things considered, it was an incredibly delightful experience dining there, but throughout my time reviewing restaurants I found others were more justified in their price.
I rate Bobbers a 4/5
DIPIEROS
Although my family and I didn't sit and dine in the restaurant, we still had a pleasant experience during our time there. The cashiers immediately greeted us and were patient with us as my dad and I took a long time ordering. One downside of the restaurant was how dim the inside of the building was, which made it not that pleasant of an atmosphere to be in. Furthermore, the sandwiches took a little longer than anticipated to reach us.
Since I am a pescatarian, I ordered one of the only vegetarian sandwiches on the menu, the Capri. This sandwich consisted of mozzarella, tomato and basil tucked between a crispy and flaky toasted bread. The overall flavor of the sandwich was flavorful and rich.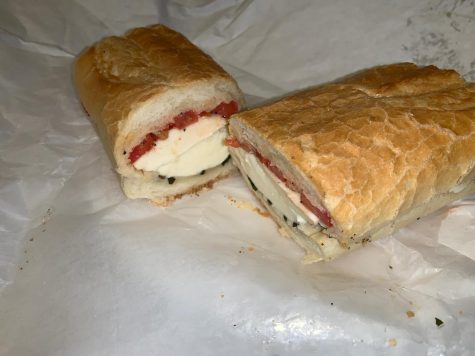 Overall, the cost came out to $26.33 for my family of four, which is extremely inexpensive. Then portion sizes were perfect for a typical lunch. This is the perfect place to go for an inexpensive meal that is very filling. However, this restaurant is not one that is great for sitting in and dining due to the almost glum nature of the interior. Instead, I would recommend ordering to go. Simply due to how affordable the meals were, I would definitely recommend to anyone.
I rate DiPieros a 5/5
BACCHUS NIBBLES
My first impression of this humble Italian restaurant was how fine the decorations and ambiance the interior was. There were many tasteful paintings sprinkled around the restaurant, which was simply a nice touch. Additionally, our waiter for the day was easily the nicest, most patient, and most understanding server out of the three restaurants reviewed.
The menu here was large and very diverse, so there was a lot of options to choose from. Eventually, I decided on the "Coconut Shrimp" which came with a side of vegetables and fries. Focusing on the shrimp, it was cooked to perfection. The crispy outer casing complimented the buttery shrimp flawlessly. The vegetables and the fries were mediocre and were definitely nothing special though.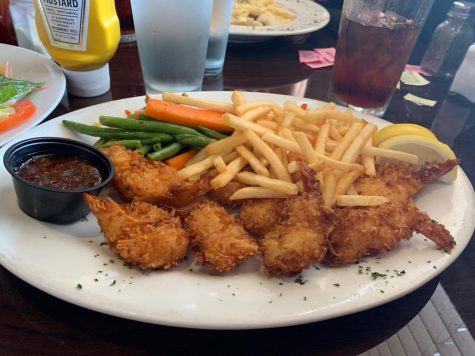 At the end of the meal, the total came out to $99.18 for my family, which makes it the most expensive place that I had visited. However, I feel like the price is justified considering how exceptional the service was. I really felt welcomed there and that my needs were really catered to during my time there. Considering all aspects, Bacchus Nibbles is a great place to dine with your family and there will be most definitely be something for everyone on the menu. Of all the restaurants reviewed, this one was by far my favorite, but since it is so expensive I am unable to give it a perfect score.
I rate Bacchus Nibbles a 4/5