Fall Sports Recap 2020
After an unpredictable time due to COVID, girls tennis, boys and girls golf, and boys and girls cross country fall seasons have come to an end.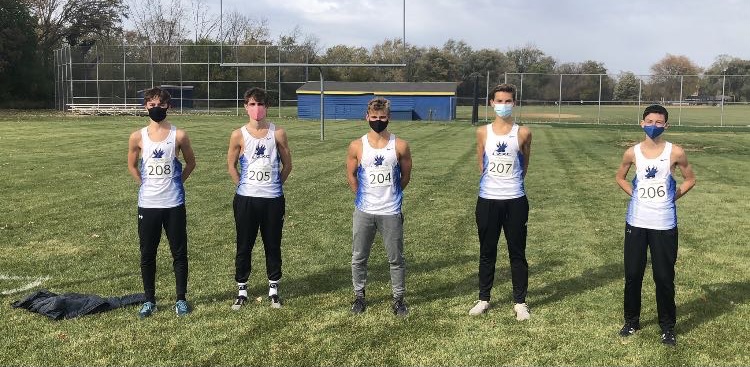 Even though there was unpredictability throughout the season as well as limitations, the athletic department, coaches, and student-athletes worked hard to make the most of their season.  
Girls Tennis:
Since tennis is a non-contact sport, their season was not cut short due to COVID-19. The virus did not have a huge overall impact on their season besides minor changes, according to Abby DeGustino, senior. The team ended up placing 6th at Conference.
"The team did fairly well," DeGustino said. "All of us improved over the season despite [everything going on]."
Boys Golf:
The boysgolf team had a successful season, according to Bennett Haidu, senior. The team "started to play really well, and showed that they were able to post low scores," Haidu said.
"The team overall had a very successful season, we all had confidence that we could post good scores, and there were many cases where we performed very well including beating Stevenson and tying with Lake Forest (at the Mundelein invite)," Haidu said.
According to Noah Van Herik, junior, the team placed 4th at regionals. They did not qualify for sectionals as a team, but Brandon Koester,  senior, qualified individually.
Girls Golf:
State and a handful of tournaments were canceled due to COVID-19, according to Abby Watt, junior.
Unfortunately, the team did not qualify for sectionals this year but placed 4th at Conference and 5th at regionals. Besides cancellations, their season was not impacted too heavily by Covid and the new guidelines, according to Watt.
"[We were required to] wear masks between every shot and on the green, [and used a] digital scorecard so we didn't have to exchange paper scorecards. There were also a few rules that were changed to allow for covid safety but nothing too major," Watt said.
Girls Cross Country:
The team had a great run this season, and qualified for state (placing 9th), according to Hayley Burk, senior. Brooke Johnston, sophomore, received All-State at the competition.
"The course was a 5k and we usually run 3 miles so it was a little different, but everyone pushed through and had a great time. It was such a fun experience because everyone there, according to fast and there was just an amazing atmosphere," Burk said.
Boys Cross Country:
Despite having to train by themselves over the summer, the boys' cross country team was able to stay undefeated in their dual meets and win conference at all three levels. 
Towards the end of their season, the team was able to compete in Conference, Regionals, Sectionals, and a '"unofficial 'state meet' that had all of the top teams and individuals in Illinois," Jake Myers, senior, said. 
"The highlight of the season was definitely the conference meet as that was the last race that everyone received All-State at the meet. on the team got to run (not just the top 7)," Myers said. "Everyone really got to show their hard work and we came together as a team to win all of the Varsity and JV levels. We also set the Varsity Conference record for the lowest points scored ever at the North Suburban Conference meet."
Even though the beginning of the season was not the most ideal, Myers was "really proud of everyone for pushing through the beginning of the season when it wasn't ideal and getting to show their hard work by crushing it at conference," Myers said. 
Both individuals and the team as a whole did well at state, according to Myers. The team placed 7th, and Myers and Jack Gilboy, senior, placed 11th and 13th, receiving All-State medals.