Summer leads to success
For some students, summer is a time to kick back and relax; however, most athletes are working harder in the summer before their season to be prepared for the school year. Many sports from all seasons train in the summer even more intensely than during their season during the school year.
One of the sports that train more intensely in the summer is the boy's cross country team.
"Cross country is a year-round sport. If you take a week off of running, you'll be so much farther behind everyone else because Cross Country requires consistency in training and the training that you build up over time can be easily lost if you take a week off," Dalton Leitz, junior, said.
Cross country, like other sports, goes to a special camp for team-bonding and more focused work. They also train a few days a week focusing on certain things to improve stamina.
"Higher level members of the team go to an overnight camp to learn more about their teammates, get higher level training, and start the season right. Others stay back and start normal practice three days a week, while also running on their own. Then everyone comes back together after camp and practices altogether," Leitz said.
Training over the summer is more focused according to Leitz because, "you might run more miles because you know, there's not a meet next week that you have to get ready for."
Many fall sports follow this same protocol, where coaches and athletes are able to focus more individually on certain parts of training. Many teams use the summer to bond. Aris Monette, freshman, bonded with her soccer team.
"It's important to train over summer because it's one, team building, that's a big thing in any sport, and communication, which really helps us do better. And two it just keeps you fit and active during the off season," Monette said.
Monette is on both soccer and track, sports that require a mental-push, and coaches have started incorporating that into their training. For instance, the football team has been doing "mental reps" with their coach.
"Summer training was a lot of conditioning, a lot of teamwork. We did a lot of mental reps, which is a way to remember plays and watch your teammates to help them but also see what you need to fix on yourself, they really helped us grow mentally. But physically we still did a lot of conditioning and running plays to get back into shape," AJ Baldaccini, senior, said.
For many athletes, like football players, there is not technically an "off-season". The football team spends their own time outside of practice, working to improve individually so they can come together as a team and succeed. Players have seen this work pay off at their first game.
"First game of the year, there's gonna be mistakes on offensive and defensive, then week two, is the biggest growth. And the training over summer already has put us in a good spot. We've put in the work and it's paid off on the field, and we want to keep that going," Tyler Burkley, senior, said.
Leave a Comment
About the Contributor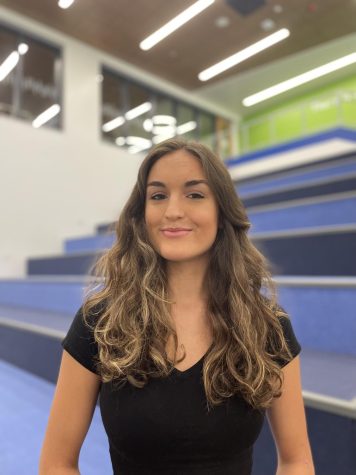 Hope Rothas, Staff Writer
This is Hope's first year on the Bear Facts Staff. She is on the varsity Poms Team and the Track and field team. However she also loves to paint, sew,...