Competitors v. COVID-19
How COVID-19 has impacted sports for teens and coaches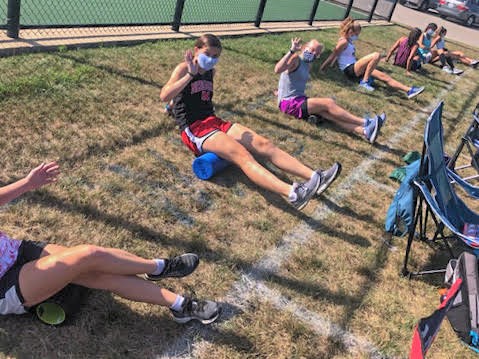 COVID-19 has taken something away from everyone; for many high schoolers across the nation, it has taken away the possibility of a normal sports season. 
With athletes devoting hours of their time to their respective sports, it's hard to imagine that their hard work may not be fully recognized. Jeremy Kauffman, Head Girls Cross Country Coach, says that when there was first discussion of the season getting completely canceled, he immediately felt for the athletes first.
"I was just really concerned about the emotional health of my athletes. In specific, the development of the team and each individual girl on the team. "Everything that was going well just kind of [came] to a halt," Kauffman said. "You really feel totally helpless in the sense that you want to do something but you just physically can't."
The IHSA has now approved many sports for students to play this school year. However, this freedom comes with strict regulations and guidelines that coaches and athletes must follow. Tiffany Pham, senior tennis player,  says that her senior year is one that she has been looking forward to, and she hopes, even amongst the regulations, she gets a somewhat normal season. 
"As seniors, this year is something that we've been waiting for our entire high school career. I remember being a freshman and seeing all the upperclassmen in the top positions and how I thought they were just so cool," Pham said. "Now I am a senior, I am that upperclassman, and I just hope that this year I get the important events, like senior night, that I have always wanted to be a part of." 
With the rules of high school sports evolving every day within the pandemic, the goals of athletes have evolved as well. Pham says that setting goals are difficult, as the rules are constantly changing.
"It's hard for me to think of solid goals I have for the season. I am really just hoping to have fun and play tennis with my friends this year. I  just feel like we are pretty lucky to even be able to play tennis," Pham said. "[To be] one of the few sports in our school that can actually play is something to be thankful for, and I don't want to take that for granted."
Not only have the goals of students changed; the goals for coaches have as well, according to Kauffman. He says that coaches are just simply thankful for the ability to go forward with their sport.
"I think every cross country coach in the state is not really focused on 'what's this girl gonna run' or 'what is that school gonna run"  it's just 'can we just run?'" Kauffman said. "If we can run and [we can] keep running, we are all winning."
Winning is different to every individual and every team, and with many championship meets now canceled, the definition of winning has been altered. Andrew McCurley, Head Girls Tennis Coach, says that this year, all he can do this year is give his best efforts.
"Everybody has their own different goals. One might have a goal of doing better at conferences and beating some of the people that she's played over the years, but somebody else might just want to make the cut for the varsity line up. Each athletes' goals might be different so my goal is just to help them as a team," McCurley said. "It's just such a goofy year, so I think our goal is just to do as well as we can. That's the message I'll leave with; let's just do as much as we can."