Beaming with pride
Gymnastics team brings home trophy after placing third at State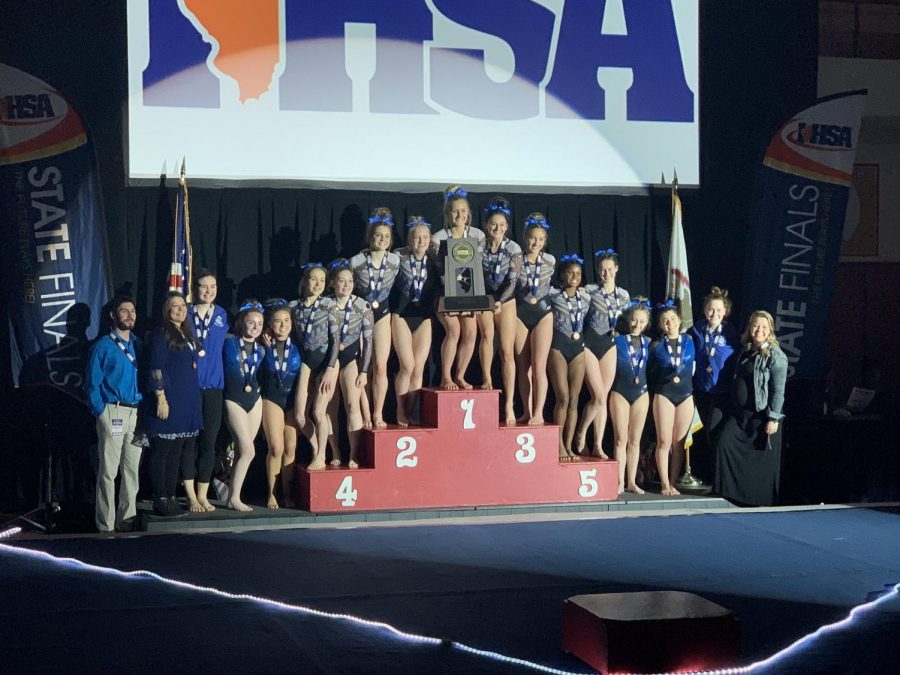 As third-place champions and history makers, the gymnastics team was celebrated yesterday after competing in their first state championship since the varsity team was officially formed in 2017.
"They performed hard and if you've never been to state before, everything moves quicker, so it's easy to let emotions come over you," Chelsie Grotelueschen, head gymnastics coach, said. "A true champion isn't expected to perform 100 percent all the time, but it's how they perform throughout the meet. To start off not having our best meet and to end with getting our highest floor team and vault team score of the season, that shows what a true champion is."
The girls had a rough start with two falls on beam and a deduction on bars "which was uncharacteristic for us," Grotelueschen said, but the team pulled through and claimed their title.
"Of course as a coach, you want to win and you want to continue to make it, but that doesn't determine success," Grotelueshen said. "Success is the girls' ability to be able to be joyful in the gym and be joyful with their gymnastics. It doesn't make sense if they're hurting or for me to push them too hard if they can't get there, so for me to define success would be that they have made their gymnastics the best possible gymnastics for them."
Part of this success came from the positivity and support within the team, according to Kelsey Rothas, senior co-captain, which helped the team perform well at State.
"The support of the team brought a lot of confidence to me," Rothas said, "It's really busy at State, so it's hard to keep focus on just your team, but we did really good on that. The friendships and bonds that our team has is something really special and with it being my last year ever doing gymnastics, it's a good way to end it with a good team."
The team had three-hour practices each day after school in order to prepare for State, but everyone "looked forward to practice because it's not just going to practice, it's going to see your friends every day, which makes it 100 times better," Julia Mcdevitt, senior co-captain, said, who joined the team when it first began her sophomore year.
"I think [the seniors] made a pretty big impact for the team and we kind of set the standard for the program to make sure the culture on the team was good, and hopefully that continues from year to year and everyone continues to have a tight bond," Mcdevitt said. "Everyone is super close and it's like a great friendship. They're not all just my teammates, but are all my friends, too, and I feel like I can trust them."
Rothas and Mcdevitt will be leaving a team that "supports each other and encourages each other" Grotelueschen said, which she says "is my goal as a coach."
"I always say that beyond the four walls in the gym, life is hard enough, so when we're there, we're not going to make our lives harder for each other, we're going to encourage and spur one another on," Grotelueschen said. "I see them pushing each other, wanting more, and encouraging each other on bad days instead of hoping, 'Maybe if she falls short, I can get a spot.' I think that is a beautiful picture of the team and to have a team of nine girls together who all get along and encourage one another and have fun is more important than gymnastics is. Gymnastics is so little of your life, and we get to learn how to leave [the gym] and be successful."
About the Writer
Sasha Kek, Secretary
Going into her junior year, this is the second year Sasha will be working on the publication. Aside from helping Bear Facts run smoothly, you can find...