Not just for kicks
Taekwondo impacts participants for life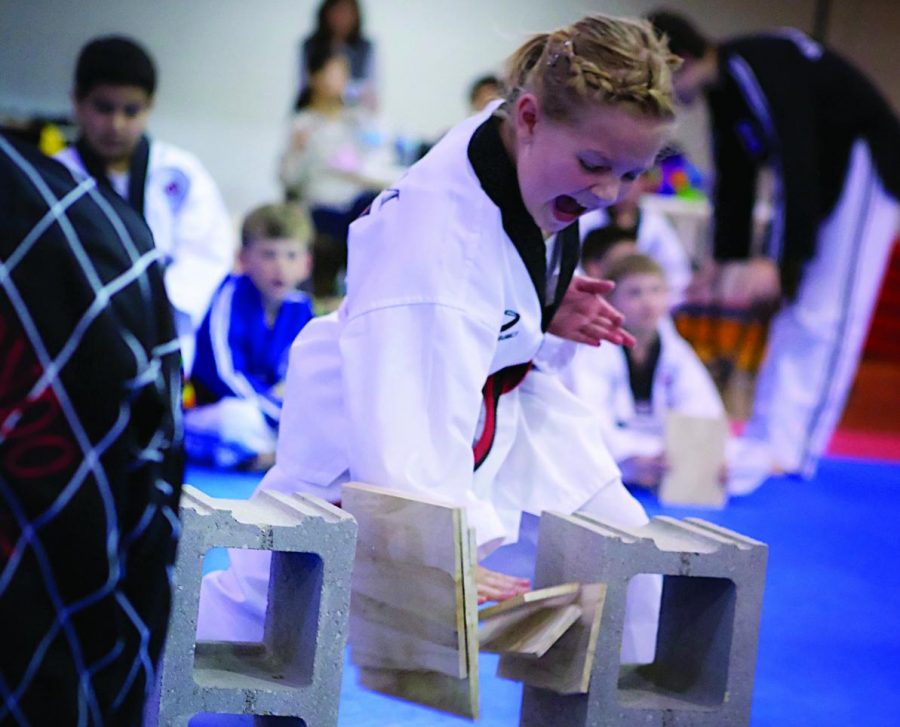 Taekwondo originated in Korea over 2,000 years ago and was introduced to America around the 1950s, according to taekwondoamerica.org. Today, about 3.6 million people in America participate in taekwondo, according to https://brandongaille.com/19-martial-arts-industry-statistics-trends-analysis. 
Martial arts aims to teach respect, leadership, kindness, work ethic, and other aspects that are applicable to everyday life, according to Genna Sibigtroth, sophomore. Athletes build important relationships with others and "support [and help] each other. Especially during testing when everyone shows up to support you and helps you push through hard trainings, [and they] feel like a family," Sibigtroth said.
Sibigtroth, a second-degree black belt, began taekwondo when she was six, according to Sibigtroth. She used to dance, and one day she went to get Dairy Queen with her dad when it was next to the martial arts place. Sibigtroth took interest in the sport spectating from a window while enjoying a treat. 
Ainsley Shuman, senior and second-degree blackbelt, had her mind set on living in the city when she was younger. Her mom was not "too keen on the idea," according to Shuman. She thought if Shuman was going to live in the city, she might as well know how to protect herself. "We did some research and found WKM Taekwondo in Lake Zurich," Shuman said.
"
"I like doing the fancy techniques. I'm not super good at them, but I definitely have people in the gym that help me out and push me. They introduce new techniques, so I think doing those [can be] fun.""
— Daniel Udelhoven
Shuman's dreams of living in the city do not stand true to this day, but she is grateful to have stuck with the sport, according to Shuman. Shuman has met so many people throughout the years that have become her family, and the lessons she has learned have shaped her into the person she is today, according to Shuman. 
"In Taekwondo we have the tenets of taekwondo and oaths, which are little things that you can do in your life to make yourself better or healthier, or help the world. One of the oaths is 'I shall help build a more peaceful world,' which I really try to implement into my daily life," Shuman said. "I'm always trying to make people smile and help them have a good day, and the little things that could make people a little happier."
Their dedication to the sport shows through the time and effort they have put in, and the example these athletes try to lead by applying the life lessons learned in taekwondo to their everyday life. 
Shuman has gotten the opportunity to teach taekwondo to little kids at her school, and it has been a rewarding experience, according to Shuman. 
Orna Stuart, freshman, has been doing taekwondo since she was five and loves the atmosphere. She feels as though she "[gets] more experience in taekwondo than other sports on teaching and knowing how to lead a group versus like some other sports," Stuart said.
"Respect, discipline, integrity, and indomitable spirit" are things that Sibigtroth has carried with her into all aspects of her life, she says. Taekwondo has taught her many "great" skills, and has given her more confidence, according to Sibigtroth.
Even though training can be rigorous and difficult at times, it has all been worth it, according to Sibigtroth.
"Honestly, some of the best experiences are at those classes where everyone's dripping in sweat and they're telling us 'do more push-ups, do more jumping jacks, do more sit-ups,' and we are sitting there and you're surrounded by a bunch of people that love Taekwondo,'' Sibigtroth said. "You're [working] as hard as you can and you're pushing yourself [alongside everyone else].''
###
About the Writer
Sophia Babcock, Staff Writer
As a sophomore, Sophia Babcock plays club and high school soccer. In addition to soccer, Sophia enjoys singing and acting. She is a part of Cantilena,...