Ahead of the game
Athletes commit to a college during their junior year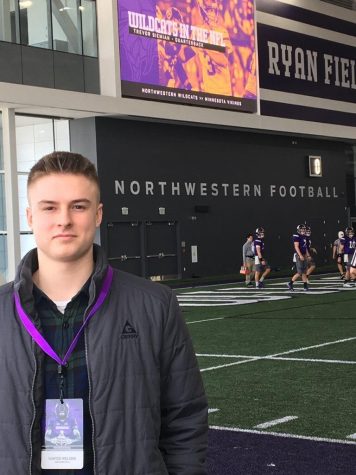 For many student-athletes, playing a sport is their road to a college education. For those truly serious about their sport and planning t0 play their sport in college, they can start their recruiting process during junior year. For those true die-hards for their sport, they can commit to a university during their junior year. 
Hunter Welcing, senior Northwestern football commit, and Sema Hasanof, junior Grand Valley State lacrosse commit, got ahead of the game during their junior year and committed to their respective future schools.
"I've always wanted to play in college, it's always been a goal and a dream of mine," Hasanof said."I knew it was possible when I started going outside of my practices and training with my friends. In my free time, I will go and I'll go play wall ball for like 30 minutes at least to just get a stick in my hand."
For Welcing, he did not play football throughout childhood, as he began his freshman year. In March of 2019 during his junior year, Welcing accepted an offer to Northwestern.
"As soon as I took my first visit down there, then I walked around the football facilities met the coaches, and I mean, with the backstory of like the Northwestern academics, it's something that I wanted to be a part of," Welcing said.
Welcing wants to be a part of the program so much, that at the end of the semester he will be graduating high school early and enrolling full-time at Northwestern and beginning football activities with the team to participate in spring football.
"Obviously the high school to college transition is always hard for people I feel like especially being a football player and having all the resources and support around me, it's going to be a certainly easier transition," Welcing said. "It's still going to be one that's going to require a lot of adapting."
For outsiders who say that these athletes' senior year along with the remainder of their junior year will be easy, that could not be less true, according to Hasanof.
"Honestly, I'm so stressed because of junior year and the ACT and I'm taking ACT tutoring classes or the SAT, but I'm taking the ACT but it's just a lot going on," Hasanof said.
However, that does not mean that senior year for these athletes is not any different, as committing to a school early means that the athlete does not have to apply to a significant amount of schools, hoping to be accepted, Hasanof said.
"I think it'll be different in the sense that I won't have the added stress of applying to multiple schools and trying to get accepted," Hasanof said. "I have a list sitting right in front of me all the time that I need to be checking off boxes every so often, getting everything together so that when that time comes around I'm completely prepared."
Nonetheless, not every student gets to go through the college recruitment process for a sport, which means that athletes have to be grateful for the opportunity that very few receive.
"It's a blessing to be in the opportunities of being in this being like college recruiter and everything," Welcing said. "It was a fun ride being recruited by colleges.