Swim, Eat, Sleep, Repeat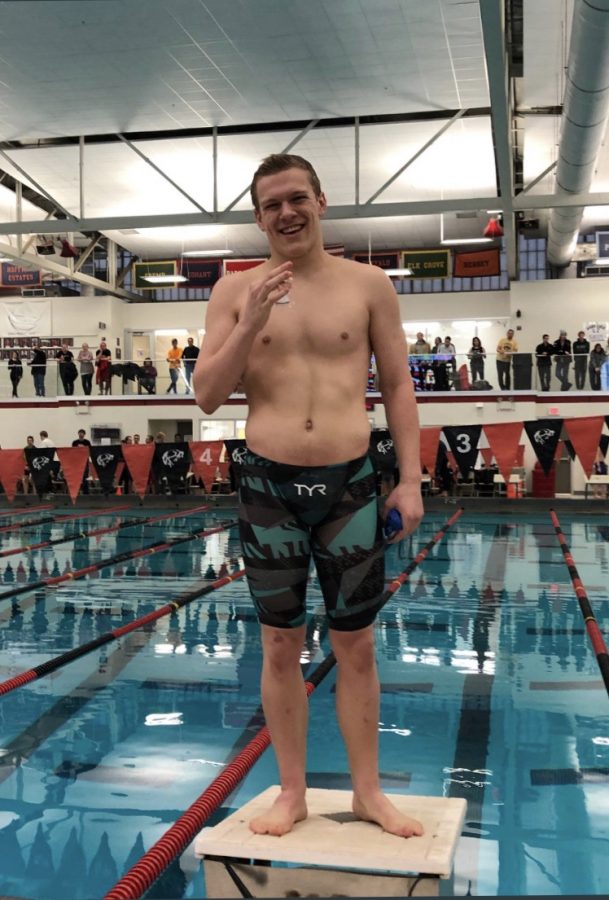 1-2 hours a day, 7-10 hours a week, 210 hours a month, this swimmer is on the grind to try and be the best he can.
Travis Hull, Junior swimmer, puts in hours and hours of dedication to his sport to try and become successful. Sometimes weeks of practice can add up to 7-10 hours or even 20 hours at a time, not including meets.
"[For practices], over the summer it can be 20 hours a week, but for winter season it's around 7 to 10, so not that bad," Hull said. "[But with meets] if it's just a standard meet is usually 6-7 hours a day, but if it's a prelim finals meet it can be up to 9 or 10."  
With all this time being spent on swimming in practice and during meets, it can be hard to balance a social life, homework, and extracurriculars, it's something every athlete faces. However for Hull, swimming can help keep his motivation and procrastination in check, if he wasn't so determined to get through the steps he's set out for himself, he would just slack off, Hull said.
"Swimming has really helped to put in determination and perseverance through [problems]. I know that there's a lot of stuff where if I wasn't focused on swimming, knowing that I have a very specific path set out for me," Hull said. "If I didn't have that path set out for myself I [wouldn't be] trying for certain things. Like one point homework assignments, if I didn't need to do good on that class, I just wouldn't do them."
Even in practice, Hull's dedication to the sport and reliance on the path he's set out for himself, can be evident according to Jack Stubenvoll, Junior who does A private swim team with Hull. When he's not in game mode, Hull is a 'genuine fun guy' Stubenvoll said.
"When [Travis] needs to get stuff done, he puts his head down and he does it, he always takes advice that he gets from Kyle, our coach, but it's not like he's all serious all the time. He's super fun to have at practice, he jokes around a lot when we're just hanging out," Stubenvoll said.
However, even with the determination, some looming qualities such as procrastination can get the best of you, according to Hull.
"[My worst quality has gotta be] that if I don't start something, I'm just not gonna do it. I think it's similar to procrastination but it's a little bit worse, if I don't do it I'm not going to do it so I have to do it the first day in order to get it done,"
However, outside of practice, Hull becomes "the definition of an extrovert" according to Stubenvoll, telling stories, making jokes and even helping others crack out of their shells.
"He tells outlandish stories and just has tons of fun. He likes to take people under his wing, I know that he did it with me, because I'm an introvert but he's really [helped me] be a lot more sociable. He just wants other people to enjoy life as much as he does. Of course he has his own problems but I think he genuinely enjoys life and swimming and he's got a pretty good thing going."
About the Writer
Marissa Drake, Staff Writer
This is Marissa's first year on staff and second year in the journalism program. As a sophomore, Marissa likes to take long walks to the fridge and spends...