Swinging for the fences
Student chooses to pursue dream of playing baseball
Having your future decided at 16 may be daunting to most high schoolers. However, for this student, it is motivation.
Tyler Snep, senior, committed to play baseball at the University of Iowa his sophomore year, and recently made it official by signing the paperwork on Early National Signing Day.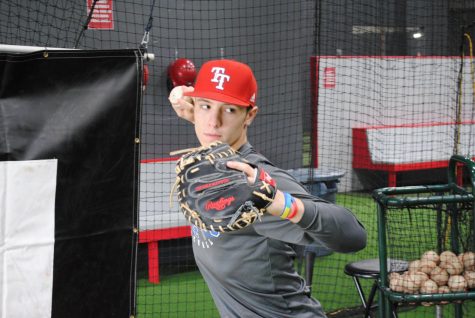 "It makes you grow up quicker. It makes you look at your future a bit more and you've got to really understand yourself and be mature," Snep said about being recruited so early. "You've got to think from an aspect different than most high schoolers would. You've got to think about everything you do. Every single day there is a purpose and a long-term goal and as far as the early acknowledgements go, they're potential opportunities and its motivating."
Baseball has been part of his life since the age of four, Snep said, and he has not looked back since.
"I put a couple hours in to it every single day since I was eleven years old. I've spent a couple hours hitting with coaches or working out with friends or doing stuff on my own. That's to get better and it's my mental escape," Snep said.
However, the part of his game that's the strongest, is not on the field, Snep said, but rather his mentality when practicing or training.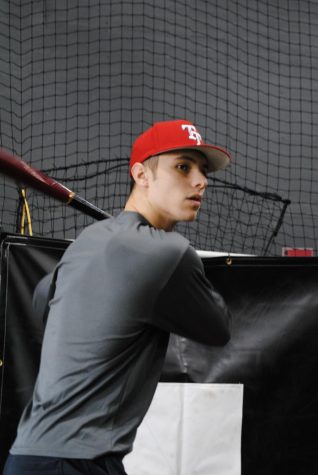 "His work ethic is second to none. He puts more work in than anybody else, he's dedicated to the game and he loves the game. He's also very helpful when you play with him," said Nick Marcinkiewicz, senior and former teammate of Snep.
As one might think that he had help developing his work ethic, that could not be more wrong, according to Gary Snep, father.
"He is very, very, very self driven. At times I've actually had to remind him to pull himself back and make sure that he gets time off or gets a break to make sure he gets a chance to be a kid," Gary Snep said. "He's just been very driven and it is just that mature mental approach that he takes to not just baseball but also to his schoolwork."
Luckily, there have not been any major setbacks in his baseball career, but that does not mean that he has not learned to overcome obstacles and failure, Tyler said.
"
"The game means everything. It's taught me so much aside from the game itself, it's made me a better person. It made me mature faster and it made me as much of a man as you can be in high school."
— Tyler Snep, senior
"I've never had any large setbacks other than little ones like 'I have to work on this' or 'I need to just push through this' but with baseball there is no better game to learn to do that from because baseball is a game of failure," Tyler Snep said. "You fail seven out of ten times and you are in the hall of fame in that game."
Along with baseball, the day to day agenda also includes the responsibilities of being a Bear Den leader as well as a FAME leader, Tyler Snep said. Along with being leaders in those groups, Snep is also a general leader within the school, Marcinkiewicz said.
"I always work hard to be a really good person. My goal is to make everyone around me laugh, or be happy and have a good time and to be a friendly face," the Bear Den and Fame leader said. "I buy in big to the school being one and united. It was different when I was a freshman, and now that I am a senior, I have a little more say in that. I want school to be a place where everyone is comfortable, because with high school, everyone only gets to go once and everyone should be able to have a good time."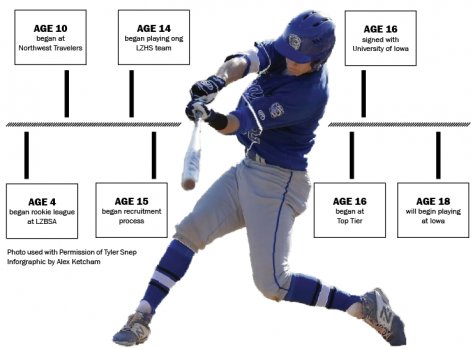 It is because of that ideology that Tyler's parents are very proud of who he is both on the field and off, Gary Snep said.
"I'm proud of where my career is now. Since I was 11-12 years old, that's all I've done. I put a lot of work and time into it," Tyler Snep said. "It hasn't been remotely easy but I wouldn't give it up for the world."
About the Contributor
Alex Ketcham, Sports Editor
As a senior, this is Alex's third year on staff and fourth year in the journalism program. He is very excited to work as the Sports Editor again. When...