Down, but not out
Student athletes, trainers work to heal injuries
High school athletes account for an estimated 2 million injuries, each year, according to Stop Sports Injuries. LZHS athletes are of that number, and trainers help to get them back in shape.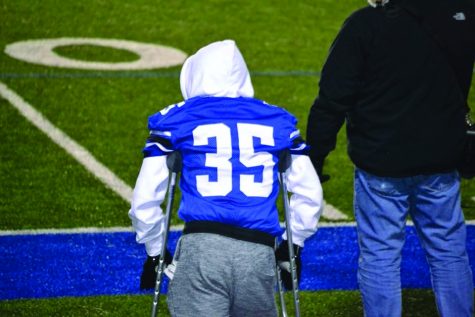 For the love of the game
Injuries are a seemingly inevitable part of sports at any level. Even the professionals get injured sometimes. And injuries can lead to months of recovery and rehab, sometimes leading to athletes making hard decisions about whether or not to continue pursuing their athletic career.
That's what happend for Ian McGee, senior,  who was kept out of his junior football season due to an injury that eventually made him give up football for good. It also made him miss half of his junior wrestling season, which he says is his true passion and what he will be pursuing in college.
"I've torn my meniscus twice [while wrestling], so I've gotten two surgeries on that. I missed half of my junior wrestling season out with the injury," McGee said. "And then I tore it when I got back and then got surgery after the season."
During his second injury, he chose not to fully repair the meniscus, but rather to temporarily fix it, a four to six-week recovery sounded better than a six to eight-month recovery, according to McGee.
"When I got back [after the first injury] I felt the popping sensation again and that's when I knew I tore it. I got used to the pain, so I wrestled through that through the season," McGee said about the injury. "It affected me a little bit, but I wore a brace and I would ice it to keep the swelling down."
McGee isn't alone. Over 50 percent of student athletes report they have played while injured, according to At Your Own Risk, a site dedicated to informing students, parents, and coaches about how to stay safe while playing sports.
Having an injury affects you on the playing field, but it can also affect you outside of competition, according to Brianna Letang-Lafond, sophomore basketball player, who also had multiple injuries that took her out of her sport for some time.
"It was extremely hard mentally because the second time I just wanted to give up on sports, and when I was going through physical therapy it was hard because they push you out of your limits and do all of these different things for your muscles to work again and become stronger," Letang-Lafond said. "It was just a large mental block that I had to overcome, and it was very challenging at the time."
"
I keep playing because the sports that I do bring happiness to my life. It's a way for me to express how I'm feeling and it helps me in so many ways. Like if I'm having a bad day I know I have a basketball game after and I forget about everything else. It takes away stress from reality."
— Brianna Letang-Lafond, sophomore
After the first time she tore her ACL and MCL, Letang-Lafond had surgery to repair it, but after she retore both, she chose not to fully repair her knee, but possibly will eventually later in life. Instead at the moment, her knee is only partially repaired.
"I think at times I will have to fight through the pain because, to this day, there are times after games where my knee will be so sore to the point where I didn't want to get up because it feels so unstable," Letang-Lafond said.
"A lot of it is luck. If you look at injuries in our sport, it very rarely is some big collision," Luke Mertens, head football coach, said. "It's collateral damage from being caught up in a pile or it's things that are freak accidents."
Even though injuries don't always happen for a specific reason and it may be difficult to push through the obstacles of injuries, having a positive attitude and fighting through it is just as important as staying injury-free, according to Mertens. In fact, a way to stay healthy in sports is to have a relentless motor and play all out every time, Mertens said.
Although gruesome injuries like McGee's multiple meniscus tears and Letang-Lafond's multiple ACL and MCL tears may be discouraging to some, athletes choose to continue playing because they love what they do, Letang-Lafond said. In fact, McGee has now become a two-time regional champion for wrestling
"I keep playing because the sports that I do bring happiness to my life. It's a way for me to express how I'm feeling and it helps me in so many ways," Letang-Lafond said. "I think that if we truly love the sport we should stay with it because there's a reason why we love the sport."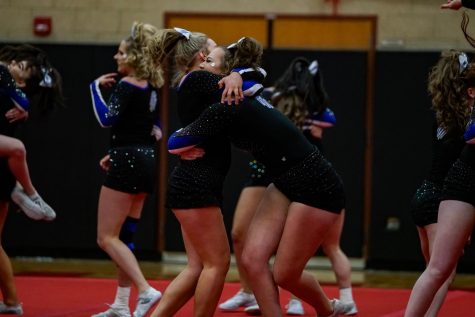 You name it, we tape it!
    IT band strains, torn ACL's, sprained ankles, two to three month recoveries, missing practice, competitions, games – student athletes face it all. In fact, 90 percent of student athletes report some sort of sports-related injury during their high school career, according to At Your Own Risk.
So what happens after an injured student athlete is done with doctors? That's when the trainers take over.
"I see value in our profession where you need someone there on the front lines in case something does happen like an emergency, a lot of people don't realize that," Argeni Baion, assistant athletic trainer, said. "There is a lot to an emergency situation, athletic trainers are trained to realize and act relatively quickly and in a controlled manner. That way there is no panic. If someone is asking what to do, athletic trainers are people who know what to do."
Students are now beginning to realize the benefits of taking time to go to the trainers, Baion had said, and now are a resource that many students at LZHS take advantage of. Daniel Dunlap, sophomore and JV wrestler, finds that going to the trainers has helped him overcome past injuries faster.
"I fractured growth plate in my leg," Dunlap said. "I wasn't able to walk [but] the trainers helped me with my [physical therapy] and I actually got off my crutches a month early. I recovered a lot faster than my doctor thought. I went to the trainers for help with [physical therapy] but honestly after I would go just because I enjoy talking to them."
          Physical therapy for an athlete is almost a necessity when it comes to needing to strengthen the muscles that have been inactive during the injury and getting back the use of the extremity, according to www.fitnessbypatty.com. However, according to guidedoc.com, average prices for a single physical therapy session can go up to around 100 dollars, but the trainers at the school can offer advice and exercises the athlete can do to help further recovery, for free.
     "We're here everyday, especially if you're doing a sport, just come in and see us if something is nagging you," Baion said. "I've been there, I've been an athlete and I've experienced having to go through periods of time when you're really hurt and you're like "oh who do I see". We're right here."
     However, his past in athletics and his experience with trainers has really influenced his career, Baion said. Baion had always wished to be in the medical field, but never knew which fit was right for him, according to Baion.
   "I aspire to be what my athletic trainers did for me, they went out of their way and helped me whenever i needed it. [It helps alot]  especially when you're trying to make it to state and you need something of convenience." Baion said. "I ran for 10 years, I ran cross country and track. I always saw my trainers when I was in school and they did alot for me and I thought [athletic training] was the best for me."
Going to physical therapy, surgery and medical examinations are something normal for Morgan Beaudoin, Junior cheerleader and Intro to Sports medicine student, has injured herself 'more times than she can count'. Participating in the class has opened her eyes to possibilities that she never thought before.
"
We're here everyday, especially if you're doing a sport, just come in and see us if something is nagging you. We're right here"
— Argeni Baion, assistant athletic trainer
"I took the class originally because I wanted to help my teammates," Beaudoin said. "I really liked the whole hands on aspect of the class. During the course, I realized this is something I really enjoyed because I love working with athletes."
          This class has really 'affected her view on the future and what she has decided to peruse' Beaudoin said. Sports has been her whole life and now she's able to give back  to sports by helping athletes.
        "I wanted to know more about what was happening when I got injured in cheerleading and just how to do things myself. So if I, one day, needed my ankles taped I would be able to tape my ankles or if [a teammate] ever needed [their] ankles taped I would be able to tape [their] ankle or [their] knee. I was just inspired more to do it to become better as an overall athlete but I ended up falling in love with it and now I just really want to help other athletes." Beaudoin said.
About the Contributors
Marissa Drake, Staff Writer
This is Marissa's first year on staff and second year in the journalism program. As a sophomore, Marissa likes to take long walks to the fridge and spends...
Alex Ketcham, Sports Editor
As a senior, this is Alex's third year on staff and fourth year in the journalism program. He is very excited to work as the Sports Editor again. When...