Weekly Roundup: January 28-February 3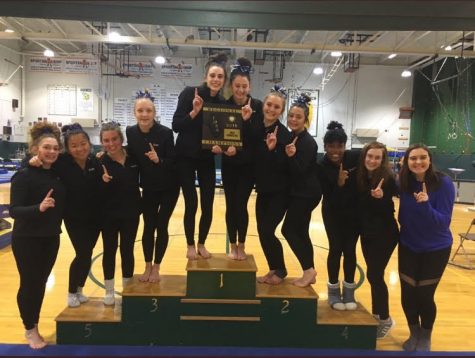 Girls Gymnastics
In only their second year of existence, the gymnastics team will be advancing to IHSA Sectionals as an automatic qualifier, having won their Regional on January 31 at Fremd. By winning Regionals, the Bears end Fremd's 26-year streak of Regional titles.
Strong performances from Carly Trebac, senior, Joanna Topa, junior, and Kelsey Rothas, junior, propelled the team to victory by a slim three-tenths of a point.
"This victory has proven a lot about our team," said Rothas. "Coming in as a second-year team and breaking Fremd's 26-year winning streak proved that we are a team to beat."
Notable finishes include a Regional title on floor for and a shared title on vault for Trebac, and top-five finishes for Topa and Rothas on other events, which secures their slots in the individual competitions at Sectionals. In the individual all-around category, Trebac and Topa finished second and third respectively.
Trebac and Rothas also received at-large bids in the individual competition. Trebac for bars, and Rothas for bars, beam, floor, and all-around. Other individual qualifiers include Jane Fabbrini, sophomore, for bars, and Isabella Palmer, freshman, for the vault.
The next step for the team will be IHSA Sectionals at Conant next week.
"Our team mindset going into sectionals is just to go out there and hit all of our routines and put up our best team score yet," Rothas said. "Our goal this season was to make sectionals as a team, which we did, so now everything past that is exceeding all of our goals."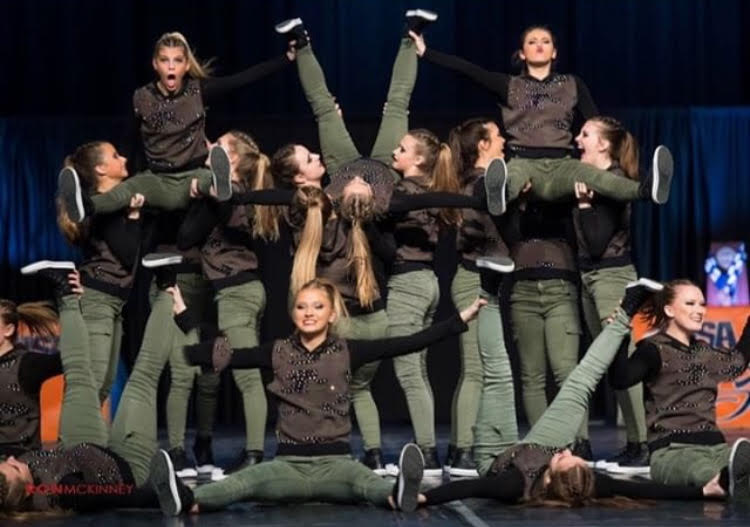 Poms
Fresh off their second consecutive state championship, the poms team traveled to Orlando to finish their season by participating in the National Dance Team Championships at the ESPN Wide World of Sports.
The girls came in second place in the country for Large Hip-Hop, which is an improvement from last year's finish of fifth place in the same competition.
"Next year as a senior I really want to see this team work even harder than we have before," said Bella Christopherson, junior. "There's going to be a lot of pressure on us since we have done really well the past two years, but no matter what happens I want us to continue to compete with the same level of integrity and dedication that we always have."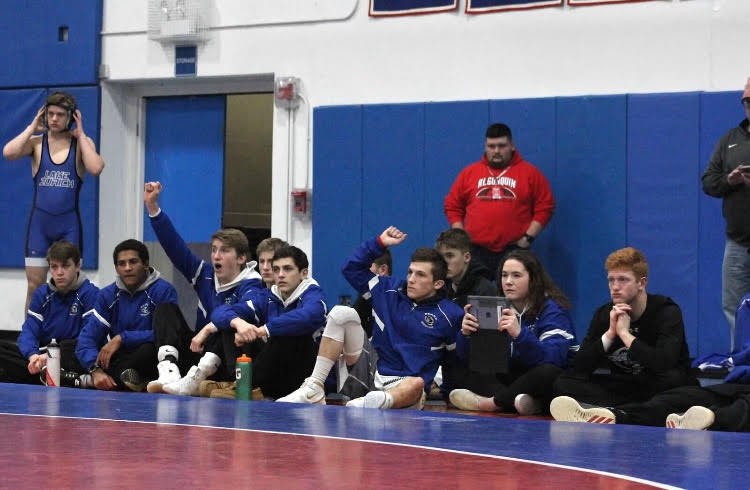 Wrestling
It's postseason time for the wrestling team and it kicked off at the IHSA Regionals at Dundee-Crown on February 2.
The team fought their way to fifth place out of the nine teams. The wrestlers who will advance to Sectionals are Ian McGee, senior, Joey Mrazek, junior, and Justin Wollard, senior. McGee and Mrazek will advance by winning a regional for their weight class, and Wollard will advance by being a runner up in his weight class.
Other notable finishers include Logan Neurauter, junior, Jason Wollard, senior, Dan Hull, freshman, and Marek Enters, senior, who all placed fourth in their weight class.
Girls Bowling
The girls bowling team started their IHSA Postseason by competing at IHSA Regionals at Conant on February 2.
The team ended up placing seventh out of the thirteen teams at the tournament, which ends their team season. However, Gabby Vitale, senior, and Amanda Kouros, Freshman, qualified for Sectionals as individual competitors bowling 1054 and 1030 respectively through six games.
Now, these two competitors will be traveling to IHSA Sectionals next week at Hoffman Estates in hopes of qualifying for the State Championships.
Girls Basketball
The girls had a big week in conference play with matchups against Stevenson, Zion-Benton, Libertyville, and Senior Night versus Palatine.
The week started off with a tight but big victory over Stevenson 46-45, led by senior Maddy Piggott and junior Ella Gilbertson with 16 and 15 points respectively. The Bears then won their sixth out of their last seven by defeating Zion-Benton 39-36 with big performances by Piggott and Gilbertson yet again.
A great performance in the second half by Margueret Spear, junior, on Friday was no match for Libertyville however, as the Bears dropped that game 41-37.
To end the week, the Bears were able to bounce back and pull out a 58-30 victory over Palatine on Senior Night with the help of Gilbertson's 16 points, and Piggott's eight points, along with another eight points from Anna Biergans, senior.
The team has now won seven of their last nine to become 15-14 and will start next week by traveling to Warren on Wednesday.
Boys Basketball
The boy's team had a light week with their only matchup being at Zion-Benton on February 2.
The final score ended up adding a tally to the victory column with a 60-49 win over the Zee-Bees on Saturday.
The boys will now prepare for this week that features three marquee matchups against Stevenson, Libertyville, and St. Viator.
Missed what happened last week? Click here for the recap.
Leave a Comment
About the Contributor
Alex Ketcham, Sports Editor
As a senior, this is Alex's third year on staff and fourth year in the journalism program. He is very excited to work as the Sports Editor again. When...