How do you define a sport? Ask the IHSA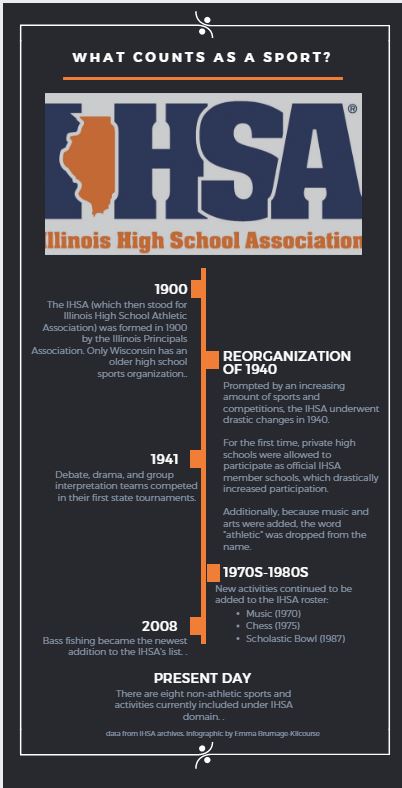 When most people think of sports, they think of athletic events with star players and packed bleachers– but what many people do not know is that the IHSA regulates many competitive events that are not athletic, and have done so since the earliest years of the IHSA. But this fact raises an important question: what exactly is a sport?
Kurt Tenopir, IHSA board of directors member and principal of Fremd High School says that the purpose of the IHSA is to enrich students' lives by providing them opportunities for healthy competition.He also explained how the IHSA answers the question of whether to include a club, sport, or activity in their purview. "Once there is a critical mass of interest from schools," he said, "we give them that opportunity to expand."
According to Tenopir, it is all about what schools, and their students, at a particular moment are interested in. "We have a list of emerging sports, which we put on a competition watchlist and start talking to schools and officials about," Tenopir said. A major example of an activity on that list that is currently gaining in prominence is eSports. Tenopir says that the IHSA has actively been in contact with high school Gaming Clubs across the state.
Many people, however, have some ideas of their own about different activities to conclude. On the subject of emerging eSports, Chicago Tribune contributor Ted Slowick brings up the idea of incorporating STEM into the IHSA: "Similarly, mathematics and robotics are fields where teams of students compete. Members could appeal to the IHSA to officially sanction math and engineering contests as activities. They could join such beneficial pursuits as chess, Scholastic Bowl and journalism as official IHSA  activities."
The question of what activities to include under their organization's umbrella has always haunted the IHSA. A recent athletic example of is lacrosse, with many alleging that the IHSA was slow to respond to the sport's growing popularity among Chicagoland teenagers, which according to the Daily Herald, was picking up steam due to feeder programs into high schools and areas like North Shore developing their programs. However, the IHSA took the unusual step of creating a benchmark and defining what exactly the critical mass that had to be reached was– 65 boys' teams and 40 girls' teams statewide.
That precedent, however, could be harder to apply to activities with less clearly defined team roles.
However, he does acknowledge that non-athletic sports often have unique challenges that can be difficult to address in debating inclusion or establishing a state series. For example, with the speech team, "one or two people on that team can win a state championship for you," Tenopir said. "We try to make sure judging and rules are as fair and equitable as possible."
About the Contributor
Emma Brumage-Kilcourse, Secretary & Business Manager
As secretary and business manager, this will be Emma's third year on staff and her first year in a leadership position senior year. Emma is a film nerd,...