Boys' and girls' bowling teams achieve victories at regionals and sectionals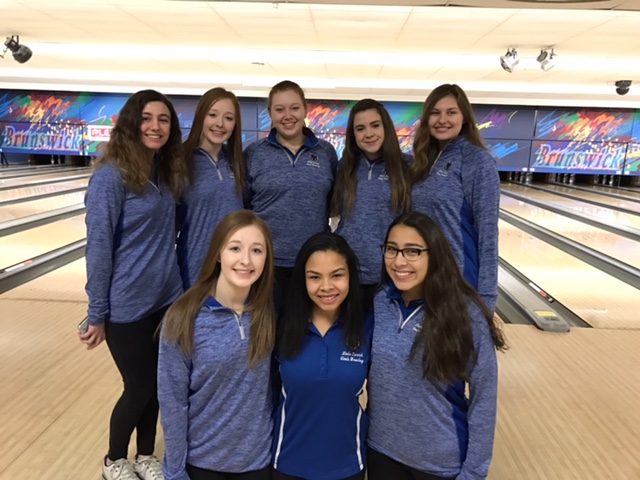 The bowling teams have drawn attention this season, with one team rolling to state and the other to regionals.
The boys bowling team coached by Michael Sutton had placed 5th at State, while the girls team led by coach Mel Fox placed third at regionals and will be playing at sectionals in Arlington Heights Sunday. Teams faced tough opponents and tight scores this season but pushed through the challenges with the help of coaches and other players, according to teammates.
"Obviously everybody would like to place higher than our conference rivals and we did that, but the teams that are in it to win it every year are Honenega and Harlem, so we kind of knew who the big dogs were. We have a saying on the team and it's take one shot at a time, I always tell them, we're not competing against the team, we're competing against the pins," Sutton said.
The same challenges were faced by the girls according to Fox, who also talked about how the team handled tough situations.
"We all know what we have to do, we don't always tell the girls [the score] because we don't want them to get stressed, but they know if we've bowled a good game, [with an] 800s 900s game they know we're in contention. Last year we only won by five or six shots, but all you need to win is by one," Fox said.
Even though the score can be close and stressful at times, players remained calm and cheerful, according to Eric Reusch, senior bowler, the teams were set apart from the others schools' because of the strong spirit and support.
"[Mr. Sutton] is an outgoing guy, he really has helped bring us together and is a core part of the team. [The team] will definitely still bond together and keep playing well, we're all such good friends," Reusch said, "Next year, I see the team doing just fine, I mean we're only losing two players next year. We went to the eighth grade to introduce them to all of the high school clubs and sports, and we got quite a few signatures."
However, some girls worry for the future of their team, and say how the team is struggling to find a balance between a strong team environment and being a larger team with a secure future.
"I feel like the team is very successful as it is with such a small amount of people, but it would be good to have people come in. I feel like it's a lot of repetition, and we are winning with that repetition, but four out of the five varsity players are seniors, six of our entire team are seniors, so we're losing almost half of our team next year. I feel like if we don't have more people come in then the team might die off," Lilliana Perez, freshman bowler, said.
The team's coach does not fear however, and says the team has a bright future.
"We should be just as competitive next year, we have good JV players with experience coming back," Fox said. "With the dedication of these girls we will be competitive with other schools in our conference, hopefully the younger girls will step up next year."
About the Writer
Max Feldman, Business Manager & Spotlight Editor
As a junior, this is Max's second year on staff as a business manager and his first year as a spotlight editor for the Bear Facts program. He aspires...