Cross Country's forecaster
Lindsey DeLuga's unusual interest in the weather has an unexpected importance for the team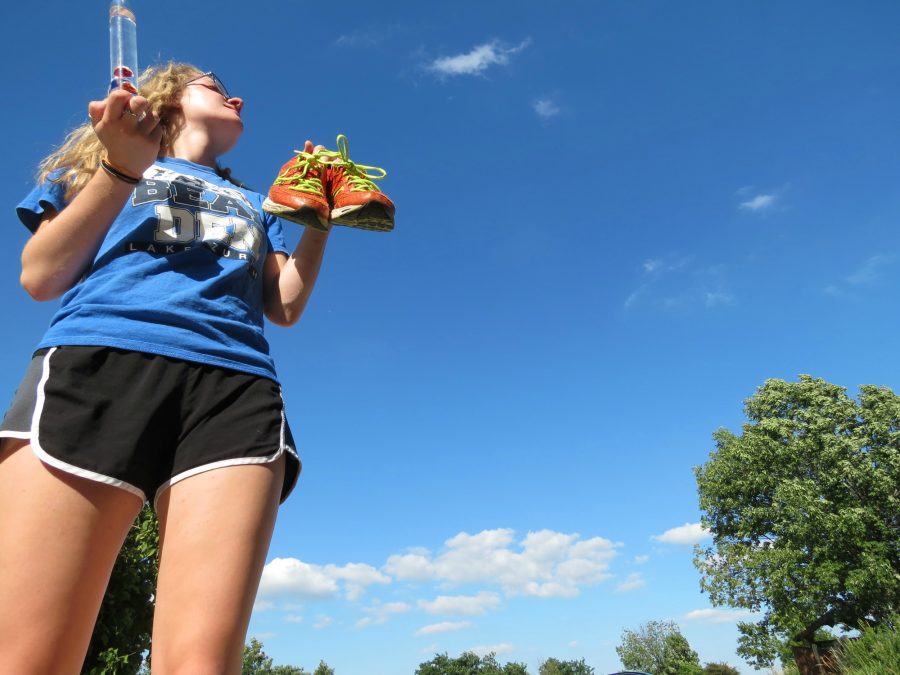 Moments before the starter gun sounds when she should be preparing and her teammates crouch to the ground, her mind drifts to the types of clouds in the sky, wondering what the chance of precipitation is. Although, senior girls cross country runner Lindsey DeLuga's obsession with the weather may seem like a distracting interest, she has found a way to positively include her hobby on the course.
"I want to storm chase and study meteorology because I really want to be able to help save people's lives," Deluga said. "I want to help find a way to expand the warning time for when a natural disaster is coming. Right now it's only an average of 13 minutes, which I don't think is a lot of time for someone to pack everything important to them before it all gets destroyed."

DeLuga wants to make an important impact on the world by studying the weather. Since she cannot constantly study the weather at the moment, DeLuga finds ways to keep this passion in her life, especially on the course, she said.
"On my cross country team, I'm the weather woman. Everyone who knows me, knows I love the weather, so a lot of people come to me and ask for the [daily] weather forecast," DeLuga said. "It affects my life because I'm obsessed with the weather. I'm constantly checking the weather channel at school and at home even though my whole family doesn't really like [the weather] that much."

DeLuga's family has learned more about specific aspects of the weather because of her constant interest and passion, she said.

"I have subconsciously taught my family more about the weather than what a normal family might know," DeLuga said. "I'm always talking about it or taking note of random things, like if we're in the car,
I'll point out the different types of clouds in the sky. I also feel like I've rubbed off on some of my friends and teammates."

Deluga is constantly talking about the weather, which has influenced her teammates to be more aware of the daily skies. This interest has helped the team in ways that go beyond weather information. While speaking about the weather, she brings a type of comic relief that can help the team if they are feeling too anxious, Ian Silverman, head coach for girls cross country, said.
"I think she brings a very lighthearted aspect to the team, which makes everyone feel more comfortable," Lisa Ledbetter, assistant coach for girls cross country, said. "We were on our way to a conference and Silverman said, 'Deluga, what's the weather gonna be like?' and she said something really funny. Everyone was really nervous and they all had a good laugh and it lightened up everyone's mood."
While being a helpful and needed comic relief for the team, she also tries to assist and balance others on and off the team, DeLuga said.
"I try to help others whenever I can, especially on the team. I always want to make sure everyone is happy and keep everyone from being too stressed," DeLuga said smiling. "It's just a part of my personality."
DeLugas' caring personality has benefited her by helping her become a leader to the team, Silverman said.
"Other students look to her to measure their own running goals and to measure how they should be feeling," Silverman said. "If she's happy, they're happy. If she's worried, they're worried. A lot of students look at her like a leader, because she is a natural leader."
Her leadership qualities show through with her outgoing personality, Ledbetter said. She is naturally "caring and wants everyone to succeed" which is what makes her "stand out the most."
"She's very determined and hardworking, but also very encouraging towards her teammates and others," Ledbetter said. "I think the kind and passionate nature of her personality explains her willingness to help her teammates and her desire to become a meteorologist. I definitely believe she can become an amazing [storm chaser] one day."
About the Writer
Rachel Brauer, Secretary & Business Manager
This will be Rachel's third year on staff. After being a staff writer for two years, she has been given the opportunity this year to take on the responsibilities...