Poms qualifies for State Competition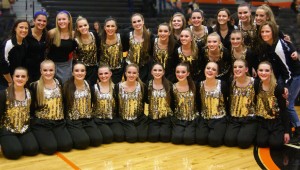 The poms team placed fourth at the IHSA Dance Sectionals this past Saturday, January 24 at DeKalb High School.
Since the team placed fourth, they will be continuing on in the IHSA State Dance Competition this Friday, January 30 and Saturday, January 31 at the U.S. Cellular Coliseum in Bloomington, IL.
"[In order to prepare for the competition], we have an extra practice scheduled and we're really just going to focus on hip hop this week," Gina Bundra, senior captain, said.
At this competition, the poms team will be competing in the 3A division against 24 other teams. Bundra believes the team's biggest obstacle will be finding a way to make their hip hop dance stand out from all other dance genres.
"We're going to clean our tricks and choreography and work on giving a high energy performance [to overcome this obstacle]," Bundra said. "We have a really strong team this year, but we will be competing against the best teams in the state."
Although she admits this competition will be extremely challenging, Bundra is honored to qualify for the state competition this year.
"[I'm looking forward to] being given the opportunity to compete against some of the best teams in the state," Bundra said.