Finding the quali-tea boba
A review of the best boba around town
Boba, synonymously known as bubble tea, has occupied the number #1 drink slot on my list for as long as I can remember. From stabbing the boba straw through the plastic film to slurping up the remaining few tapioca pearls, every single step of the boba experience is exciting and delightful. The little spheres of tapioca instantaneously shooting into my mouth is probably just about one of my favorite things in the world. 
Bubble tea is made up of two parts: the drink and the tapioca pearls. The boba pearls are a chewy treat that you can add to just about any drink of your choice. The pearls are almost tasteless with a slightly sweet aroma to it. They sit at the bottom of the drink and travel through the thick straw. Some common drinks that are created with
tapioca pearls are smoothies, teas, and coffee. 
To find the perfect boba tea to suit my tastes, I went to three different locations, each ordering a mango boba smoothie. 
Liquid Fusion
Location: 275 Parkway Dr, Lincolnshire  
Rating: ⅘
Price: $6.15
Liquid Fusion has always been one of my favorite places to go to for boba. Although the presentation is nothing special, it had the plastic film that typical boba places have and I was able to puncture my boba straw into the lid with a satisfying pop. Surprisingly, there was also a lot more of the drink than I expected considering its average price of $6.15. 
The mango smoothie was very thick and had a natural mango taste, adding on with the sweetness. Although it was slightly chunky, it made me believe that actual mango was puréed into the smoothie. While there was a lot of the smoothie, it's not only the drink that comes through the straw and into my mouth. The highlight of the smoothie was the tapioca pearls; a perfect consistency with a smooth chewy texture. However, it became clumped up after a period of time and it also hardened more than I would have preferred. 
In addition to the indoor cafe, there was a pleasant outdoor seating area that provided an option for friends to go and enjoy their drinks together. 
Overall, I was very pleased with my drink from Liquid Fusion and I look forward to visiting it more in the future.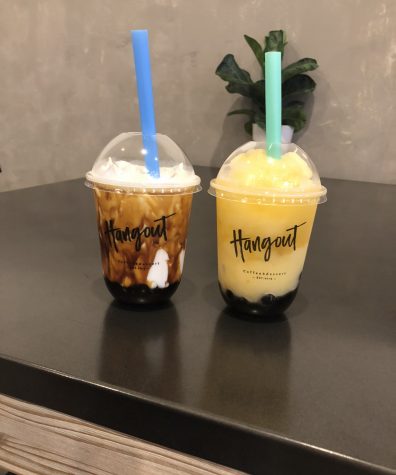 Hangout Cafe
Location: 1937 S Plum Grove Rd, Palatine 
Rating: ⅗  
Price: $5.25
Hangout Cafe was recommended to me by my friends and I agreed to go right away. When I first walked in, I was invited by the cozy and modern atmosphere. I went and ordered the mango smoothie boba. To my surprise, my drinks came in rounded plastic cups with their logo printed on the side. I then again stabbed through the clear plastic film and took a long sip of the new drink. 
Although there wasn't as much of the drink as I would have preferred, it was quite similar to Liquid Fusion. However, it was a bit sweeter and had a thicker consistency. I wouldn't necessarily consider this drink as a bad quality: rather it was one that didn't stand out from the rest. It started off with the perfect consistency, chewy and tasty, but as the tapioca pearls hardened from the cold drink around it, the boba pearls became a bit too hard for my taste. 
Like the smaller size options, the price was $5.25, which was definitely more affordable than all the other options. 
I could see myself going back here again if I wanted to hang out with my friends or finish off my meal with a refreshing drink.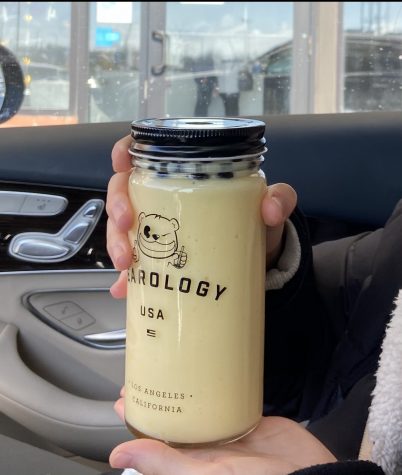 Bearology 
Location: 16 E Golf Rd Unit E, Schaumburg 
Rating: ⅖ 
Price: $6.50
Although my expectations were extremely high considering all the attention this place had received, these standards were not met. 
When first stepping into the newly-open cafe, there was a long line with an insta-worthy interior. I could imagine many people sitting around hanging out with their friends, if it were not for the current situation. At first glance, the presentation was eco-friendly, cute, and trendy. The glass jar printed with their logo and the colorful boba straw definitely topped all of the other locations, but the taste did not. Maybe the barista was overwhelmed by the number of people and rushed through the process, but the quality did not meet my expectations even though we waited 30 minutes because the boba had not been prepared.
The first sip was unexpected. A thin liquid along with several tapioca pearls filled my mouth. The smoothie felt watered down, but it was still smooth. The drink was extremely sweet and didn't really taste like the real mango fruit, rather a syrup or an artificial flavoring. Along with this, the boba pearls were too hard and uncomfortable to chew for my taste. 
Although they do provide a glass jar and 10% off each time you bring it back, I do not think this drink is worth the $6.50 it sells for. The pretty presentation excited me, but I'm not sure I would go there again. 
Leave a Comment
About the Contributor
Jane Yu, Digital Editor-in-Chief
This is Jane's third year on staff and second year as Digital Editor-in-Chief of Bear Facts. Jane is involved in orchestra, Tri-M, NHS, Sinfonietta,...