Introvert turned performer through dance
Sasha Kek, Bear Facts Contributor
May 24, 2019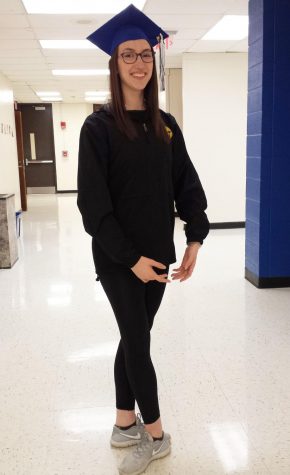 She is an introvert at school, but once this senior steps on the dance floor, she becomes a performer.
Alyssa Alber, senior, has been dancing for about 14 years. Although a long time, dance has not always been easy for her, and Alber had a difficult time expressing emotions through her dancing.
"I'm not a very emotional person, so it's more like a stress-reliever and a relief of emotions [when I dance], letting everything go and rather than in a verbal way, I can do it in a dance way," Alber said. "I'm not a vocal person, I'm very introverted, so I feel like [dancing is] the way, without talking, to express who I am as a person."
Because she is introverted, Alber had to overcome her reserved personality in order to be able to perform and dance freely.
"I remember one year I was learning a solo and I was sobbing because I didn't know how to express my emotions," Alber laughed. "I feel like that was a really big breakthrough for me to just open up because I never cry in public or anything. The whole opening up part, you're performing for an audience and they come to see you, so just opening up to the audience is hard."
Alber started her journey as a dancer when she was four years old after her mom "just threw me in a ballet class," she said, laughing.
"I don't really remember my first dance class, but when I do remember taking dance classes, it was just – I really opened up when I walked into the studio because I could express myself, so I was more open to everything," Alber said. "I started taking actual classes and I was like, 'Wow, I actually really like this.'"
Once uncovering her passion to dance, Alber decided she wanted to become a professional dancer. She applied for and was accepted to dance programs in colleges, but had to confront a lack of support from extended family.
"It makes me feel really good knowing that I can achieve [getting accepted into college] because a lot of people, especially a lot of extended family, are like, 'Oh, you'll never make it into the dance world. This person got an arts degree and they never used it, so they went back to school,'" Alber said. "It just makes me feel better knowing that [colleges] want me and I'm good enough to be able to do it, and I feel like I will be able to get into companies and have the career I want."  
While some family members discouraged her dream, Carrie Nicastro-Ruiz, one of Alber's dance teachers, gave her the support she needed and is also the reason she wants to become a dancer, according to Alber.
"I trusted [my teacher] more than my family, especially because I'm such a strong-headed person, like, 'I can make it work, you don't know what you are talking about,'" Alber said. "It makes me feel better because she always said, 'You can make anything work no matter what. Just push harder and you'll be able to make it work,' so that's the mentality I've had whenever I produce comments and everything."
With that encouragement, Alber is excited to pursue her dream of becoming a performer and attending college programs that incorporate her passion.
"I'm not a very self-confident person, especially when it comes to dance because I just hate watching myself dance because I feel like I'm really bad," Alber said. "It kind of gave me the feeling that I'm ready for college and it just made me feel better knowing that everything that I've done and all the sacrifices I've made throughout high school really paid off."