The Lake Zurich annual Farmers Market is back! From 3-7 PM on Fridays until September 8th, stands filled with fresh produce, homemade trinkets, and fresh food will be stationed at Paulus Park; here are some of the highlights from July 29th, 2023.
Harms Farm is based in McHenry, Illinois, and has a variety of vibrant, fresh produce for sale. In addition to their colorful array of fruits and veggies, Harms has a selection of jarred goods, such as pickles, jam, mustard, and even spices.
Andrews Heirlooms is a small business based out of Lake Zurich, though all of its produce is grown in Buffalo Grove, Illinois. Similar to Harms Farm, Andrews Heirlooms has plenty of harvest-fresh goods to choose from, including radishes, leafy greens, eggplant, tomatoes, and many more.

Maijas Family Foods is a small bakery based in Fox Lake, Illinois. The business has homemade cookies, rice crispy treats, and unique breads for sale.

Meg and Me Crochet is a small business run by a mother and her daughter straight out of Lake Zurich. At this stand, you can find handmade jewelry, keychains, crocheted purses, stuffed frogs, and much more.
Saucy N Sweet is run out of Hawthorn Woods, Illinois, and though they seem to specialize in sweet hot kinds of honey, they sell a number of BBQ, mustards, and steak sauces as well.
Twisted Olive is a flavor-infused olive oil company based in Naperville, Illinois. Though they sell the standard olive oil usually called for in recipes, they aren't afraid to mix it up with some fun new flavors, such as lemon basil, garlic, pomegranate, and Mexican lime.

GG's Elderberry & Wellness is a small business in Springfield, selling essential oils namely, elderberry syrup, to boost the immune system with the rich amounts of vitamins and antioxidants elderberries have to offer.
Six Generations' Farmin' Local is another produce stand based in Centralia. Along with their wide selection of vegetables, they have a large section dedicated to cherries, apples, pears, and peaches.
Lincoln Land is based out of California and sells one thing and one thing only: popcorn. More specifically, in the kettle and cheddar variety, which makes for a great snack on the go as you browse what the market has to offer.
Entering the food stand variety of the Farmers Market, Mama Mia Pizza is an authentic Italian pizza shop that caters around the Chicago land area. They even have their very own pizza oven set up in their tent.
Rolling Smoked BBQ is a food stand true to its name, as it's entire production is all on wheels. Their cooking utilities are hooked up to road ready wheels so that they can take their BBQ smoking business all around the Chicago land area.
Braai is another mobile food stand, which specializes in South African food such as Perri Perri Chicken and Roasted Mielies.

Simple Bakery is based in Lake Geneva and sells a variety of, you guessed it, baked goods. From croissants, to breads, to other savory and sweet pastries, if you're craving something baked, they've got it covered.
Speaking of cravings, Crunch Craves is a snack shop based in Lake Barrington with a distinctive twist; everything is freeze dried. From ice cream, to classic candies such as Skittles and Jolly Ranchers, to salt water taffy, Crunch Craves has freeze dried snacks for everyone.
Vegan Hero, a bakery-style shop based in Vernon Hills, Illinois, sells homemade, vegan macaroons, mousse cakes, and cake pops for $3.50-$7.00 each.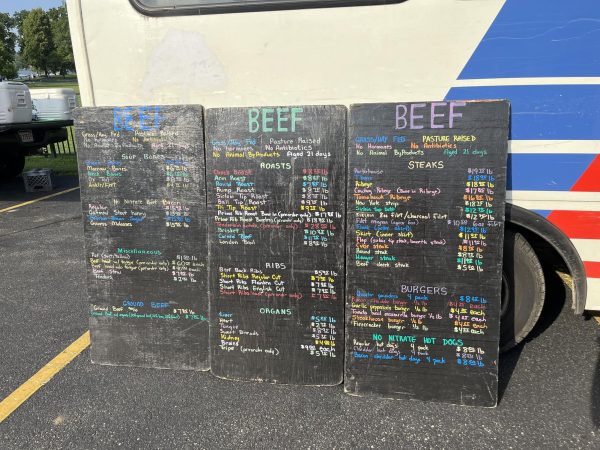 Farmer Nicks LLC is a butcher shop based out of Spring Grove, Illinois with a variety of meats (not all pictured), both deli and raw.
With its array of shops and goods to offer, the LZ Farmers Market can offer a diverse and entertaining experience for anyone who visits.