Book a visit with the "prose"
Authors to visit the school, talk about dealing with adversity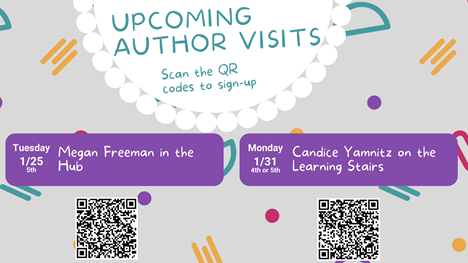 Authors will visit the school on January 25 and January 31 to talk to students about their professions and how to overcome adversity.
"Every month now in the hub, we have a different pathway that we focus on. In terms of December and January, that's arts and communication. That's why we're having author visits this month," Jenna Moller, Learning & Innovation Hub coordinator, said. "Megan Freeman has a novel that I bought that's written in verse and it's dystopian, so I thought that it would appeal to students. Candice [Yamnitz] is actually local, so I'm just trying to bring in people who are from this community and know this community."
Moller says she hopes that students can learn how to "find their path and their passion" from the authors, who will share why they wanted to pursue writing as a career.
"Each author is going to share a little bit about what experience has led to their current position because, in general, a lot of times when people see successful people, you don't always see all the things that got them there; you just see that they run a successful company or they wrote a book," Moller said. "I think it's really important to bring in people who have success; they can share all the experience that led to that, so [students] can kind of understand all the things that go into that." 
The first author visit will be virtual in the Learning & Innovation Hub during 5th period with Megan Freeman, and the second visit will be in-person on the learning stairs during fourth and fifth periods with Candace Yamnitz. Students can find information on the TVs in the hub with a QR code to register for both events, or ask permission from their teachers to attend the events if they have a class. 
"A lot of times when you're in high school, you're put in positions where you kind of have to decide really quickly what you want to do. If you haven't been exposed to a lot of different options, then you don't really know what is out there," Moller said. "Everyone knows doctor, lawyer, coder, teacher, nurse, but there's also professions that you don't really know you can do. Part of this author visit stems from our push to provide opportunities for kids to be exposed to different [professions]."
Moller recommends that all students, even those who are not looking to pursue a writing career, attend the author visits because "it's always interesting and beneficial to hear from current professionals in a field, [and] I think learning what got them there is always a good thing" to aid students in determining how to be successful, Moller said.
"Even if you're not interested in being an author, per se, you can still benefit from this experience because they're also going to talk about how they dealt with adversity. When they pitched their first book, they probably got rejected, so how did they deal with that, [and] where do you get that motivation and that confidence from?" Moller said. "I feel like if students left knowing some of the things that they needed to do to find their passion, how to overcome adversity, and then also just some of the skills that they need in life, I think that would be a success for me."