ILMEA auditions online for second year in a row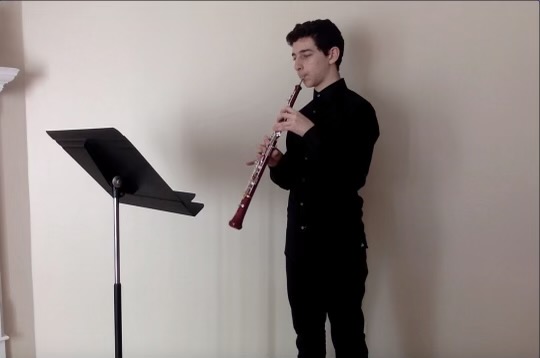 For the second year in a row, band, orchestra, and choir (BOC) students participating in Illinois Music Education Association (ILMEA) were required to perform their auditions by submitting online videos. 
Students who voluntarily choose to participate in the auditions were required to submit one YouTube video with several components by Friday, October 8. The online format for auditions is being repeated because of restrictions that COVID has created. Students have to perform multiple components within their audition videos.
"[Students] have to do some technical excerpts, so excerpts from music given by the state and district. It depends on the ensemble exactly what [those excerpts are], but essentially they audition on specific excerpts used to test technique [and] then there are some scales that they have to do for orchestra and band," Nathan Sackschewsky, orchestra teacher, said.
The music excerpts, also known as etudes, can differ from ensemble to ensemble, but all students participating have similar general requirements. They must perform multiple scales, a state-selected musical excerpt, and multiple district-selected musical excerpts.
 This new aspect of ILMEA auditions brought complications for teachers, such as requiring teachers to look over students' video auditions.  
"I have 22 students auditioning, times seven components [they need to submit for auditions]. I have to listen to 154 videos, and that's only if they tried once; most of them will try many, many times until they find one they like," Nick Juknelis, choir director, said. "Then after those videos get edited together, I have to watch them again to make sure that they're all in the right order, and that they've included all seven. Then I have to upload [the videos]. What normally would take me one evening of supervising my students at auditions will take me multiple hours of watching videos." 
For students, having to record video auditions can bring both perks and downsides. Juknelis says that when students have the option to listen back on recordings, "they know what it is they'd want to hear differently", which can cause students to redo recordings until they "find the perfect one"
"The nice thing is it makes [auditioning] a little less nerve-wracking. […] People get really nervous before [they] do an audition, especially an in-person audition. You get nervous and you make mistakes. [With online auditions] you can do it in the comfort of your bedroom or wherever you want to practice […] so there is kind of a benefit to that because you have another take. If you have a mental slip and you make a mistake, you can go back and do it again," Sackschewsky said.
However, "nerves" are not a sign of poor preparation, Sackschewsky says. Students, such as Matthew Nerenberg, sophomore band student, say that they auditioned after months of practicing their pieces from the time they are given out, usually in spring, up until their audition.
"When you get those [excerpts] in March, you break it down to make sure you can play it. Hopefully, over the next [few] months, you can play it, [but] just being able to play it does not make it the best," Nerenberg said. "Can you play it without a stutter? Can you play it without anything sounding like squabbling? Can you play with every note being perfectly in tune? The little details and music make all the difference."
The "little details" can make the difference between making it and not making it into ILMEA. The judges might evaluate differently based on what they hear.
"The judge can grade you lower because it's completely up to the judge. What sounds incredible to one person can sound horrible to another. It's all in the eye of the beholder, or in this case the ear, so it's an interesting and fun process," Nerenberg said. 
Despite the harsh judgment, countless hours spent practicing, nerves, and the unfamiliar video format, Nerenberg says that after putting in all the time and effort, "it's really awesome" to see all the hard work show itself when students get into the district ensemble. However, it is not just about the results, Juknelis says, but the lessons and experiences [students] gain from ILMEA.
 "They will have a valuable experience singing with other students from other schools. I think it gives them an appreciation for what we have going on at our school, and it also opens up their eyes to what's happening at other schools, too," Juknelis said.