Studio theatre to perform video game-themed show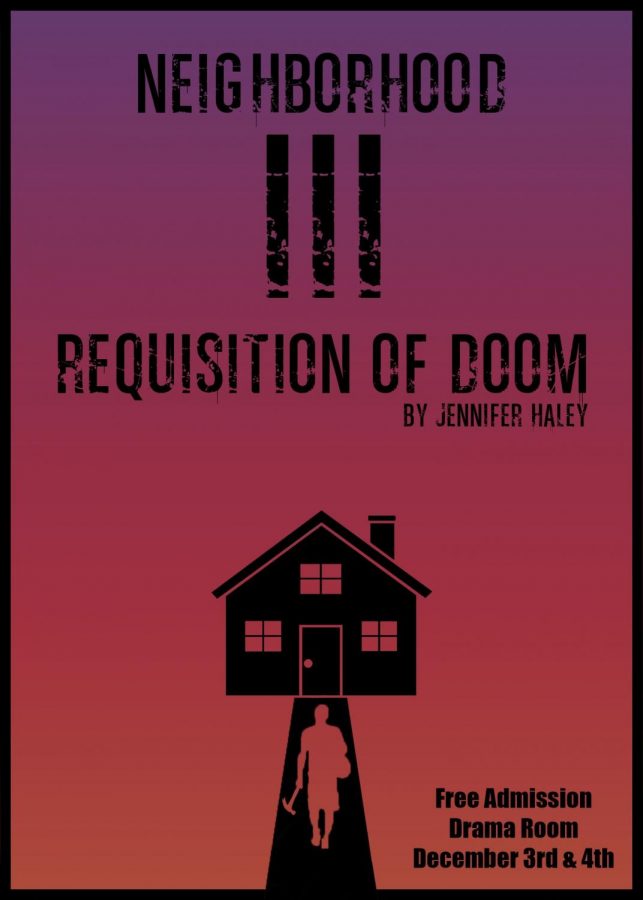 After months of planning and preparation, the studio play, Neighborhood Three: Requisition of Doom  is ready for their big performance. The show will be on December 3rd and 4th at 7pm, in the drama room. Additionally, the cost of the show is free.
Neighborhood Three: Requisition of Doom is about a group of teenagers that become obsessed with a zombie videogame. 
"It deals with teenagers obsessed with video games which we see is all over the place. The show is for people who enjoy not only video game culture, but also a kind of horror and danger as well. It is kind of scary and mysterious," said Tom Skobel, studio play teacher.
The studio theatre students have been preparing for this show since this summer. Ryan Jones and Luke Jalove, student co-directors chose the play over the summer and began looking over the script leading into the school year. 
"I originally chose it," Jones said. "I had read it maybe two years ago and I've kind of stuck with it because I've loved it so much. And I introduced it to [Luke] who really liked it, as well."
This type of show has been fun for the directors to direct, but it can also be a challenge to make decisions and agree. 
"A lot of times when there's a decision to be made, Ryan and I will sit in his car, usually in some random parking lot, and we'll just yell at each other until we come up with the decision," said Jalove. 
Although they can disagree, this has caused Jones and Jalove to become better friends and to get to know each other better. In addition to that, this has also been a learning experience for both of them. 
"Directing is hard. It's so hard. It makes you think of things that you never, ever want to think about in a play, but they're all incredibly important, said Javole. Which makes us respect Skobel and Graham even more."
About the Contributor
Alexandra Rauchfuss, Staff Writer





As a sophomore, this is Alexandra's second year in the journalism program and her first on staff. In addition to journalism, Alexandra is a...