A kaleidoscope of talent
Upcoming Kaleidoscope show showcases the talents of vocal performers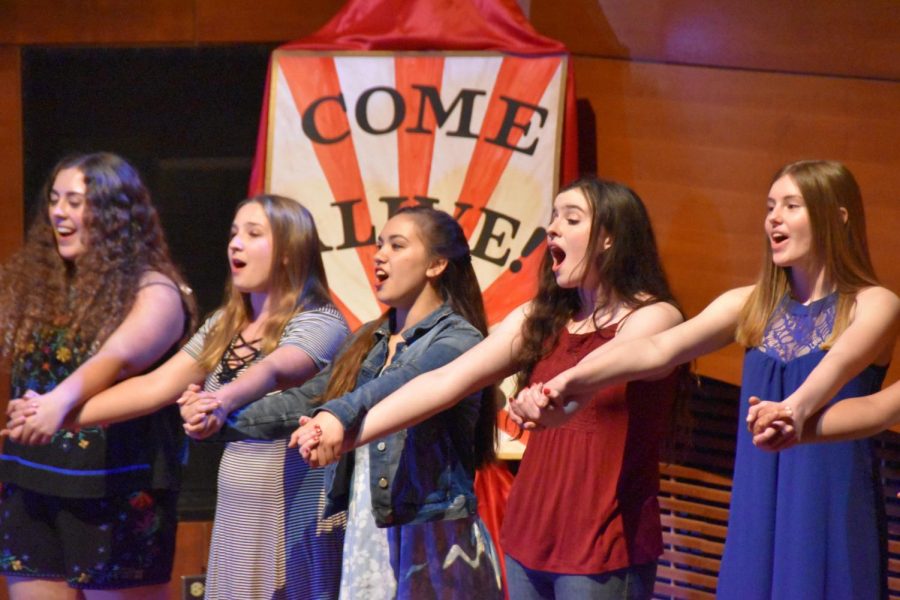 From solos to quartets, a kaleidoscope of talent will be taking the PAC stage May 25th to perform the annual Kaleidoscope show.
The show is free for all to come and see and offers a wide variety of acts. The majority of the acts are duets, trios or quartets, while juniors and seniors are able to perform solos. The show acts as a recital of sorts, where students of Chris Misik, vocal coach who started and runs the show, receive lessons that transfer directly to the show. Apart from the opening number, the show consists of everyone performing their own Broadway centered songs, according to Matthew Shaw, freshman.
"To sum up the show: it's one big production and concept but with different shows and songs that each individual or group performs," Shaw said. "It's a variety of singing and dancing and everyone performs different songs, [so] there's definitely something for everyone."
Each act is different in how they perform their piece, they may: act it out, wear costumes, or use props, according to Natalie Cupples, freshman. Although the shows performances may appear vastly different from each other, there are parts throughout the night where everyone will come together to showcase their talents, said Cupples.
"I personally love the opening number. This year we're singing a song called "Showpeople" where everyone [performs] in it," Cupples said. "It's a time where everyone gets together and kind of get to put their talents together to perform something great."
The main reason people should come out and see the show though is how it will not only be enjoyable to the people on stage, but to the audience as well, according to Shaw.
"Everyone who comes will enjoy themselves," Shaw said. "For adults, there are some acts that have more 'old' humor, and for [students], just coming out to see [their] peers will be enjoyable. I watched my brother perform in it last year, and I had so much fun just watching."
Since the show is performed near the end of the school year, it allows for students to showcase all the work they have put in not only to make the show the best it can be, but to showcase how far they have come as individuals said Griffin Brown, senior leader of the show.
"The show is fun, since everyone gets to perform a song they love. It's energetic since all of us [have] put in a lot of work to make a great show," Brown said. "It's also celebratory since [the show] allows for us to demonstrate how far we've grown in a year."
The show, a 2pm matinee, is free for anyone who wants to attend.
About the Contributor
Ruby Lueras, Secretary
As a junior, this is Ruby's second year on staff and her first year being Secretary for the publication. Along with working for Bear Facts, Ruby runs...