Another Day of Song
Kaleidoscope showcases students' voices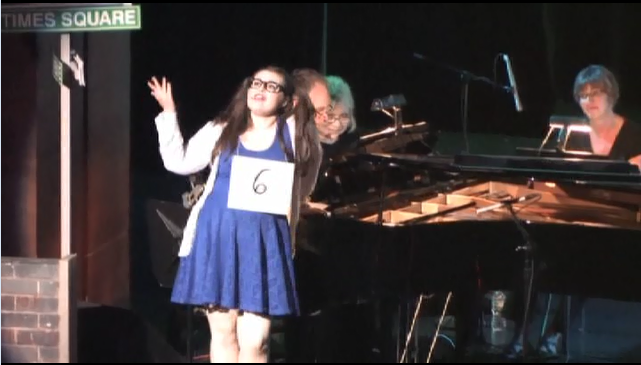 When people think of a kaleidoscope, they see a myriad of colors that you turn it as it forms different shapes. Few think how it is also a Broadway musical theme showcase with singing and dancing for music tutor Chris Misik's students.
"When I first thought of Kaleidoscope I thought of it as a lot of different students, a lot of different likes, so it became this kaleidoscope of opportunity," Misik said. "To make those colors you have to work as a team and I think they learned that through this process."
Along with students learning how to work together, Misik looks forward to many other things about the showcase, including seeing the passion of the students.
"It has to be the excitement that I see in the students. They are proud of their accomplishment in this area because it is all about the students as far as I can say," Misik said. "We even have alumni that return every year and we do a specific closing song and the alumni come up and we all hold hands and we all hold hands singing that song. We are all connected, not only with the current group or the fours years that are here, but those that have graduated."
A way to show the connection between the current students and alumni is by the tradition that highlights Misik's senior students.  
"At the very end we recognize the seniors that are graduating," Misik said. "They select someone to give them their scarf, because I'm always saying, 'You've got to have a scarf; you got to watch your throat. This is your instrument.' So everybody gets a scarf in the colors of the school they are going to be going to and their designated person puts it around them and says their name, their major, and what school they will be going to."
This tradition is something that most of Misik's students look forward to, Caitlin Bertrand, senior, said.
"I am really excited because it is my last one and it is going to be really sad and sentimental," Bertrand said. "The tradition [represents] we can go on with our futures. It is a really nice thing to do."
The sentimental showcase will be held in the PAC on May 26, at 7pm, but while the senior tradition stays, new concepts will be introduced, like songs from new musicals.
"This year we chose to focus on our opening song, from La La Land. And we have titled [the showcase] Another Day of Song," Misik said. "The students here sing, act, they do stuff outside of school and they are really quite gifted, so it seemed kind of appropriate to start off with a number with everyone singing so we have some very fun choreography for the opening and the closing this year."
The students work outside of school to practice the group and solo songs because of their passion for singing, Misik said.
"They have been preparing extremely diligently because they are excited about what they are singing," Misik's said. "Some are doing songs that are older musicals, some are going jazz, some are doing songs from musicals that are currently on Broadway and up for Tony Awards. It runs the gamut of decades."
An example of this is Bertrand who is singing a song called "Requiem" from a new musical, Dear Evan Hansen.
"I just fell in love with the song and the show itself," Bertrand said."[Kaleidoscope] shows each person off and shows their talent and their capabilities because with the musicals not everyone gets to have their own little moment, and this ensures that everyone gets their own little time on stage and they get the spotlight. I just think that is really important and it is nice to see."
Kaleidoscope not only gives students a chance for the spotlight, but also showcases a couple of other special guests, Misik said.
"Our principal Kent Nightlinger is singing a song from La La Land called 'City of Stars'. Also a dance from La La Land was choreographed from the head of the department, Angela Fortune. In her number are three people, Mr. Juknelis, the choir teacher; Mr. Skobel, the drama teacher; and Mr. Nightlinger," Misik said. "I just think it's going to make the show exciting and fun. I think it also shows the teacher-student relationship in whatever art you are in. Whether it is drawing, whether it's math, it could be science, it could be PE. I think it is sort of that validation that we are all in this together."
This, along with how Kaleidoscope is the best show in town for free admission, is why people, no matter what their musical background, should attend the show, Misik said.
About the Contributor
Chloe Faris, Magazine Editor-in-Chief
Along with being Editor-in-Chief of the Bear Facts magazine, Chloe is involved with Yearbook, Student Leadership, Student Council, SNAP, and Interact....