Ball Gives Life prepares for new changes and its first year without a founder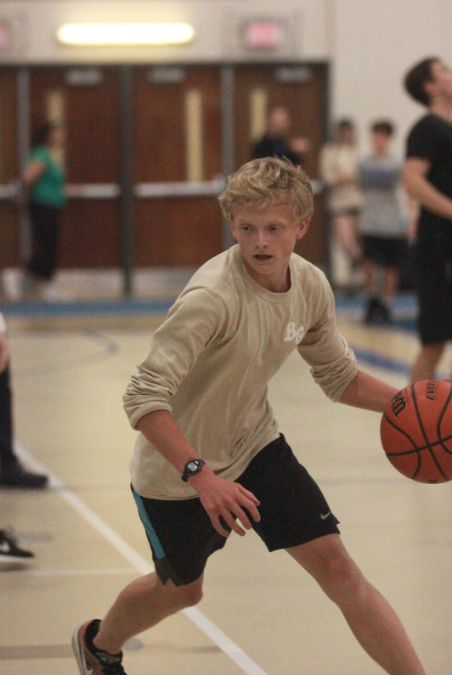 The basketball swishes into the net with finality as the winning team raises one finger into the air in victory. Tonight, they have not only played on the court to enjoy a sport they love, but to help their community by participating in a tournament that will donate all of their proceeds to charity.
The story of Ball Gives Life began two and a half years ago when Patrick True, senior and co-founder of Ball Gives Life, and Alvin Pham, 2017 graduate and co-founder of Ball Gives Life, put their heads together to create a club that hosts basketball tournaments to raise money for charity. Now, although the club has raised hundreds of dollars for various charities throughout the years, they have not forgotten their original goals.
"When we started this club, it was because we wanted to help out charities as well as to help people stay involved with a sport [like] basketball [where] only 10-15 kids make the team every year," True said. "[Basketball] isn't like football or cross country or other sports where kids can stay involved with a big team like that, so I think a club like this is a good way to help people who enjoy basketball feel the play and be surrounded by it and help the community [at the same time]."
In order to carry on the Ball Gives Life legacy after True's graduation this year, younger officers such as Celia Cunnion, junior and officer of Ball Gives Life, have some new plans for the upcoming school year.
"It's always been basketball tournaments in the past, but hopefully, [we're] going to branch out into other of sports," Cunnion said. "We're considering doing a volleyball tournament as our first tournament [and] there is talk about potentially doing an end of the year picnic instead of or in addition to the end of the year tournament. So it's all just bringing some new twists to it, because you know, three basketball tournaments a year can kind of get a little stale so we'll be trying out some new things."
With new possibilities on the horizon for Ball Gives Life, Cunnion says that she is optimistic about the future of the club, which she described as having "a solid group of officers" and "a lot of good buildup from our founders".
However, despite the hope that Cunnion has for Ball Gives Life and the confidence that she has in her fellow officers, she also admits that no longer having True around may be difficult.
"Patrick was our main bracket person, like that was his thing, so we've had to find someone to take over running the brackets, which is a really central part of our tournaments," Cunnion said.
Regardless of the worries of hisyounger officer, True himself says that he "feels fine" with leaving the club behind.
"Honestly, a lot of people were skeptical after the first year that it wouldn't carry on to the next, but then we managed to survive two years after that, so I think we're on a roll," True said. "The tournaments kind of took a couple years to figure out, like how to run them as smoothly as possible [and] as fast as possible, but I think this year we finally have it down to a science."
Having seen to the success of Ball Gives Life and having also become an official 2018 graduate last Sunday, True leaves a few final aspirations for the club as his last high school year comes to a close.
"Hopefully they can make more money than us, [and] hopefully they can help out more people than us," True said. "I'm excited to see what they can do."
About the Contributor
Caroline Sun, Digital Editor-in-Chief
As a senior, Caroline's back for her third year as Digital EIC. If you ever catch her outside of school, she'll probably be running with the cross country...