Hungry for the holidays
Students talk about their favorite foods
When the weather outside is frightful, holiday food is delightful. Four LZHS students share their different holiday cultures, traditions, and festive food favorites.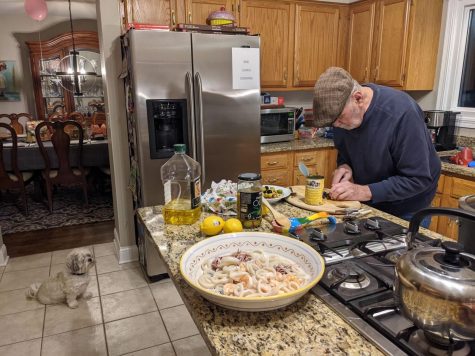 A sea-cretive seafood pasta

For Sienna Makhlouf, junior, her Christmas Eve dinner table features "seven different dishes of seafood" ranging from salmon to seasoned scallops. Of those seven, Makhlouf says that her grandpa's Italian seafood pasta is her favorite.
"I haven't had anything exactly like it at Italian restaurants anywhere," Makhlouf said. "[My grandpa] was taught [the recipe] by people in his neighborhood. I don't know if my grandpa is Italian but he lived in a very Italian neighborhood, so he likes to say that he's Italian."
Not only does she enjoy the authentic taste of her grandfather's pasta, Makhlouf says she likes the process of preparing the dish as well because she gets to cook alongside her grandpa.
"[My grandpa] is very particular when it comes to making [pasta], but he lets me help him make it, which is really fun," Makhlouf said. "He adds some spices but it's a secret. I don't know what, but they just make the pasta really good."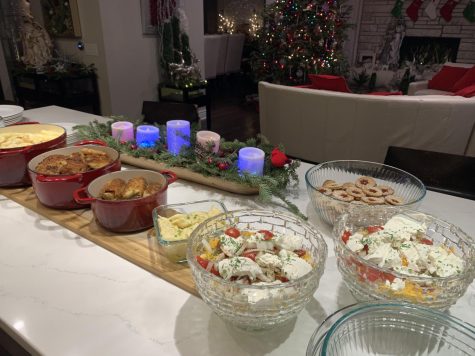 Wesołych Świąt! (Happy Christmas Eve!)

Christmas Eve dinners can have different variations, however. Dennis Szczech, sophomore, celebrates a different Christmas Eve than Makhlouf, one that is according to Polish customs.
"There's a Polish tradition that's called Wigilia, which is basically a really big dinner. The entire family comes together and sits at the dining room table. There's always one chair open, just in case someone else wants to join in [on our Wigilia]," Szczech said. "There are 12 dishes [made] because there were 12 apostles for Jesus."
Szczech says that because his extended family lives in Poland, his Wigilia at home is made for his family of five. However, that does not stop his parents from preparing all 12 dishes for a full two days. From all of the drinks on his dinner table, Szczech shares his favorite from the holiday.
"My favorite [drink] is kompot, [which is] a ton of fruits and you put them in water. It becomes a really good flavored water. You can't even taste the water in it because the flavor [of the fruits] is so strong. It's really good," Szczech said.
To pair with the kompot, Szczech says the pierogi is his favorite food.
"[Pierogi] is [made with] a piece of dough in a small circle. Then, you take a bit of potatoes, put it on the dough, and then fold the dough in half [to make] a half circle," Szczech said. "I really like the texture of pierogi and the flavor is really good. It's my favorite Polish food."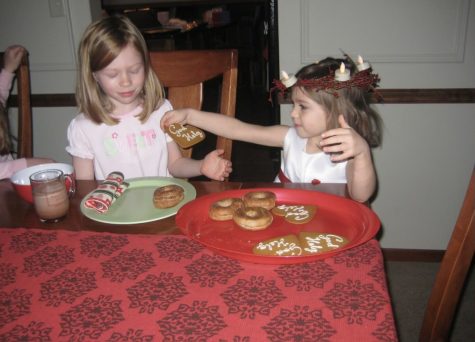 A light-hearted tradition
Winter holidays are not exclusive to Christmas or Hanukkah. In fact, Sam Keating, senior, feasts on her holiday foods during St. Lucia's Day.
St. Lucia's Day is a Swedish holiday celebrated on December 13. This holiday is a "celebration of light" based on how St. Lucia brought food to hiding persecuted Christians, wearing candles on her head to light the way, according to Britannica.
Celebrating St. Lucia's Day became a tradition for Keating because of her Swedish grandma. Her grandma carries on the Swedish tradition with "little handwritten recipes on note cards," Keating says. On these note cards are instructions on how to make pepparkakor cookies, a traditional Swedish treat.
"Pepparkakor cookies are kind of like gingerbread cookies and they're super thin," Keating said. "You're supposed to press in the middle and try to get it to split into three and that means good luck for the year."
Another treat passed on from her grandma is the kardemummakaka, "a Swedish cardamom coffee cake," Keating said.
"We make [the kardemummakaka] a lot with our grandma and it takes a long time because you peel all the little cardamom pods to get out all the spice, [which takes] a long time," Keating said. "We'll normally put on a Christmas movie and just shell the cardamom for the duration of the movie. Then you bake it into a bread that you split into separate logs of dough, and then we braid it together."
Although Keating says she loves the food, her favorite part of St. Lucia's Day comes from something beyond the table.
"[My favorite thing about St. Lucia's day is] just being with my [family]. I have two of my cousins in Chicago, my aunt, my mom, my sister, my grandma and me. [St. Lucia's Day] is a good way to bring everyone together on the holidays."

A lat-ke of joy
Matthew Nerenberg, junior, celebrates two of the biggest holidays in the world, Hanukkah and Christmas. Of the two, Nerenberg says his favorite foods come from the Jewish side.
"For Hanukkah, we [make] matzo ball soup. Matzo is basically not risen bread, and [Jewish people] started making it back when the Jews fled Egypt and they took their bread out of the oven early and it didn't have time to rise, so it's basically a giant cracker," Nerenberg said. "[In the soup, matzo] is like a dough meatball. Instead of it being meat, it's dough."
Aside from matzo ball soup, Nerenberg says that his favorite Jewish food is latkes, which are also made around Hanukkah.
"Latkes are like potato pancakes. They [are] just basically shredded potatoes fried in oil," Nerenberg said. "Latkes are really, really good. It's basically a super french fry [or a] hashbrown, but it just tastes better."