Teachers crafting the future
Nathan Sackschewsky, Orchestra teacher 
As the orchestra, music theory, and guitar teacher, Nathan Sackschewsky has been teaching for 17 years.  
Although Sackschewsky always thought he would work for a professional orchestra, he said he fell in love with teaching accidentally when an acceptance letter to graduate school was sent to the wrong address. Sackschewsky then found a job teaching in lieu of graduate school and never looked back. 
"I love being in the classroom and I love doing music. There's nothing that I want to do that's not music related," Sackschewsky said. 
Although his love for music was his primary reason to become a teacher, Sackschewsky is also following in his parents' footsteps. 
"I grew up with parents who are both teachers. I was around teachers my whole life. Even as a kid I went in with my mom sometimes when she was a teacher," Sackschewsky said. "It's always been natural for me to be in front of a class and working with people."
Sackschewsky has been playing the violin since he was three years old. He says he learned how to teach music from his violin teacher.  
"As an orchestra teacher, I am a teacher, but at the same time, we are still participating and making music together," Sackschewsky said. "So it's not so much like me as a lecturer. It is us all together creating something and so I love that creative process." 
Aside from the creative process Sackschewsky also enjoys his ability to connect with students throughout multiple years of their high school experience. Sackschewsky says his goal is to make his classroom a place where students can learn about themselves and keep what they've learned with them for the rest of their lives. 
Katy Norberg, French teacher
Katy Norberg has been teaching for 21 years at LZHS. Her college French teacher was a big influence on her decision to teach French.
"I fell in love with the language. I fell in love with the culture. I felt like it was an opportunity to just meet new people and have new experiences," Norberg said. 
It took Norberg until college to have this epiphany because Norberg's own highschool French teacher was inexperienced. 
"My high school French teacher barely spoke any French. She was a Spanish teacher [that] also taught one or two sections of French.  She would walk around with a [French] dictionary all the time and look up words," Norberg said.  
Although Norberg says she loves her job, she says that teaching foreign language has its own struggles.
"Sometimes I feel like language teachers have a lot on their plates, because we have to teach, assess, and give feedback on listening, speaking, reading, writing, grammar, vocabulary, culture, and pronunciation," Norberg said. 
Despite these obstacles, Norberg still enjoys having the ability to make an impact on students as a teacher, she said. 
"[I like] the connections that I make with my students," Norberg said. "I talk to my students after they graduate and I hear from former students and it makes me really happy."
Joseph Ellery, Math teacher
Joseph Ellery has been teaching math for four years, but this is his first year at LZHS. He moved to LZ from a smaller high school so he could work with more people. 
"The best part about being a teacher is getting to interact with so many people every day. I love working with people," Ellery said. 
Although Ellery is now content with his job he was not always going to be a teacher; Ellery attended the University of Illinois for an engineering degree but switched majors sophomore year.
"I always liked math growing up and when I was in high school I did a peer tutoring program," Ellery said. "I thought it was pretty cool but I actually went to college for engineering, and honestly, if I didn't realize that I didn't like engineering, I might have never become a teacher."
After Ellery changed majors, he chose math as his subject because of the ability to find a "surefire answer." He also discovered his passion for math. 
"I love puzzles. I do Sudoku all the time. I love math. I try to do math and logic puzzles and things like that as much as I can," Ellery said.
However, Ellery understands that math is "not [everyone's] strong suit," and he takes that into account when teaching. 
"I just try to be as real as possible. I try to be super honest with my students and approachable. I try to have a demeanor that makes people want to learn," Ellery said. 
Ellery puts in these efforts to achieve his main purpose in teaching. 
"Mainly my goal is to build student confidence and to show [my students] that they can do the math," Ellery said. "When I see kids have that aha moment of 'Oh, I know how to do this.' That's how I know that I've succeeded.
Leave a Comment
About the Contributor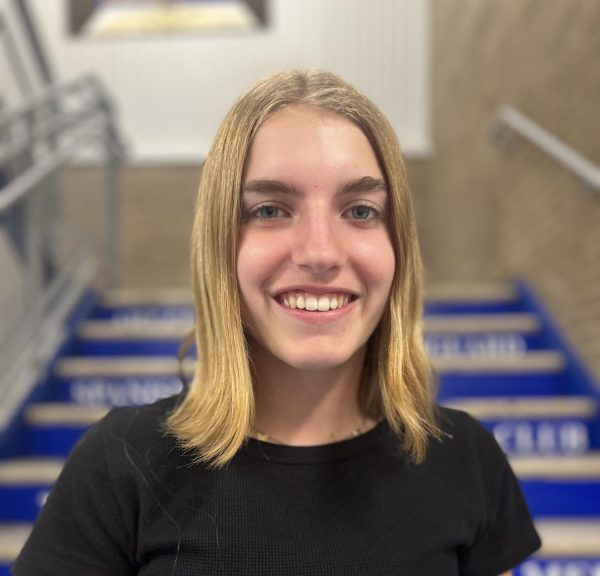 Tessa Fabsik, Staff Writer
This is Tessa's second year on staff and first year as Bear Facts' Junior Sports Editor. Tessa spends most of her free time playing tennis or soccer....