More than just an aesthetic sport
How a national qualifying rhythmic gymnast came to love the sport 
Posed on the floor at Nationals with her tight bun, full face of makeup, and studded leotard, Alexandra Bryukhova, sophomore, nervously waits for the music to play. Bryukhova has been a rhythmic gymnast since she was five years old. 
"[Rhythmic gymnastics] means the world to me because it is part of my life. It's all I can remember," Bryukhova said. "At the end of [each] season, I'm excited to come back for another one. I love it."
Not to be confused with artistic gymnastics, rhythmic gymnastics does not have flips, bars, or beams. Rather, rhythmic gymnastics requires turns, leaps, and sequences while incorporating equipment and following the rhythm of the music, according to Olympics.com. 
"Basically you're just kind of dancing to the music and even though it's hard, and you have to keep training a lot. It's just fun," Bryukhova said. "Every new season you get a new routine, practice it, and learn new tricks."
As a national qualifier and level nine rhythmic gymnast, Bryukhova says she practices between 15-18 hours a week to perfect her routine at the North Shore Rhythmic Gymnastics Center. During each practice, she stretches, practices elements like throws, rotations, and balances, and then rehearses her routines with different equipment: hoop, ball, clubs, and ribbon. 
These practices are not as pretty as they seem. 
"Physically our bodies are in pain. Sometimes my hip starts to hurt or [other] people's back starts to hurt," Bryukhova said. "Mentally, the challenge is getting out of your head, doing a clean routine, and pulling yourself together. Even if you drop [your equipment], you can't let that mistake ruin the whole routine because you [either] can do a clean routine after that, or you can keep dropping."
Despite the tremendous time commitment and the challenges she faces, Bryukhova says she stays dedicated to her sport.
"[The worst thing about rhythmic gymnastics] is how much I practice, but then again I think it's necessary. I always complain about going [to the gym] everyday, but without it, I wouldn't be where I am [now]," Bryukhova said. 
Alongside her technical achievements, Bryukhova says she has learned many lessons from being a rhythmic gymnast for 10 years. 
"Rhythmic gymnastics has taught me not to let one mistake bring you down completely," Bryukhova said. "Just fight: finish the task, set goals, and try to achieve your goals."
Even though she has a strong mindset, Bryukhova says she is "nervous before any competition." To cope with her nerves, Bryukhova trains herself to think in a certain way. 
"I just tell myself to get it together. I tell myself I have nothing to lose, so what if I dropped [the equipment]?" Bryukhova said. "If I fail completely, it's not the end of the world. I just don't get the best score that I want. I just tell myself that."
Regardless of the outcome, Bryukhova says rhythmic gymnastics has changed her life. 
"I think the best thing [about rhythmic gymnastics] is competitions. I just really enjoy performing," Bryukhova said. "I also love all the friends and coaches that I have. It's kind of like a family there."
Due to her love and hard training for the sport, Bryukhova qualified for Nationals in Iowa during the 2022 season. Bryukhova's efforts allowed her to place 2nd in the ribbon apparatus. These accomplishments keep Bryukhova grounded and in her game, she says.  
"Each year I say I'm going to quit the next but I never do. I think [it's] because I don't ever really want to go to practice. But then when I go to these competitions, and if I do well in those competitions, I feel proud and validated," Bryukhova said. "Also, I've been doing this since I was five years old, so I don't want to quit because then a piece of me will be missing."
Leave a Comment
About the Contributor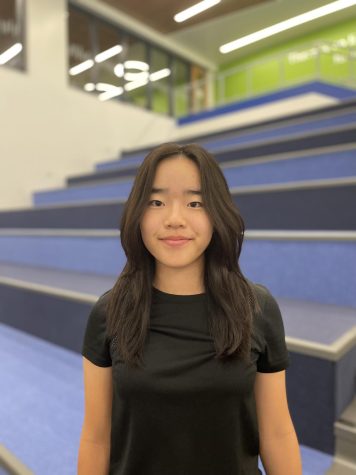 Jeanne Yu, Digital Editor-in-Chief
Returning for her second year on staff, Jeanne is excited for her first year as the Digital Editor-in-Chief of Bear Facts. In addition to journalism, Jeanne...