The uncertainty of movie theaters
COVID-19 challenges movie theaters as profits decline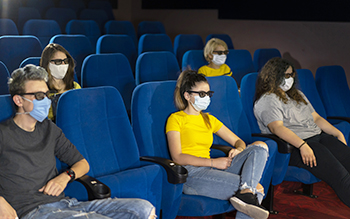 The impact of COVID-19 on movie theaters leaves people with only two options: to stay home and enjoy movies via streaming services or follow COVID guidelines and watch movies at theaters. Theaters are suffering from stay-at-home orders and movie studios are also challenged by the new normal. Productions were halted and many anticipated movies have been postponed. Once the pandemic is over, it is unclear what role movie theaters will play in the entertainment industry. 
For Isabelle Buccelli, senior, she misses the social interactions that came with movie theaters. While she says that theaters have "really gross nachos," she says she misses the experience of hanging out with her friends, buying food, and being able to watch movies on a big screen. Without movie theaters, she says, she will find it difficult to have activities to do with friends. 
"Because there's nothing to do in Lake Zurich, I would go to the movie theater all the time with my friends. I know there's COVID so we can't do things anyway, but when it's over, I'm going to have nothing to do. I'm going to have to sit in my house and watch movies and it's so depressing. There's so much less social interaction than what we usually would be getting and it's not fun to watch movies alone," Buccelli said. 
In 2020, the number of movie admissions was only 223 million, compared to 1,239 million from 2019 due to the consequences of COVID-19. Only 329 movies were released in the United States and Canada in 2020, compared to almost 800 in 2019, according to Statista.com. 
However, Bucceelli has been able to find solutions to her problems. Through "watch party" features on streaming services, Buccelli is able to invite her friends online and watch the same shows as she is at the same time. She says she loves the convenience of streaming services.
"I like watching a movie with my friends. I'll Zoom them, or we'll do a group watch on streaming services because we can't hang out with each other. But it's okay. I love streaming services. There are new ones, and they have really good shows so I think it's cool but I do miss the movie theater," Buccelli said.
Theaters could reopen as early as July, according to the International Union of Cinemas. However, it all depends on each country's measures on lockdown restrictions. But theaters won't be as normal as everyone expects. Social distancing and hygiene measures will need to be placed. This might also mean the box-office revenue will fall, depending on how many people can attend one performance or one screening. 
Once the pandemic begins to slow, Buccelli hopes for her "normal" life again: being able to drive to the movie theater with her friends, buy tickets and popcorn, and be able to experience what she was able to do so often before COVID-19.
"I hope for everything to go back to normal. I want to be in theaters with 100 people in it. I want to be able to eat popcorn and walk around without my mask on and go into the movie theater bathrooms afterward to fix my makeup after crying over a sad movie," Buccelli said. "I miss that. I want to go back to restaurants and just be able to do things again." 
About the Writer
Annette Suk, Business Manager
As a senior, Annette is in her fourth and final year of journalism. It is also her first year as a Business Manager. Annette is a very excited FAME leader...