Romance and holiday cheer brought to theaters this holiday season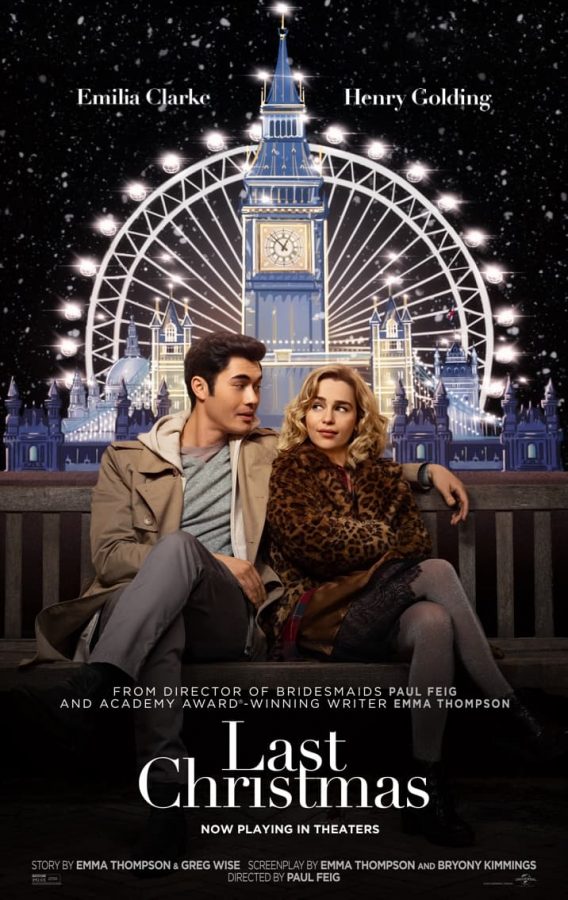 Comical, charming, and romantic are just a few of the words to describe Last Christmas. If you are in the mood for a movie, this adorable romcom is a perfect way to get into the spirit of giving back and spreading holiday cheer.
"Uplifting, quirky film full of sweet surprises. This holiday themed romantic comedy uses singing, humor and mystery to remind us all to appreciate the foibles that make us different and the humanity within us all," Julia Swift, critic, said.
Last Christmas is a story of a struggling singer named Kate (Emilia Clarke), who cannot seem to get a break. Unwilling to return home, she bounces from place to place in the city of London while having a hard time getting her life together as she struggles with depression.
Kate works as an elf at a Christmas shop, and one day a guy named Tom (Henry Golding), catches her eye. They continue to bump into each other coincidentally and gradually start talking, and this is only the beginning of their adventure.
Even though Last Christmas is a very generic romcom, there was a plot twist breaking the stereotypes surrounding a typical movie of this type. I personally thought the twist made the movie a little more somber than happy. However, the ending made up for the plot twist having me leave with a warm and fuzzy feeling inside.
The script was hilarious as well a cheesy. Emma Thompson, an actress who co-wrote, produced, and appeared in the film, did a wonderful job telling the story. She brought the Christmas spirit with the classic song by Wham, and of course the underlying message of the importance of giving back and spreading holiday cheer.
Both actors brought the characters to life their own unique way, and made an cute onscreen couple. Clarke was a great fit for the role of Kate, and had me laughing at the amount of wit she brought to the table. She added so many layers to her character, and was very engaging making the movie even more interesting.
Golding had a great performance as Tom. He was absolutely quirky, kind, and adorable, making it difficult not to fall in love with his character.
Overall, I really enjoyed the movie. I would recommend it to anyone who likes holiday movies and romcoms. It is a tearjerker, but at the same time it is heartwarming and touching. The movie also taught a great message that everyone can resonate with.
About the Writer
Sophia Babcock, Staff Writer
As a sophomore, Sophia Babcock plays club and high school soccer. In addition to soccer, Sophia enjoys singing and acting. She is a part of Cantilena,...