21 Tuesdays for the Class of '21
Celebrating seniors with exclusive offers from local businesses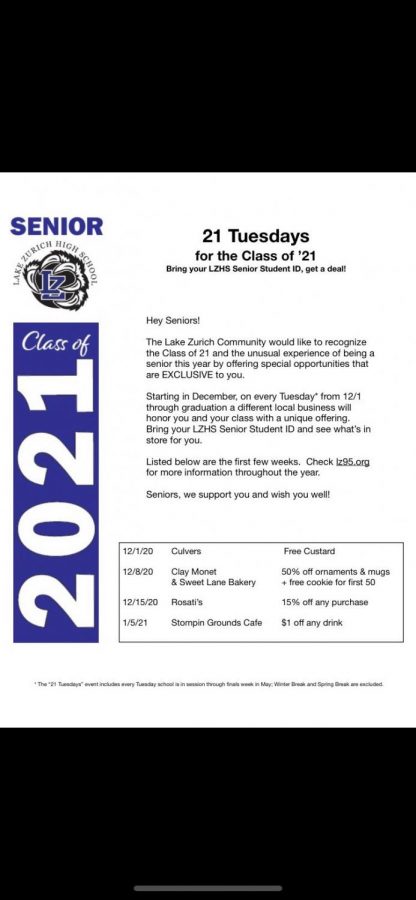 Six moms of LZHS students are collaborating with local businesses to do something special for the seniors. Called "21 Tuesdays," each Tuesday, an LZ business will be offering unique discounts exclusively for seniors until graduation.
"We came up with 21 Tuesday's because by the time our parent committee met, we happened to have 21 Tuesday's left in the school year so it's kind of a nice alliteration to have 21 Tuesdays," Ann Marie McConnell, one of the parents, said. "We all were talking about what we could do to make sure senior year is special for the kids," Ann Marie McConnell, one of the parents, said. "We live in a great community, we have lots of great local businesses who would be more than willing to support our seniors."
So the moms decided to create 21 Tuesdays for the Class of 2021. Their goal was to make the seniors feel special and not forgotten, in a way that made it feel like it was coming from the community as a whole, said McConnell, "so it's not just, you know, your mom or your dad telling you how great you are."
The first of the 21 Tuesdays was on December 1, 2020, at Culver's, which offered seniors free custard if they showed their school ID. McConnell said she heard good things about the event, as it seemed to be a positive experience for both Culver's and the seniors.
"It was kind of steady throughout the day and feedback from Culver's is that people also buy other things that day. So, they came in for the free custard but […] it was kind of a win-win for the senior who got something free, and then for the restaurant who maybe had somebody that would come in that day that normally wasn't going to come to Culver's that day," McConnell said.
The committee of parents are using Instagram, Twitter, and Snapchat to announce the weekly exclusive offer for seniors. "We are planning on a couple of other things coming up," McConnell said, and the committee is "open to any parent who wants to get involved."
They are working with the high school administration to figure out creative ways to make this year special (or at least more normal) for the seniors, such as signing the senior sign, a senior graduation parade similar to the one from last spring, alternatives to Prom, painting or decorating parking spots, and taking the senior class photo for the yearbook.
"Another fun thing that seniors have always done is decision day, so toward the end of the year when seniors decide where they're going to school, or if they're going to choose a career, they've had the opportunity to share that on a map," McConnell said. "Again, since we're not in school just to create a way that maybe we can do that  outside. So we're working through a bunch of different things, but right now we're at 21 Tuesdays."
About the Writer
Hannah Etienne, Staff Writer
As a junior, this is Hannah's second year on Bear Fact's staff. Hannah spends more time talking to her cats than practicing her flute as a member of the...