Fall festivities: students find ways to enjoy the season
How students are finding fun fall activities during the pandemic
With crisp weather and colorful nature, fall is the perfect season to be outside. Keeping the pandemic in mind, many students have recently explored safe options for fall activities.
For Kaia Rytel, senior, it was still important to carry on her family's yearly tradition of apple picking. According to Rytel, the experience was a little different than prior years, but overall provided a sense of normalcy in these hectic times. 
"This year, we ended up finding a different apple orchard since the one we usually go to was closed due to COVID," Rytel said. "It was a little different because, at some points, you had to wear a mask and go a little further into the orchard [to be distanced from other people.] Although some of the protocols were different, I feel like the overall experience was similar to before and it was still a super fun tradition to carry on this year."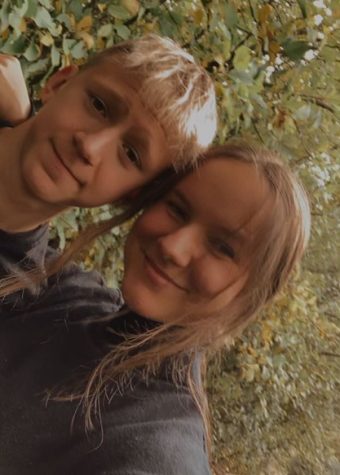 Carrying on tradition was essential to students like Rytel, but for others, such as Charly Mendygral, junior, finding a safe fall activity was simply just a way to get out of the house. Mendygral visited Richardson's farm with friends and said she felt thankful she was able to participate in such an iconic fall activity, while also being safe.
"Since it was outside I already felt really safe [and] it was nice that everyone had masks on. I also wasn't concerned with sanitation because they had easy access to hand sanitizer everywhere," Medygral said. "I loved the pumpkin patch because doing typical indoor activities, such as going to a movie theater, are no longer safe to do. Focusing on activities outside is one way I am dealing with COVID."
Richardson's farm is also finding ways to deal with COVID while still keeping the experience as close to previous years as possible. According to Mendygral, Richardsons was not all that different even with the new regulations; the same activities that people know and love were still set up.
"I've been to Richardsons pre-COVID, and it really is like nothing's really changed regarding the activities that they have. So you can still get donuts and cider, and you can still go through a corn maze and the slides and everything," Mendygral said. "I would definitely recommend it because it's outside and nothing's changed in terms of what you can participate in. It's a super fun and unique activity to do with friends."
No matter what activity one does during the fall, Rytel says it's just important to get outside and spend time with those who matter most.
"I feel like just getting outside by going apple picking with your family, or going to a corn maze with your friends, or even just going to a forest preserve and taking pictures is important," Rytel said. "It's just trying to have something to look forward to at this time."
About the Writer
Ruby Lueras, LZ Life Editor
As a senior, this will be Ruby's third year on staff and first year as LZ Life Editor. When Ruby is not in the journalism room you can find her running...