Sideline supporters: the impact parents have on their student athletes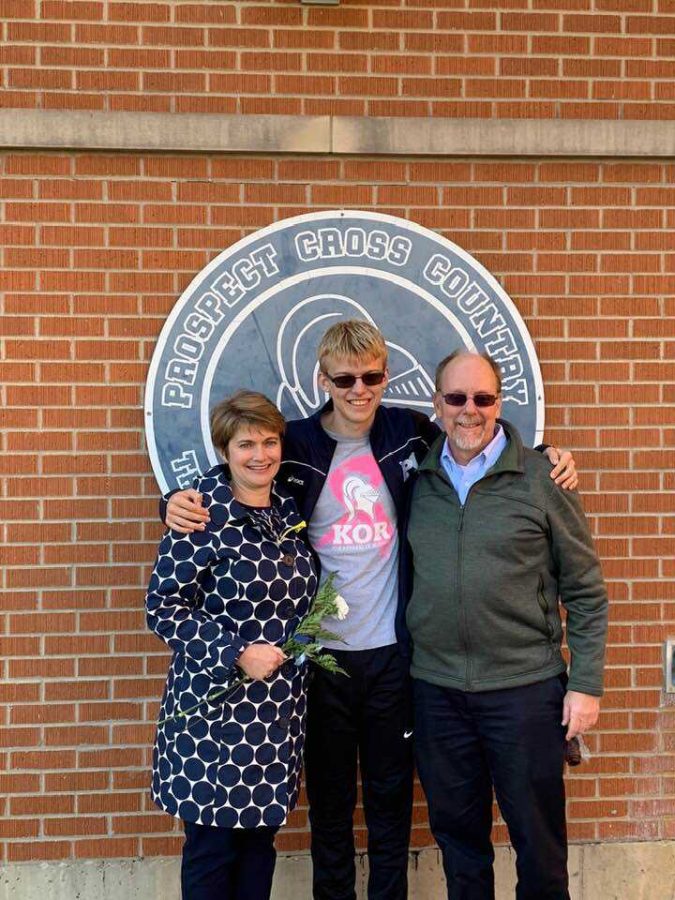 Parents can appear in many different events for your achievements. Whether that is graduation, a concert, or a game day, they are there to watch you put your effort in any event you participate in. Finding your family in the crowd is probably not much of a surprise because they are watching and cheering you on. But what does a parent undergo before, during, and after games?
While athletes can be stressed during some parts of the game, parents also can feel the strain of a difficult game. Parents put in a lot of effort for their athlete, cheering them on, preparing snacks, and supporting them through difficult times. Libby Reimann, AP European History teacher, supports her son, Andy, and his passion for running.
"Before, and always, I make a lot of healthy, high protein meals and buy a lot of protein bars. We plan our vacations around the team schedule and always send him out the door with our support," Reimann said. "[My husband and I have] gotten involved with helping the team. We've helped organize a team camping trip to Iowa in the summer.  We sell food and shirts at meets. It's a good way for parents to get to know other parents and to be part our son's athletic community."
As a parent, Reimann hopes for the best results for her son. While she cannot personally be there to run with him, she does her best to support him. If there is a difficult game, she consoles him by going over what had happened.
"I want him to do well but there is nothing I can really do to help, so I channel positive thoughts and watch every move, which is easier in track than cross country.  And hope, hope, hope it goes well for him," Reimann said. "We talk [the game] over when he gets home. He's usually analyzed everything already, but we can add another perspective."
For younger children, the support a parent gives can be different from a high schooler. Kelly Henkel, AP Human Geography teacher, has a 4 year old son, Luke. Due to his young age, he does not participate in games. However, his practices involve on courts and fields. Henkel advises Luke to listen to his instructor and have fun. For younger children, a little goes a long way.
"Prior to the games, we discuss listening to the instructor and having fun. After the games, my wife and I usually ask him about how much fun he had and what he learned while he played," Henkel said. "However, he has encountered disappointment in himself when he cannot complete a task during a practice.  For example, his first time trying to hit a ball during Tball practice ended up with him crying. Since he is only four years old, usually a quick word of reassurance and a hug goes a long way."
During a game, seeing parents at a game can be a normal scene for student athletes. For Rachel Lee, junior, she was nervous of her parents' presence at first but now is excited that her parents are there.
"My dad and my mom have come to see some of my games. My dad actually drove all the way to Chicago where my Saturday tournament was. They are very supportive," Lee said. "I used to get nervous when my parents were watching, honestly. I used to get nervous that I'd screw up and be embarrassed. Now if they're there, I kind of get excited and happy that they're supporting me."
About the Writer
Annette Suk, Event Coordinator
As a junior, Annette is in her third year of journalism and her first year as an Event Coordinator. Annette is a very excited FAME leader and will help...