In the face of adversity
How one senior has managed and learned from life with chronic pain
When she first opened up about her health, very few people believed her. Doctors, friends, and nurses would turn their backs, confessing that they just "didn't know what was wrong" or accusing her that  "it's all in her head." Now, seven years later and still without many definite answers, Annie Mowbray, senior, has learned not to let her illnesses control her entire life.
"I've come to terms with the fact that I'm not a normal kid," Annie said, "I genuinely live in chronic pain all the time, and it's not just a simple sinus infection or whatever and then I'm going to be cured and fine. It's a lot of things that doctors are still working out and that I've come to accept and even learn from."

But for Annie, she didn't always have such a grasp on her health issues.  Even before she was formally diagnosed, her childhood involved getting hurt often and a variety of food intolerances.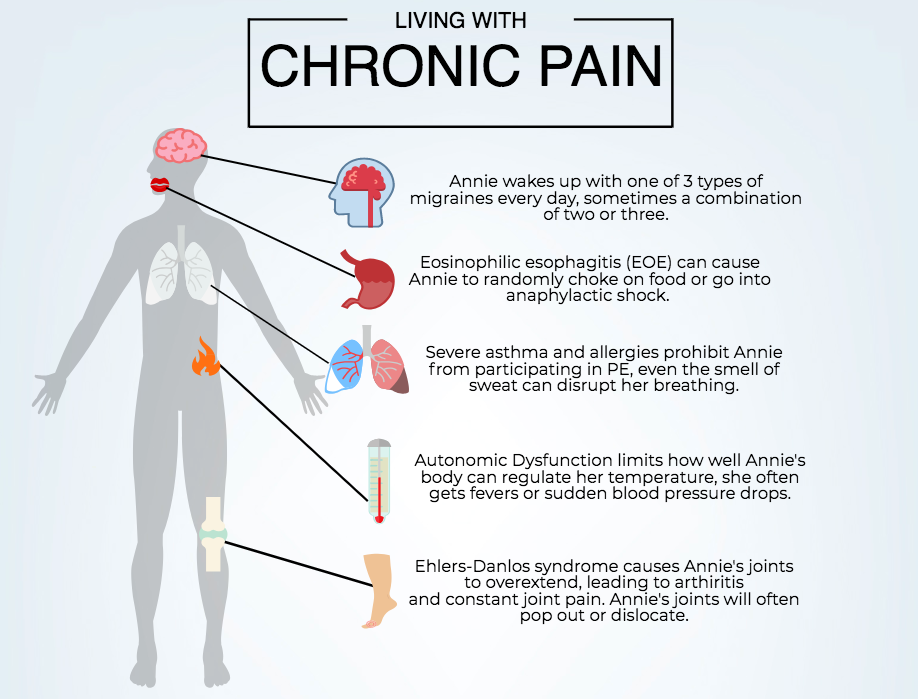 "The joint pain didn't really start until I was in fourth or fifth grade and I would come home from dance practice and tell my mom that my knees hurt really bad, and my mom just wouldn't understand cause I hadn't really done anything to hurt them," Annie said. "And from there, it progressed into migraines that started to get worse, and then it continued and grew into other joints [that] would hurt worse [and] chronic sinus infections and more allergies and stomach problems and all that."
Today, Annie's life involves chronic migraines, irregular temperatures, hypermobility in her joints, severe asthma, difficulty sitting down for long periods of time, sudden blood pressure drops, and dozens of others problems, which she stays on top of with "literally about forty pills a day, an hour of working out every day to keep my blood temperature rising, and prescription pain meds in a really high dose for relief from the joint pain," she said.
But even having figured out some things and after being diagnosed by various clinics and doctors with EOE, EDS, and Autonomic dysfunction, doctors still have very few answers, according to Janice Mowbray, Annie's mother.
"Her whole journey is unique because we've taken her everywhere – to every clinic, even MAYO clinic – and there is not one doctor that has helped her, she just hasn't been helped with medicine," Janice Mowbray said. "She just spent a week in the hospital and they had no answers for her. They said, 'well it's hard to help because there's a lot of moving parts to all the things that are wrong with you."'
For Annie, this is one of the hardest parts of her chronic pain.
"Whatever's going on with me is really hard to diagnose, so a lot of my life I've had doctors just tell [me that] I'm lying or just being overdramatic about it, which after a while, your brain starts to wonder if you're just being overdramatic [or] if all this is just in my head and that's been really hard," Annie said. "But the other thing would probably be that most of the time, I don't feel up to doing anything. [Sometimes] I get home from school and I'm like, 'I literally can't, I'm in so much pain' and I just have to go home and lay down."
However, despite all the difficulties that Annie faces in her everyday life, she says that she still does her best to live every day to the fullest, by enjoying her favorite hobbies and looking to the future.
"
Whatever you're going through, you don't have to be afraid or ashamed, [because] it's going to be okay. No matter what it is, you're stronger than it and honestly, I understand that [it can be] very overwhelming at times but you will get through it no matter what."
— Annie Mowbray, senior
"I really like art, I'm in AP art this year and I also love choir [where I'm currently one of the] choir presidents with one of my best friends," Annie said. "My top choice is TCU [Texas Christian University] this year for college. I really want to major in special education because I'm actually in Transitional Cadet this year, where I work with the special education kids [and it] is my favorite thing in the world ever."
But for Annie, being able to look forward to the future has not been something that she's been able to maintain alone. Throughout her journey, she says that she has been supported by many people, such as her chiropractor, who " has one hundred percent changed my life in that he took the time to get to know me", her pulmonologist, who "always listens to what I have to say and how I'm feeling," and her mother.
"I said, 'well honey, I don't know what to tell you, every day's a choice. You can lay in bed in the fetal position, you can be the victim, you can scream and cry in pain, or you can go and live the life God wanted you to live,"' Janice Mowbray said. "That's everybody's choice every day. Every challenge just kept showing her that medicine couldn't help her, people couldn't help her, and she said 'I'm not going to let this control my life anymore.'''
Despite her positivity, Janice admits that Annie's health stole her childhood and magnified typical teenage struggles that "normal" teens face.
"She never got to be a kid, most of her days were just go to school, come home go to bed, while everybody else was hanging out with friends, having sleepovers, going shopping. That wasn't my kid, she never got that experience," Janice said. "Some of her friends were very nasty, I would have mothers calling me saying, 'Annie drops out or changes her mind all the time and is so inconsiderate,' and that was the hardest part. But she has a few good friends who have stood by her, and they understand."
One of these friends, Isabelle Jordan, senior, says that Annie's struggles have also inspired her to live life to the fullest, and look at things through a different lens.
"It really makes me reflect on what I complain about and what I go through in my life. Obviously, it's not as bad as what Annie has to deal with every single day, and so it makes me way more grateful for my health and just my everyday living condition," Jordan said. "And if I feel like I'm complaining a lot, I look to Annie and think, 'okay she can go to school every day and deal with it, so I can try and I can get over my trivial issues."'
And while Annie's journey has helped others, she says that in the end, it is herself who is learning the most from what she goes through.
"I've just become such a different person from this," Annie said. "I've learned patience, which was hard because before this, I did not have patience for anything at all, and I've also learned a lot of grace and sympathy for other people. What I'm going through is hard on me but when I go to hospitals like MAYO clinic, I realize how easy I have it compared to other people, and it's made me learn to understand people on a different level because everyone's going through something, [whether or not] its to the extent I am or a thousand times the extent I am."
About the Contributors
Madeleine Lawler, Co-Web Editor-in-Chief
As a sophomore, this is Madeleine's first year on staff and she is taking on the role of Co-Web Editor-in-Chief. Along with working for Bear Facts, Madeleine...
Caroline Sun, Digital Editor-in-Chief
As a senior, Caroline's back for her third year as Digital EIC. If you ever catch her outside of school, she'll probably be running with the cross country...