Eating meat free: students live vegetarian lifestyles for cultural and health related reasons
In a country where the average consumer will eat as much as 222.2 pounds of red meat and poultry this year, it is hard to imagine eating a meat-free diet. Some people, however, including students from school, say that living a vegetarian lifestyle is not as difficult as one might think.
          Being vegetarian is quite popular across the country, whether the diet be a cultural one or based on physical health, students say. In fact, in the U.S., four percent of menand seven percent of the women are defined as vegetarians, according to the Harvard Medical School. Though there are initial challenges, students like Olivia Hodge, junior, who decided on a vegetarian diet, say the moral reasons for the diet are one reason to persevere.
            "I always loved animals, and it was the summer going into sixth grade, I read this book about vegetarianism and all the benefit," Hodge said. "Then I read another book about all of the things they put animals through, it just freaked me out, so I stopped eating meat."
           Though this moral concern caused Hodge to pursue the vegetarian diet, sometimes this sudden change of diets can have consequences, Hodge says. According to Hodge, if the diet is not balanced well, there can be detrimental impacts on a person's health.
           "A year after I became a vegetarian, I wasn't eating a lot of protein and I broke my wrist. I was in cross country in seventh grade, we were playing sharks and minnows, and I tripped over my foot and ran into a wall. Before that wouldn't have even hurt that much, but it actually broke," Hodge said. "I wasn't even doing anything big, but I think my bones were just weak because I wasn't getting enough protein, so that's when I really started eating eggs, sometimes nuts and other sources of protein."
           Hodge's claims about the importance of protein intake are backed up by the US National Library of Medicine, which says that proteins are important nutrients for bone health and that high protein increases bone mineral density. Students who have been vegetarian all of their lives say that they never really experienced these painful experiences that Hodge did. Po Lad, senior and vegetarian since birth, says that she never experienced any sudden changes since her family has always had a traditionally vegetarian diet.
"It's just something I was raised with, out of the kindness of my culture. Honestly, I have always had a curiosity about meat, but in the end it's for the greater good. [Along with that], growing up vegetarian, I get to see how meat affects your figure," Lad said. "People who eat meat may end up with more health problems or figure issues. So for my family, we use something called soy-meat, which is basically the bi-product of soybeans, and it's an essential part of the diet [for protein]."
Though students may get what they need at home, both cultural and health-based vegetarians say that it can be difficult to get access to vegetarian options. Sara Webster, sophomore, says that she has trouble finding good options in places like restaurants and the school cafeteria.
"It's difficult [to find vegetarian options] if you don't look for [them]. If you go out of your way and ask, typically there are other alternatives. At the school in particular, a lot of the options are not vegetarian, so you really have to search for something that fits your diet," Webster said. "It would be great if you could find those [vegetarian] options at first glance, and if more foods like salads were available."
This perceived lack of options at the school and restaurants can make it difficult to keep on the vegetarian diet, students say. But according to Hodge, as long as you stick to your principles, it is an attainable goal.
"It was really hard for me at first, I think I [even] ate meat once a month into it. For me, especially as I've gotten older, I would go back and forth and wonder if it [would] really make a difference," Hodge said. "I think for me what keeps me on track is that I really do love animals so much. If I did eat meat, I know I would feel so guilty about it."
Loading ...
Leave a Comment
About the Contributor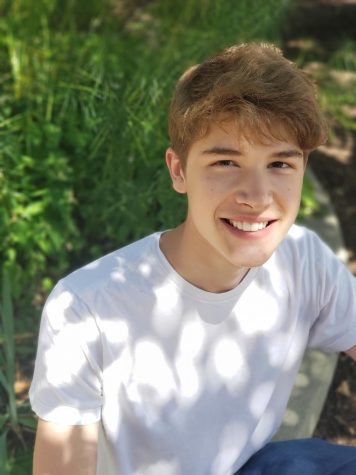 Max Feldman, Magazine Editor-in-Chief
As a senior, this is Max's third year on staff and first year as magazine editor in chief for the Bear Facts program. He aspires to study environmental...