'Tis the season for holiday movies
Top 5 movies to watch to get in the holiday spirit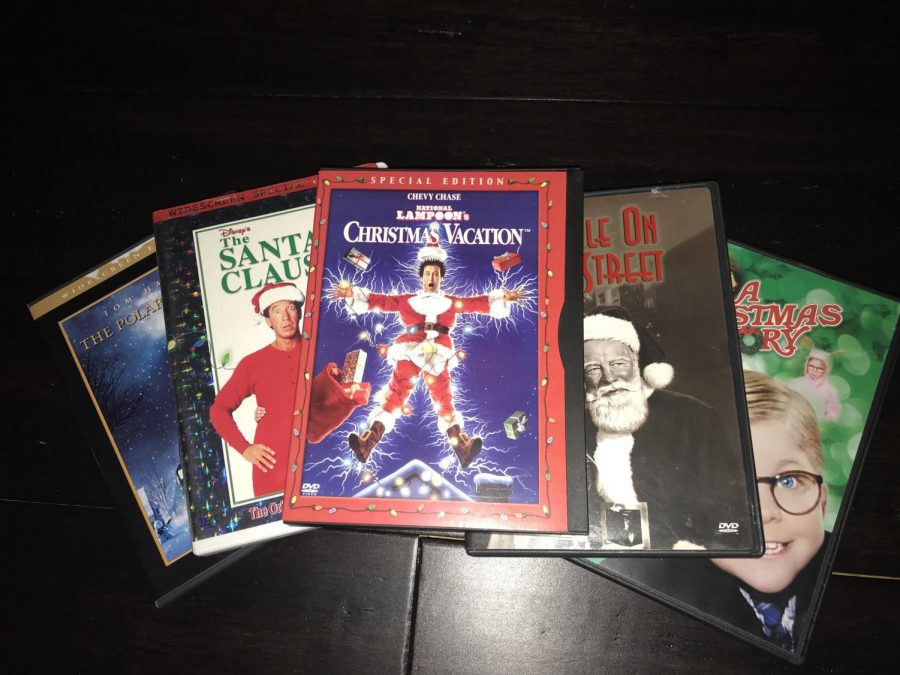 As December 25th comes closer, Christmas is everywhere. You can see it in the decorations, hear it in the music. People start their holiday traditions and just like always, the movies start playing on the TVs.
I spent some time watching the common holiday movie favorites and tried to figure out the movies that are the best to put you in the holiday spirit. Here are the top 5 movies that you must see if you are in need of some Christmas spirit.
5) Miracle on 34th Street-1947
This movie really is an oldie but goodie. It's about a young girl who hasn't ever believed in Santa, and therefore isn't necessarily a fan of Christmas. Her mom works at Macy's and she ends up meeting a man playing Santa Claus there and the movie focuses on her slow path to believing. When I first watched this movie I was a little skeptical, but once it was over, I realized how heart-warming it was. The characters' personalities slowly build throughout the movie, and by the end they all have their own revelations about Christmas. The plot is a little slow to pick up at first, but it does build towards the second half. I believe this movie is a great way to start the Christmas season because of its humor and Christmas spirit. 
Vanessa Hudgens stars in this Christmas movie as a small town baker entered in a Christmas baking challenge. When she gets there she meets a princess who looks exactly like her. If you're looking for a more modern Christmas movie, this is a good choice. It's like a seasonal version of The Parent Trap, and I think that is what makes this movie stand out. The characters and the relationships between them are really fun and one of the better parts of the movie in my opinion. The friendship between Vanessa Hudgens' and her costar, Sam Palliado's characters is the structure of the movie and a great point from which they build off. This movie is lighthearted and full of healthy Christmas competition, while also maintaining a dash of just enough comedy and plot twists to keep you hooked.
The intro of this movie shows a chaotic family getting ready for a holiday trip, very true to the normal holiday season. The next morning, the family leaves and accidentally leaves behind one of their kids. As he spends his time alone, some thieves attempt to rob his house, leaving him to defend his home. I really liked this movie because it was a very unique type of Christmas movie. Macaulay Culkin, who plays Kevin, is really charming and innocent-looking, which caused a little awe at the way he could protect himself. I loved the courage and the hope present in this movie, despite the circumstances the characters were in, which is very similar to the hope and love Christmas represents. This movie is good for a laugh and also a fun spin on being home alone. The actors manage to lure you in while simultaneously altering the idea of Christmas at home.
2) How the Grinch Stole Christmas-2000
After watching both the cartoon version and this version, I came to the conclusion that this more real version was better. Both contain the same plot line of an exile who hates Christmas so much that he wants to ruin the town's Christmas. This version edged above the other version because of its relatability and how realistic it was. The actors are more relatable since they aren't in a cartoon, and they still embody the humor and Christmas spirit needed to make this a holiday must see. I especially loved Jim Carrey playing the Grinch. His voice and humor still shone through, but when I first watched it, I had no idea it was him. Overall, I would say that this version's subtle differences added to the movie and made it just a bit better than the cartoon version.
1)  National Lampoon's Christmas Vacation-1989
This really is one of the best Christmas movies. Chevy Chase plays the role of father striving to give his family the best possible Christmas. The level of humor in this movie is one of the things that puts the movie above the rest. The characters all are full of sarcasm despite having to deal with an extremely full house of bantering family. They all have their own strong personalities that lead to sayings that I still hear in my house to this day. I loved the raw reality of how chaotic Christmas can get and how they still managed to uphold their Christmas cheer despite everything. This movie is really great for endless laughs and for a good family relationship in the holiday season.
About the Contributor
Kaitlin Geisler, Social Media Manager
As a junior, this is Kaitlin Geisler's second year on staff and second year as the Social Media Manager. Kaitlin plays high school soccer and is involved...