Playing their way to the top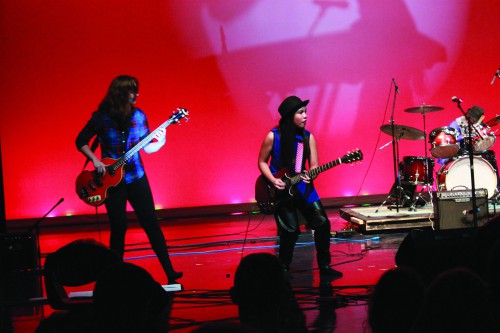 Not everyone can get on a stage with bright lights, loud music, and a staring audience while performing the best they can, but one group of friends has won Battle of the Bands and are still playing. Francesca Castro, junior guitar player in Above 4, started the group that beat seven other bands at Battle of the Bands. Since then, they have practiced every week in preparation for their gig in the PAC, on February 26.
Chloe Fletcher: Sophomore, Bass
Q: How did you feel about winning as the only all girl band?
A: I love the fact that we were the only all girl band at battle of the bands! I think it made us stand out. I was so excited about winning, it really opened my eyes to performing on stage with a band. It was the most fun I have ever had.
Jayme Polites: Junior, Piano and Vocals
Q: How did you get into playing music?
A: Since I was really little, and I've always enjoyed it, so this was a really cool way to continue that. I started in a music program when I was two, then I did choir from there, and then I picked up all the instruments in elementary school.
Jasmine Otto: College Student, Drums
Q: How did you feel about playing in front of the large crowd?
A: I felt a bit jaded. But I have the groove to focus on up there, and the routine to fall back on. I am really excited for everyone in the band.
Fracesca Castro: Junior, Guitar
Q: How did you feel about winning Battle of the Bands?
A: We thought it was awesome because we hadn't seen any of the other bands perform yet. We were so excited and surprised to win.