Accomplishing uncommon things
Coach's Ordinary is the Extraordinary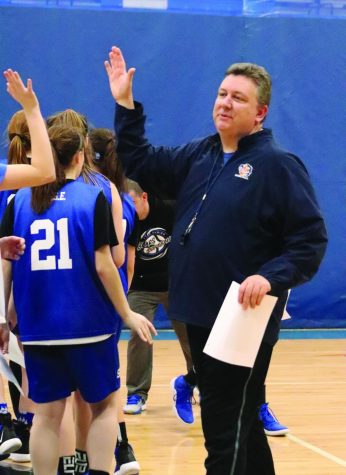 They say that a chain is only as strong as its weakest link, but for this coach, the philosophy is that there cannot be a weak link if the chain works together and unified.
Christopher Bennett, economics teacher and girls basketball coach, has coached girls basketball at the school for 25 years, and for him, the numbers on the scoreboard when the clock hits zero are secondary.
"You don't gain success by wins, I gauge success by how successful we are in establishing a culture for the program and whether or not our kids are enjoying their time and learning life lessons. That's how you gain success," Bennett said. "Sports first and foremost teach life lessons. It's not about wins and losses if you build a culture for your program."
For example, in the 2018-2019 school year, Bennett reached the milestone of 200 career wins and had no idea of the milestone until after the game. According to Bennett, "Mr. Rubenstein told me after it happened and that was the first I heard about it."
Along with having the team's culture being a top priority, Bennett also has organized a variety of team bonding exercises and trips for his team. Some of these past trips include high ropes courses, camping trips, basketball camps at Purdue University, and even seeing Broadway in Chicago shows. These trips and experiences are extremely memorable and meaningful to the players on the team, according to senior basketball players Margueret Spear and Ella Gilbertson.
"
Honestly the things that I remember are more of the, the trips that we took with our teams it's the times you just kind of hang out and you get to know your student"
— Christopher Bennett, girls basketball coach
"[The high ropes course trip] is one of my favorite ones, even though I hate heights, but he will push you to go outside your comfort zone. And then because you're going outside your comfort zone, you're going to need your teammates to be there for you," Spear said.
This type of coaching method builds an important mentorship bond between his players and himself even after graduation, Bennett said. "[You] get to know your players really well during a basketball season and I think if you actually add up the hours, I would bet that the coaches probably spend or see the kids more time than their parents," Bennett said.
"He's someone you can always trust. He says something and you know he'll follow through with it," Gilbertson said. "He's not one of those coaches that will tell you something and just forget about it later. He's someone I know I can play for and be confident that he's going to make the right decisions."
As for the future, Bennett does not see a time where he will choose to stop coaching, as he will continue coaching "as long as they'll let [him]," according to Bennett.
"Okay, I mean I'm a teacher by profession. So basketball is what I do and student council when I did Student Council are kind of my enjoyable hobbies I do outside the school day," Bennett said. "I mean those are my hobbies, but a lot of them just happen to be centered around my school."
About the Contributor
Alex Ketcham, Sports Editor
As a senior, this is Alex's third year on staff and fourth year in the journalism program. He is very excited to work as the Sports Editor again. When...