Weekly Roundup April 1-7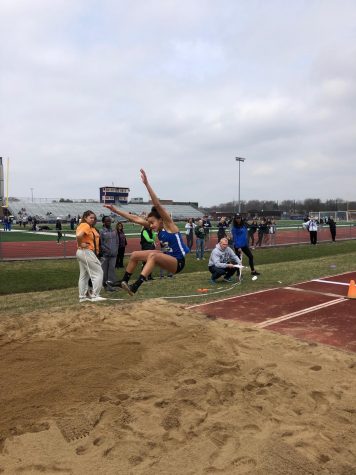 Girls Track
The girls track team also got back into action as they began the outdoor portion in their quest to repeat as NSC champions.
The team competed in their first dual against Zion-Benton and Waukegan where they were victorious. They also competed at the Buffalo Grove Invitational and added yet another second place invitational trophy to their trophy case. Notable results include a victory in the 400 by Sydney Mark, senior, a victory in the 300-meter hurdles by Gretchen Quinn, junior, and a victory in pole vault by Kelsey Rothas, junior.
This week is going to start quickly for the team as they will face off against Warren and Stevenson on Monday.
Baseball
It was a close week all around for the baseball team as three out of their four games were decided by two runs or less and two games ended with walk-off finishes.
The week started with back to back days of playing Zion-Benton, but they were in no way the same. Game one featured a walk-off single by Anthony Mangano, junior, to give the team a 2-1 victory. Game two on Tuesday was an entirely different story as the team pounced on the Zee-Bees 15-1 in five innings with Noah DeLuga, junior, getting the victory on the mound.
On Friday, the team squared off at Cary-Grove, ending in a 5-3 defeat. Saturday featured a non-conference thriller against Geneva where the team built an 8-2 advantage going into the seventh and final inning. The Vikings were able to put up eight, going through three LZ pitchers, in the top of the seventh to turn the game into a 10-8 deficit for LZ going into the bottom of the seventh. This did not discourage the team, as the rally started with two infield singles bringing up Mangano, who hit his second walk-off single of the week to win it for LZ in an 11-10 final.

The 6-2 team will now get set for their four-game week with matchups against Lake Forest on Monday and Tuesday, and a doubleheader at Palatine on Saturday.
Softball
Softball also had a busy week having five games in six days, but they did some damage in those five games, scoring at least 12 runs in four out of the five games.
The team opened up their conference campaign on Monday against Zion-Benton where Stephanie Keefe, senior, drove in five runs en route to a 13-2 victory. Tuesday featured lights out pitching from Maura Ginn, sophomore, and a home run and 4 RBIs from Haley Gajewski, senior, in an 18-0 defeat of Lake Forest. Their only loss of the week came in an 8-6 loss to Schaumburg, but the team bounced back with a 12-8 and 12-2 victories over Prairie Ridge on Saturday.
"We expect to get better every single day for our games because we have a goal to win conference and get ready for a long playoff run," Elizabeth Chialdikas, junior, said.
The team, now back to .500 at 6-6, will prepare for two conference matchups this week at Stevenson on Monday and Libertyville on Tuesday.
"We played some tough teams in Tennessee but really held our own," Chialdikas said. "I think that helped us with our confidence coming back to play teams in our area."
Boys Volleyball
A light week for the volleyball team featured two games, ending the week 1-1.
Tuesday featured a tight one at New Trier, where the boys fell in the second and third sets after being victorious in the first set in order to fall to the Trevians. Wednesday brought a victory over Zion-Benton at home where the team defeated the Zee-Bees in two sets.
Now the team will get ready to square off against Lake Forest on Wednesday and Evanston on Friday.
Boys Track
The boys track team was back in action on Friday and competed in their first event of the outdoor season.
The team competed at the Deerfield Invite on Friday, finishing fourth out of the 12 teams. Notable finishes include a second place finish in the 1600 by Jake Myers, sophomore, a third-place finish in the 800 by Adam Cupples, junior, and a third-place finish by Colin Kinsey, junior in the high jump.
This week includes a triangular against Stevenson and Warren on Monday at Warren.
Girls Lacrosse
The girls lacrosse team went through a tough first week back featuring a cancellation and two losses.
Their game originally scheduled for Thursday was canceled, but the team was back at it again with a doubleheader on Saturday. Their first game was a tough 9-7 loss to Fenwick, and the second game was a 14-6 loss to St. Ignatius.
The team, now 2-3, will get set to face Warren on Wednesday and Glenbard West on Saturday.                                  
Boys Lacrosse
The boys lacrosse team has finally met their match this week, going 1-1
Their raid of destruction kept going on Monday, with a 13-5 defeat of Schaumburg but ended with a 5-3 loss to Lyons. This was the first time they have scored less than 13 goals this year.
The team, now 3-1, will start their conference campaign on Wednesday as they square off against Warren.
Girls Soccer
The girls soccer team had the majority of the week off until they hosted the four-team, Bear Invite over the weekend.
The girls lost a tough one on Friday to Glenbrook North with a final score of 2-1. Saturday's doubleheader brought a couple of tough losses. They fell to Prarie Ridge 5-2, then to Hersey 1-0.
The team, now 2-4-1, will get set to face off against Lakes on Tuesday, and then they will head to Prospect to compete in the tournament there.
Boys Tennis
The boys tennis team started off their season with an eventful first week on the courts.
Wednesday the team fell to Prospect 5-2 to open the season, and then on Saturday, they fell to Palatine 5-2.
The team will now have an even busier week, which features matches against Zion-Benton, Cary-Grove, and Lake Forest.
Need more #lznation athletics? We've got you covered for sports and a lot more right here!
About the Contributor
Alex Ketcham, Sports Editor
As a senior, this is Alex's third year on staff and fourth year in the journalism program. He is very excited to work as the Sports Editor again. When...