Sophomore star: basketball player aims to improve for next season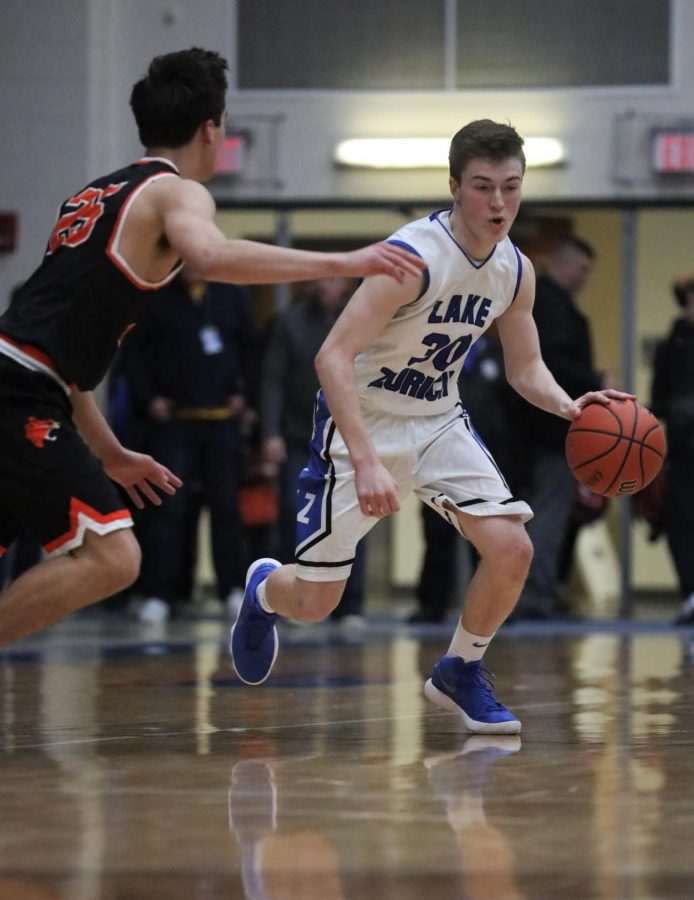 After he took an expanded role as one of team's go-to players last basketball season, a sophomore is prepared to prove that he can be an even greater force to be reckoned with in seasons to come.
As a freshman playing varsity last year, Will Tucker, sophomore, says being introduced to such intense practices and games allowed him to come into his sophomore season with a sense of confidence and purpose.
"I got to play some varsity last year as a freshman, which was surprising to me because I had never played at that level before," Tucker said. "With that experience, in addition to playing with varsity this summer and fall, this year I felt more prepared [heading into the season]."
Because of the training and experience he gained over his freshman year, Tucker says he was able to stay focused and calm during the high-intensity games he was involved with this past season.
"In the playoffs, [the team] tried to keep doing what we'd done all season to get us there during practice and before games," Tucker said. "My mentality didn't change much either. All you can do is focus on each play and stay in the moment. I have to say that winning the sectional this year at home was my favorite moment so far in my basketball career. It's awesome to be able to say I was a part of the best team in LZ history."
But Tucker's role on the team isn't over, Billy Pitcher, varsity boys basketball coach, says the effort Tucker continually puts into his training will make him an even larger force to be reckoned with on the court over the coming years.
"[Will] is very mature and he works extremely hard," Pitcher said. "He understands the big picture. Not only does he know the amount of work you have to put in, but he knows how to work on the right type of things to get better in all areas. From last year to this past season, Will improved his strength, athleticism, his defense and just overall confidence. We are very excited to see how he becomes even more of a threat his junior and senior year."
Since Tucker anticipates taking a larger role with the team next year, he says his number one goal for the offseason is to work hard and improve his all-around game.
"From basketball I've learned that working hard is the only way to get any results, and that's something that applies to anything else you want to succeed with," Tucker said. "Right now, during the offseason, I'm really focusing on becoming a better player for next season."
Pitcher says that Tucker's focus is what will propel him beyond mere high school basketball.
"Will can definitely play college basketball," Pitcher said. "He could play right now and help a lot of Division III teams, but with his work ethic and development, he could get to an even higher level two years from now."
About the Contributor
Adam Cupples, Sports Editor
As a sophomore, this is Adam's first year on staff for the Bear Facts Student Media Program. In addition to Bear Facts, Adam is also involved in the...