Digging Deep: boys' volleyball dedicates game to raising funds for Dementia research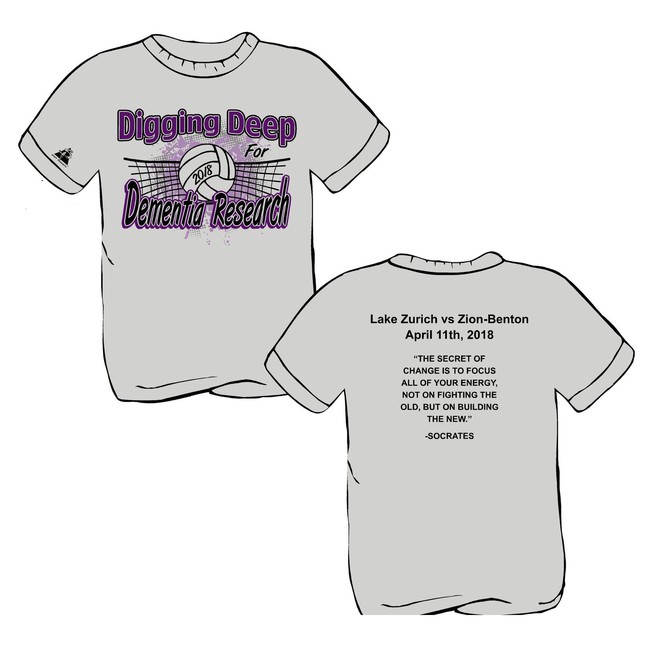 The boys volleyball team is hosting a charity match against Zion-Benton for Dementia Research this Wednesday, April 11 at 6pm in the field house.
"We thought it was a good opportunity to bring our team closer together and stand behind this cause for Dementia research," DJ Young, senior boys volleyball player, said. "My grandma actually passed away from dementia, so it hits close to home. And another teammate has a grandma who has it as well. As a team it is something we can all get behind."
With help from the newly formed Boys Volleyball Booster Club, the team is able to put on this fundraiser that will include t-shirts, a memorial, raffle, and the opportunity to grow as a team, according to Lesly Ravenscraft, boys volleyball head coach.
"It's not all about sports. It brings them together as a team, it makes them have empathy for what other people are going through," Ravenscraft said. "It helps them on the court [too]. It helps them trust one another, believe in each other, and be supportive of one another, whether it's on the court where someone is struggling, or if someone is struggling outside of volleyball."
Those with Dementia suffer from memory loss, communication and language difficulties, reasoning and judgement issues, among other symptoms, according to the Alzheimer's Association.
In addition to supporting dementia research, the team has held another charity match in 2016 for Amyotrophic Lateral Sclerosis (ALS) research, according to Ravenscraft.
"We did not do one last year, but this year the [team and booster club] picked one to do. For ALS we had two athletes in our program whose Mom was diagnosed with ALS. She was an avid fan and was there all the time, so we chose that because it obviously connected to our players," Ravenscraft said. "We played Stevenson, so we obviously have a connection with them too. A lot of kids knew each other from club, so they were familiar with the mom as well. They participated [and] all three of their teams bought shirts."
100% of the proceeds from the 'Digging Deep for Dementia Research' t-shirts, raffles, and concessions will go towards Dementia Research. The team chose this cause because of the connection to players, according to DJ Young, senior and varsity volleyball player.
The long and short-sleeved t-shirts can be purchased for $15-18 before Sunday, April 8 online at the Bear Booster Club Store. Those who purchase a shirt can pick it up during lunch periods on Tuesday or at the match on Wednesday.