Alyssa Morello finished the year strong at State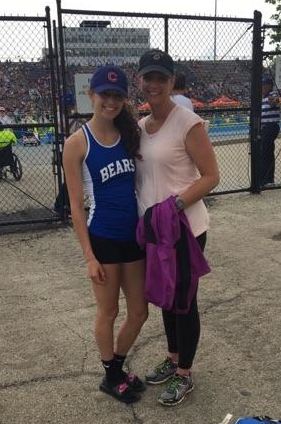 Hang on for a minute...we're trying to find some more stories you might like.
"Alyssa Morello is one of the only 3 time State qualifier, 3 time girls track MVP, and 2 time State medalist, we don't have many in our school's history with quite the resume," David Antczak, head girl's track coach, said.
Morello, senior, competed at the IHSA State Track and Field meet on Friday and placed 5th overall in pole vault. Morello qualified at sectionals in early May for the 100m hurdles, 300m hurdles, and pole vault. This year will not be her first time competing at the state competition.
During the season, Morello had a pole vaulting accident resulting in a concussion that kept her out of a few meets. But following a rough couple of meets after first coming back, according to Morello, she has come a long way and said she was back in shape and ready for the State meet.
Morello credits her coach for her success.
"My dad has helped me the most because he's coached me in every event I've ever done and always been there for me and making sure I'm giving for my best effort," Morello said about her dad, Jeff Morello, who has coached her from a young age.
That coaching appears to have paid off.
"She is definitely one of the best athletes LZHS has ever had," Antczak said, "I look forward to see what will happen in her future because I know she will do great things."