Student walks through life fascinated by art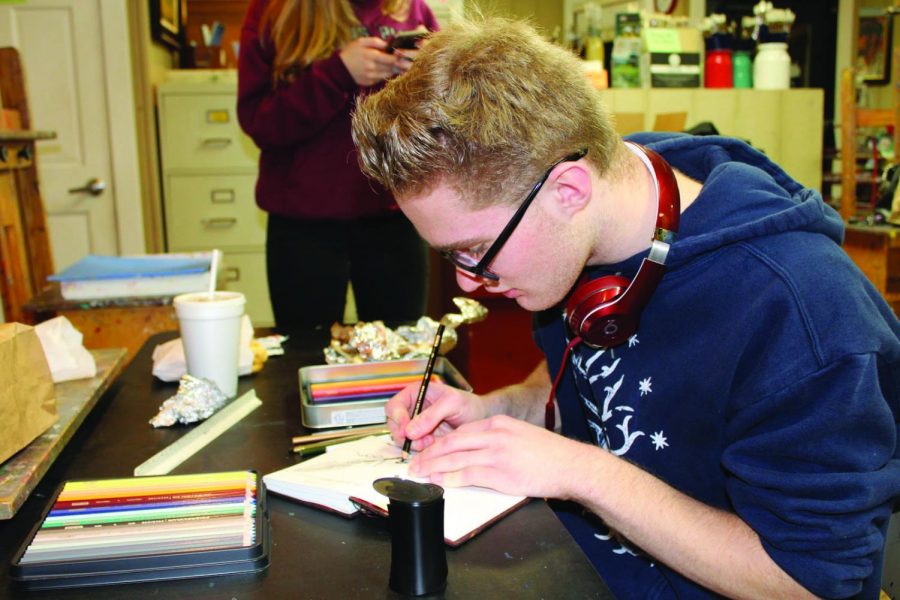 He sits in class, hunched over his drawings, pushing his thick framed glasses up from time to time, as his red Beats Headphones rest around his neck. Having an interest in art since he was three years old, Joe Strojny, junior, is inspired by life around him and tries to work on his art whenever possible.

"There's not one minute out of the day where I don't have a pen or a pencil in my hand drawing or just sketching. It's just like a twitch almost, it's just a natural thing I have to do," Strojny said.

Always coloring, cutting things up, and playing with tape, even as a toddler Strojny dedicated his time to his art, Lynn Strojny, Joe's mother, said.
"Joe is extremely curious. He takes an interest in the world around him," Lynn said. "He definitely has an artist's eye and appreciates what the world has to offer and incorporates it all into his art."
By staying in tune with his surroundings, Strojny is inspired by the life around him and the love he has for other people.

"I've always been a thoughtful person about others. I really care about people and I love them. I don't need to know a bunch of people to love, because that's just who I am. I love you for who you are even if I don't know you, and art kind of helps me get into that basis of that love that I have for people," Strojny said. "Whatever kind of art piece I'm doing I try to base it off of people and how much I care about and love them just for who they are for them being here."
While he uses his loved ones as inspiration for his art, Strojny also credits his connection with the ocean as a source of ideas ever since him and his family threw his grandfather's ashes into the water, who was previously in the Navy.
"I have this really weird love and passion for the ocean. I love all the sea creatures inside of it, I care for it, and I hate it when people throw trash in it," Strojny said. "To me it is one of the most beautiful things the entire world has ever created. It is a very ancient thing. That's where I get a lot of my inspiration from."
Through taking inspiration from the people around him as well as the ocean, Strojny has been able to make connections between himself and the things he loves through art.
"I realized and connected the dots a little. I call my heart a trinity. At the very top, it's all the people I love and care about in the world, my family, my friends, my loved ones, anyone who is in this life with me right now. [The trinity] connects to myself personally and also with that combining the triangle, it makes the ocean in the other corner," Strojny said. "In these lines, it makes me feel connected to everyone and everything. I like to help people as much as I can, I let people listen to me and I let myself listen to them even more. There's a whole bunch of things that goes into my process of life."
Strojny has developed a strong love and care for others through his art ever since the beginning of high school, he said.
"I get to wake up everyday, and I get to go to school and see the faces that I care about. I get to talk to everyone and hear their stories. It is a big comfort for me," Strojny said. "A lot of my work may seem sciencey and weird, but it does come from deep inside of the love I have for everyone. To me, love is an art."
While he describes it as weird, Karen Sako, Strojny's art teacher at Mainstreet Art Studio, describes his work as creative and thinking outside of the box.
"Joe is a very conceptual artist. He can make and draw anything from memory. He can draw you specific cities and places and take you to a different place," Sako said. "He has a gift that I could never have taught: he visualized it and just draws it. I am in awe of his talent because that just comes from somewhere else, that's not something that can be taught."
As a conceptual artist, the piece Strojny is most proud of is a painting that has a bigger meaning through the story it tells.
"There is a oil painting that I did and it is of my very first beta fish that I ever had. Yeah I know, it is a tiny fish, it is insignificant. It is supposed to be under the ocean in a submarine and you have my fishy in a little glass fishbowl and there is a porthole in the side of the fish bowl. My fishy is looking at the open ocean, looking at this master city built below the waves and it is supposed to be like my fish has found his rightful place in the sea where he has found his happy place where he can be himself, explore, and be bigger than what others may perceive himself as now, that coincides back with me," Strojny said. "I know a lot of people feel small, I feel small, but when I was doing that painting I wanted to take something small and simple that people don't really look at as a big source of inspiration and I took it to the next level. I wanted to create something that would make me look further into the life I have and the things that I can do with it when I grow up."

By creating these pieces of art in order to understand and have hope for the future, Strojny finds the beauty of art through the creativeness which allows things to be special.
"The thing I like about art is that you try to make things as detailed and perfect as you saw in your head, but nothing will ever turn out that way because nothing is ever perfect. You're not a perfect person, nobody is a perfect person, I'm not a perfect person. No one is, but see that's the beauty of it," Strojny said. "If we were all perfect what would be special in any of us? That's why I like having the creative side of it. In every piece of life there's a little bit of creative jazz in everyone."
About the Contributor
Chloe Faris, Magazine Editor-in-Chief
Along with being Editor-in-Chief of the Bear Facts magazine, Chloe is involved with Yearbook, Student Leadership, Student Council, SNAP, and Interact....