Following their Forte: seniors plan musical majors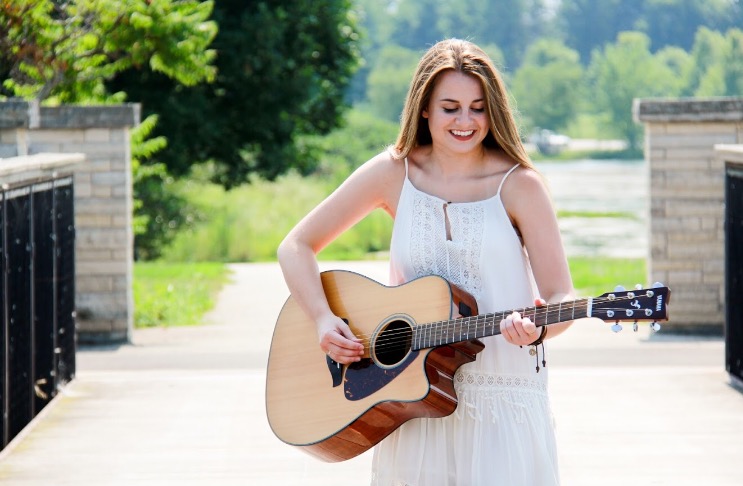 The moment someone picks up a guitar, sits down at a piano, or stands in front of a mic – the first time a stranger compliments them on their talent, there is no going back.
When college comes around, most musicians do not want to leave their instruments and talent behind, so they continue their musical careers in school.
Their instruments become their tickets to a full ride in school, and they do everything in their power to make sure they make the best decision about their future; whether it be teaching, performing, or making music behind the scenes.
Melanie McGrath, majoring in music education with an emphasis in contemporary music at the University of Miami, FL
"Something I really want to do is create contemporary music education programs. Music Ed is currently centered around classical music and jazz music, [but it] is sort of shifting to almost teaching songwriting and I want to be a part of that shift," McGrath said. "On top of developing one of those types of programs, I want to work on my own music, write my own, and see where that takes me."
Although McGrath does not want to teach music in schools, she wants to help develop curriculum and advance contemporary music.
"I'm not positive where it will take me, but hopefully somewhere with songwriting and education," McGrath said. "I would want to be part of a foundation [like the Grammy Foundation]. They have programs for high schoolers and college students that are based around promoting contemporary music."
After auditioning at and visiting multiple universities, McGrath says she chose Miami because that is where she believes she will thrive and succeed.
"When I went to Miami and met with the professors it just felt so right. I felt like that's where I was going to be the most successful," McGrath said. "They take 25 kids into the program that I'm in, and what they do is try and create a community that they think will work well together. You could be a really good songwriter, but you might not work [well] with the other musicians. University of Miami is where I felt I would make the best connections."
McGrath has been playing piano since she was five years old, started writing in sixth grade, and taught herself how to play guitar in seventh. McGrath's parents are supportive of her decision to pursue a career in music because they know she would not be happy anywhere else, she said.
"[My parents'] philosophy on studying music is that it's more about the connections than what you're actually learning. They also think it's really important to go into what you're really passionate about because if you don't, [you may not] be successful," McGrath said. "You have to do what you love. I feel like I wouldn't get anywhere if I wasn't doing music. I would just want to be doing music the whole time."
Peter Dudek, majoring in viola performance at University of Michigan, MI
"My dream job would be playing in an orchestra," Dudek said. "I've played in an orchestra since fourth grade. I'm in an orchestra outside of school called the Midwest Young Artists Conservatory. I grew up with that dream of being one of them and playing in an orchestra."
Despite growing up with the goal of playing in an orchestra, Dudek decided he would switch instruments three years ago, something that most musicians would not be willing to do. After playing in a chamber ensemble, Dudek transitioned from violin to viola.  
"When I started playing violin, [it was because] my parents basically made me. I always wanted to play the viola. I always loved the viola and I always loved being the secondary harmonies. I don't like being the primary voice," Dudek said. "I knew that my arms were growing and my hands were getting huge and the violin was just getting too small for me. I knew the viola was a great switch for me."
After transitioning from one instrument to another, Dudek got a new private teacher and started practicing three to four hours every day. Despite switching instruments, Dudek says everyone around him has kept him motivated and pushed him to succeed.
"Both of my parents are musicians. They both got their performance degrees in Poland; my mom's a pianist and my dad's a clarinetist, so they want it to keep going in the family," Dudek said. "I look up to people, not only my adult mentors who are professionals, but also my friends that practice and share the same drive, commitment, and dedication to our instruments. The share of our passion keeps me going."
Francesca Castro, Undecided at Berklee College of Music, MA
"Berklee is my dream school, and when they gave me the full ride it was an obvious decision," Castro said. "I'll have to see how it is when I get [to Berklee], but hopefully I get to be a performer. We don't officially have to choose our major until sophomore year, but for now I'm thinking about performance for vocal, jazz, and guitar."
Castro has been performing since she was nine years old. She started with guitar and violin and recently became interested in jazz. With everything Berklee has to offer, Castro is excited for the experience.
"I'm looking forward to meeting everyone who is coming from all over the world," Castro said. "I want to get to know the Latin Culture because I like Latin jazz, so I want to learn more and incorporate it into my music."
The audition process for Berklee was different than most, according to Castro. Musicians are required to prepare a 3-5 minute piece that showcases their talent, along with performing two sight-reading excerpts. They also test musicians' ability to play by ear, requiring musicians to play back a chord that was played to them. Despite the unconventional acceptance process and a unique major, Castro is not worried about her future.
"I'm not that worried because I know that Berklee makes sure you have a career after graduating. They don't want you to become a starving musician who works and plays gigs on the side. They make sure you're stable," Castro said. "There are so many things you can do, like orchestra pits for musicals. You can do music business and work behind the scenes of artists that are in the music industry [or] you can also be an educator. They give us a year to figure it all out. I'm just going with the flow."
About the Contributors
Danna Tabachnik, Digital Editor-In-Chief
This is Danna's (pronounced Donna, not Dana) third year on staff and fourth year involved in the journalism program. She's on the Varsity Tennis team...
Madison Hart, Print Editor-In-Chief
Madison is on both the basketball and soccer teams, and she spends most of her summer working as a camp counselor in Wisconsin. She has been a staff member...